An early arrival is worth it: Experience the Cathedral of Magdeburg, the eldest gothic building in germany and grave of Otto I, the first german Emperor. You can also visit the Green Citadel on the opposite site, Hundertwasser's design of an "oasis for humanity and for nature in a sea of rational houses".
In Hohenwarte, at the European waterway junction – a gigantic building project to connect the waterways of Hannover, Magdeburg and Berlin – you will cross the Elbe-Havel-canal. In Burg you can admire plenty of towers and Churches by strolling through the city. Milestone of this cycling day is the famous monastery of Jerichow. The Elbe river cycle path takes you further to Tangermünde. By walking through the town you discover the traces of 1000 years of history. The most impressive building is the 24 meter high town hall with its opulent decorated front created in the 15th century.
Today you cycle through dreamy villages to Büttnershof. Here you can shorten the stage by taking the ferry to Sandau or you follow the longer main route to Werben. Havelberg is a village with half-timbered houses. Do not miss to visit the Romanesque cathedral.
A large part of todays leg you can cycle on the dike, which offers beautiful views. Take a break in Ruehstaedt. It is known for its big stork population. Wittenberge with its Glocktower and the stone gate, the oldest buidling in the old town, can already be seen from the distance.
You cycle through "Wischedörfer" which emenate a similar flair like villages at the North sea. Now and then you will even meet storks. In Schnackenburg you can visit the "Grenzlandmuseum". Your goal today is Hitzacker, on of the most attractive towns along the "German half-timbered raoad".
You will pass through an unique landscape called "Wendland" which is characterized by a special form of settlement – the round villages. Lauenburg is an old skipper's town with a lot of beautiful restored half-timbered houses from the 16th and 17th century. The unique "Elbschifffahrtsmuseum" is worth a visit.
The last stage leads to the hanseatic city of Hamburg. Most of the time you will cycle along the Elbe riverbanks. Before reaching the metropole you will cycle through a unique inland dunes landscape. You can see Hamburg already from far away. Don' t miss the opportunity to take part in a roundtrip by boat.
After breakfast individual departure. We recommend to extend your stay in this fascinating Metropole.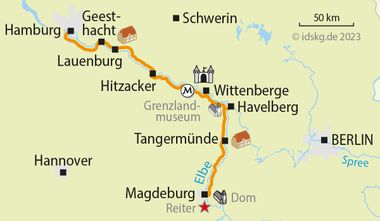 Accommodation incl. breakfast
Room with shower/bath/WC
Luggage transport
Detailed route description
Map of bike trails with marked route
Tips for tour preparation
Touristic information
7 days hotline service

Also available in the opposite direction from Hamburg to Magdeburg (arrival Monday, Wednesday and Sunday)
Below you will find specific information about the Elbe Cycle Path cycle tour from Magdeburg to Hamburg. If you have any further questions about this trip, simply give us a call: Tel.: 06421 - 886890.
Arrival by train
Magdeburg can be reached by train from all major cities in Germany. Current timetable information and price information can be found at www.bahn.de
Parking facilities at the start hotel
Parking fees vary depending on the hotel booked: The price is around €12.00 per day (as of 2023).
Condition of the bike paths
Mainly independent cycle paths, asphalted or paved mineral surfaces (approx. 80%), partly towpaths (especially in Saxony-Anhalt), partly quiet side streets, rarely cycle paths alongside roads or main roads.
Available rental bikes
Comfortable touring bikes with 7-speed hub gears and back pedal or 21-speed derailleur gears without back pedal as well as suspension forks and saddle suspension. You will also receive a waterproof luggage bag and a lock. The electric bikes have no back pedal. A few electric bikes with back pedals are available on request.
7 day hotline service
If the bicycle chain has broken, flooding makes it impossible to continue your journey or other nasty surprises await you: we are available for you 7 days a week and will organize help as quickly as possible.
Extra costs which are not included in the tour price
Any city tax that may be incurred is not part of the tour price and is therefore payable locally at the hotel.
Passport and visa requirements
For EU citizens, there are no special passport or visa requirements and no health formalities to be considered for this trip.
Travel insurance
The tour price already includes the statutory insolvency insurance. In addition, we recommend that you take out travel cancellation insurance upon receipt of your travel confirmation in order to protect yourself against financial disadvantages in the event of travel cancellation, interruption of travel, illness or accident.
You might also be interested in