Come to the city known as the Florence of the Elbe, Dresden, which is beautifully located along the Elbe valley. Whether it's the famous bailey known as the Zwinger, the Semper Opera or the Court Church- a tour for discovering the city on your own is a must.
Arrival by train is optional/parking site at the hotel.
Travel by train to Bad Schandau. From there you will cycle via Königstein, Rathen with its rockstage, castle Pillnitz and underneath the Loschwitzer Bridge (called "Blaues Wunder") back to Dresden. Enjoy the evening atmosphere in Dresden. The restaurants, wine cellars and rustic pubs on both sides of the river cater to all tastes.
Today you will cycle via Radebeul, once home town of Karl May, where you have the opportunity to get on the historical lightrailway 'Lößnitzdackel'. By that railway you can get to Moritzburg castle. In Meißen you may visit the world-famous porcelain-manufacture and the worth seeing Albrechtscastle.
Along traditional wine villages, which invite for a break, you follow the Elbe-bike path to Riesa/Strehla, whose castle, church and zoological garden are waiting for your visit.
In Belgern you can visit the sole Roland in the whole of Saxony and in Torgau you should visit the Hartenfels castle and the castle church. This church was inaugurated by Martin Luther and is regarded to be the first protestant church in Germany.
Today you will cycle to Wittenberg, which stands in direct connection with the name of Martin Luther. We recommend staying longer so you can spend more time in the world-famous Wörlitzer park which offers lovely islands, canals, temples and sculptures.
After breakfast your tour will end in Wittenberg.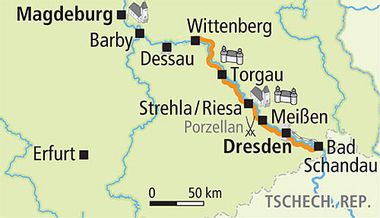 Overnight stay with breakfast
room with D/bath/WC
luggage transport
Cycling map with marked route
Digital route guidance via smartphone app
Tips for trip preparation
Tourist information
7-day hotline service
Please find more information about the Dresden - Wittenberg tour below. If you have any further questions feel free to contact us by phone: 0049 - (0)6421 - 886890.
Arrival by train
Dresden is easy to reach by train from all major cities in Germany. Current schedule information and price information can be found at: www.bahn.de.
Parking at the hotel
Parking fees vary depending on the hotel booked. You will receive detailed information about the parking facilities at the hotel booked for you with the detailed travel documents approx. two weeks before the start of your trip.
Condition of cycle paths
Mostly paved bike-only paths or paved mineral surfaces (~ 80%), partially towpaths (especially Saxony-Anhalt), some quiet side streets, seldom bike path along roads or next to main streets.
Available rental bikes
If you choose to rent a velociped rental bike for the tour we will bring it to your first hotel and bring pick it up at your destination. You can choose between woman's and men's bicycles either with 7-speed gear shift and coaster brake or 21-speed gear shift and freewheel or electric bikes. All ladies' bikes have a low opening that makes mounting and dismounting much easier. The bikes are suitable for all ladies from 150 cm in height and for all gentlemen from 165 cm in height. You simply specify your wishes at time of booking.
Electric bikes
The electric bikes have no coster brake. Upon request, a few electric bikes with coaster brake are available.
Transfer back to the starting point of the journey
Return transfer in a comfortable minibus every Saturday from 10 a.m. incl. bicycle and luggage transport. On all other days, a bus for 1 to 7 people can be provided.
Extra costs that are not included in the tour price
Any visitor's tax is not included in the tour price and must therefore be paid at the hotel.
The train journey from Dresden to Bad Schandau (approx. 9 euro per person) is not included in the tour price.
7 day hotline service
Just in case the bike chain breaks, flooding makes it impossible to continue your tour or any other nasty surprise: You can reach us seven days a week and we will do anything to help you as fast as possible.
Passport and visa requirements
For EU citizens, there are no special passport or visa requirements and no health formalities to be considered for this trip.
Travel insurance
The tour price already includes the statutory insolvency insurance. In addition, we recommend that you take out travel cancellation insurance upon receipt of your travel confirmation in order to protect yourself against financial disadvantages in the event of travel cancellation, interruption of travel, illness or accident.
You might also be interested in