Come to the city known as the Florence of the Elbe, Dresden, which is beautifully located along the Elbe valley. Visiting one of Europe's richest treasuries, the "Green Vault" inside the Zwinger, the Semper Opera or the Court Church- a tour for discovering the city on our own is a must. Enjoy the unique structur in a film screening about the Frauenkirche at the visitor center. Take your time and get to know the different sides of this beautiful city.
You will cycle via Radebeul, once home town of Karl May. In Meißen you may visit the world-famous porcelain-manufacture and the worth seeing castle Albrechtsburg.
Along traditional wine villages, which invite for a break, you cycle on the Elbe bike trail path to Riesa/ Strehla, whose castle, church and zoological garden are waiting for your visit.
In Belgern you can visit the sole Roland in the whole of Saxony and in Torgau you should visit the Hartenfels castle and the castle church. This church was inaugurated by Martin Luther and is regarded to be the first protestant church in Germany.
Today you will cycle to Wittenberg, which stands in direct connection with the name of Martin Luther. We recommend staying longer, so you can spend more time in the world-famous Wörlitzer park, which offers lovely islands, canals, temples and sculptures.
Today's journey leads through the delightful floodplain of the Elbe, along the world famous 'Wörlitzer Park', a more than 100 hectare large area filled with islands, channels and temples.In Dessau you will find a lot of interesting architecture in the 'Bauhaus-style' under direction of Walter Gropius accomplished in the 1920's.
In Aken you are going to cross over to the right side of the Elbe by ferry. Now you are in the biosphere reserve 'Mittlere Elbe', where - with some luck - you'll might be able to see an Elbe beaver. Further on you get to Walternienburg, where you will cross the Elbe again to get to Barby. Further on yxou will cross the reserve Kreuzhorst. To shorten the cycling distance you can take the train from Gommern to Magdeburg (direct train, aprox. 25 min., ticket not included in the tour price). Enjoy your stay in Magdeburg where you can visit the Magdeburger Dom.
After breakfast your tour ends in Magdeburg.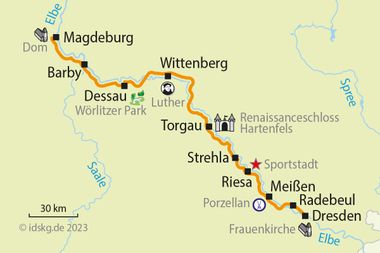 Accommodation incl. breakfast
Room with shower/bath/WC
Luggage transport
Detailed route description
Map of bike trails with marked route
Tips for tour preparation
Touristic information
7 days hotline service
Please find more information about the Dresden - Magdeburg tour below. If you have any further questions feel free to contact us by phone: 0049 - (0)6421 - 886890.
Arrival by train
Dresden is easily accessible from all major cities in Germany by train. Current schedule information and price information can be found at: www.bahn.de.
Parking vacilities at the hotel
The costs for parking vary depending on the booked Category:
Category A about 8-12 Euro per day and Category B about 6-8 Euro per day (as of 2023)
Condition of cycle paths
Mostly independent paved bike paths or paved mineral surfaces (~ 80%), partially towpaths (especially Saxony-Anhalt), some quiet side streets, seldom bike path along roads or next to main streets.
Available rental bikes
Comfortable touring bikes with 7-speed hub gears and coaster or 21-speed derailleur gears without coaster as well as suspension fork and saddle suspension. In addition, you will receive a waterproof pannier bag and a lock. The electric bikes do not have a coaster. The rental bikes are available from the first bike day at 8.00 a.m. and can be returned on the last bike day towards evening.
Electric bikes
Please keep in mind that the electric bikes don't have a coster brake. Upon request, a few electric bikes with coaster brake are available.
Return transfer
Individual return transfer at a flat rate for one car for up to 3 persons incl. bikes possible, more persons on request.
Tourist tax
A possible resulting tourist tax is not part of the travel price and therefore it is payable locally at the hotel.
7 day hotline service
Just in case the bike chain breaks, flooding makes it impossible to continue your tour or any other nasty surprise: You can reach us seven days a week and we will do anything to help you as fast as possible.
Passport and visa requirements
For EU citizens, there are no special passport or visa requirements and no health formalities to be considered for this trip.
Travel insurance
The tour price already includes the statutory insolvency insurance. In addition, we recommend that you take out travel cancellation insurance upon receipt of your travel confirmation in order to protect yourself against financial disadvantages in the event of travel cancellation, interruption of travel, illness or accident.
You might also be interested in