Your Hotel
Maritim Dresden
This elegant 4-star hotel awaits you right on the banks of the River Elbe between Semperoper and the International Congress Center. It boasts 328 large, stylish rooms in the listed building "Erlweinspeicher".
The spacious wellness area with swimming pool and Finnish sauna allows you to relax after an eventful cycling tour. The old town with the famous Frauenkirche and Zwinger is only a 10-minute walk away.
Travel to Dresden early, because world-famous buildings such as the Zwinger or the Semper opera house attract thousands of people to the former royal seat of the Saxon kings every year. You can also look forward to the reconstructed Frauenkirche and the Brühl's terraces, which offer a wonderful view of the Elbe. In the afternoon, there will be an information meeting and handover of the bike. Then stroll through Dresden's old town and end your first day with a cozy dinner (included).
On the Elbe cycle path, you go past the Brühl Terraces to Pillnitz- the castle of the kings of Saxony and Poland with one of the oldest palm houses in the world and an enchanting castle park. Marvel at the magnificent palace complex, it is an extraordinary ensemble of architecture and garden design, inserted into the river landscape in front of the vineyards of the Elbe valley. After a worthwhile break you cycle on the Elbe cycle path to Pirna. The charming historic old town with its magnificent town houses is evidence of a once flourishing trading town. Stroll through the market square, which is well worth seeing, visit the Marien church and discover the many small details such as richly decorated gables and ornate bay windows. Every Monday, Saturday and Sunday from 2:00 p.m. you can also take part in a city tour in Pirna (subject to change).
Twisted paths through romantic valleys lead you to the Karl May-city Radebeul. All fans of the famous writer and his works are offered an impressive insight into the world of the Native Americans in the Karl May Museum. You can then look forward to a ride on the Loessnitz valley railway to Moritzburg, where you will visit the famous water- castle. You then cycle comfortably back to Dresden through the Friedewald nature reserve and Moritzburg pond area.
On a city tour you can explore the beautiful suburbs of Dresden as well: castles, Pfund's dairy, the Blaues Wunder (Blue Wonder) and the transparent factory (VW car factory) are just a few of the highlights. It's great that you have a lot of time for this wonderful city today. World famous buildings such as the Zwinger, the Semperoper, the Frauenkirche, as well as the Fürstenzug - the longest porcelain picture in the world - and the Brühlsche Terrasse, popularly known as the "Balcony of Europe", are waiting for your visit.
Today you cycle to nearby Meißen. Look forward to the city that is over a thousand years old. In addition to the first European porcelain factory, you can look forward to a historical city backdrop, in which the touch of the past can still be felt today. In addition to the precious porcelain with the blue swords created by Böttger, you should also visit the beautiful Meißen cathedral with its melodic porcelain chimes and the Albrechtsburg Castle, which can be seen from afar. Take a leisurely break on the imposing market with town houses from the Renaissance period and the historic town hall, before you take a relaxing boat trip back to Dresden on the Elbe in the afternoon.
A wonderful bike route and many possibilities await you today, because after a short S-Bahn ride you have reached Bad Schandau and the imposing Saxon Switzerland. Take a bike excursion along the Elbe Cycle Path to Rathen and Königstein, where interesting sights await you. Park your bike in Rathen and walk up to the bastion, because from this rock formation you have a magnificent view over the Elbe and Saxon Switzerland. You can also enjoy impressive views from Königstein Fortress, one of the largest mountain fortresses in Europe. But you can also take a cycling tour through the idyllic Kirnitzsch valley with its pretty villages and its bizarre stone formations, as it is one of the most beautiful valleys in the Elbe Sandstone Mountains. Whatever you decide, it will certainly be a very eventful day.
You have got to know the Saxon capital Dresden and its surroundings well on this radial tour, but there is much more to discover here. We would be happy to book additional nights in your hotel for you on request.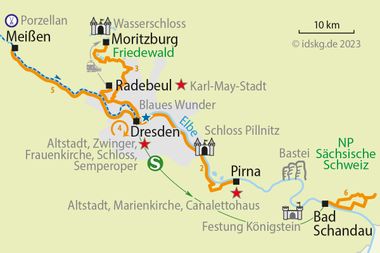 6 nights iwith breakfast in the 4-Star Maritim Hotel Dresden in a room overlooking the river Elbe
Room with shower/bath/WC
A multi-course dinner on the day of arrival
City tour in Dresden
City tour of Pirna (in German)
Ride on the Lößnitz valley railway from Radebeul to Moritzburg
S-Bahn ride to Saxon Switzerland
Boat trip from Meißen to Dresden (2024: not for arrivals in April and October)
Personal greeting and information talk
Map of bike trails with marked route
Digital route guidance via smartphone app
Tips for tour preparation
Touristic information
7 days hotline service
Below you will find specific information about the radial bike tour Dresden and surroundings. If you have further questions about this trip, please contact us: Phone: 06421 – 886890.
Arrival by train
Dresden is easily accessible from all major cities in Germany by train. You can find information on timetables and prices at:
Parking at the hotel
The Maritim Hotel Dresden has underground parking spaces, payable on site. No reservation in advance possible (approx. 17,00 €/ night).
Condition of cycle paths
Most of the time you cycle on flat to slightly hilly terrain along the Elbe cycle path. Some sections of the route lead over smaller country roads and paths with little traffic.
Available rental bikes
You can choose between 7-speed bikes with coaster brake or 21-speed gear bikes with shift and freewheel (bith unisex and men's bikes). All unisex bikes have a low opening that makes mounting and dismounting much easier. Furthermore, 8-speed e-bikes with coaster brake (all unisex) are available on request. You simply indicate your bike wish when booking.
Extra costs which are not inculded
A possibly applicable city tax is not included and has to be paid at the hotel locally.
7 days hotline service
Just in case the bike chain breaks, flooding makes it impossible to continue your tour or any other nasty surprise: You can reach us seven days a week and we will do anything to help you as fast as possible.
Passport and visa requirements
For EU citizens, there are no special passport or visa requirements and no health formalities to be considered for this trip.
Travel insurance
The tour price already includes the statutory insolvency insurance. In addition, we recommend that you take out travel cancellation insurance upon receipt of your travel confirmation in order to protect yourself against financial disadvantages in the event of travel cancellation, interruption of travel, illness or accident.
You might also be interested in