Your Hotel
Garden Hotel Reinhart
One of the best houses in the "first row" at the Chiemsee! The 4-star Garden-Hotel-Reinhart is located in Prien-Stock, only a few meters from Lake Chiemsee, the harbor and promenade! The hotel offers you friendly, individual guest rooms furnished in Bavarian style in two categories (all with shower/WC or bath/WC, TV, etc.), cozy guest rooms and lounges as well as an indoor swimming pool, sauna and a large sunbathing lawn.
In the beauty & wellness area you can dive into the world of beauty and relaxation (for a fee). The lido at the Chiemsee as well as the new indoor swimming pool Prienavera are only 50m away from the house! Around the harbor you will find an excellent selection of restaurants and cafes. So a wonderful stay is guaranteed!
Look forward to one of the best houses at Lake Chiemsee! The 4-star Garden-Hotel-Reinhart is located in Prien-Stock, just a few meters from Lake Chiemsee, the harbor and the promenade. Personal tour briefing and handover of the rental bikes in the afternoon.
Take your bathingsuit with you and head towards to the Eggstätter Seenplatte, which was build through ice age. The oldest nature reserve in Bavaria, encompasses 17 lakes and is full of picturesque places. You will cycle on a relaxing tour through forests, fragrant meadows, and past pretty farms to Höslwang, with a magnificent panoramic view of the Upper Bavarian Alps. If you want, you can extend this tour by 20 kilometres and cycle to Amerang, where you will find the well-known German Car Museum and the Historical Farmhouse Museum. Via Eggstätt and Breitbrunn, you will get back to Prien or Pelham.
Today, you will discover the beauty of Lake Chiemsee and the pretty places along the way. You will be enchanted by the unique nature and visit major attractions, such as the Roman Museum in Seebruck, or the Horse Museum in Arlaching. You will also have ample opportunities to swim and cool off in the refreshing waters of Lake Chiemsee.
Take the boat from Prien to the island "Herreninsel" where you can visit the famous castle Herrenchiemsee built under King Ludwig II. On your way back, you will stop at the island Fraueninsel, where you will find a well-known abbey (the oldest still-existing German-speaking female convent on the northern side of the Alps). Explore the beautiful gardens, the island potteries, the fish smoke-houses, and the romantic outdoor restaurant areas at the lake. Guests of the hotel Seeblick cycle for the journey by boat to Prien and back (approx. 20 km).
First you will take the bus or the train (not included) from Prien to Übersee. Then you will cycle via the climatic health resort Grassau and along the Achental bike path via Unterwössen to Schleching. You will ride your bicycle past colourful meadows, surrounded by spectacular mountains. On routes along the tranquil river Tiroler Ache, you will cycle via Marquartstein back to Grassau. Quiet, shady paths will lead you through the Rottauer Filze (moorland) to Bernau and along Lake Chiemsee to Prien.
The day starts with an atmospheric boat trip on lake Chiemsee from Prien to Seebruck. Back on land, you will cycle via Truchtlaching an der Alz to the monastery Seeon with its famous buildings and the romantic lake. In the pretty town Gstadt, you will again see the magical blue of Lake Chiemsee and cycle via Breitbrunn and Rimsting back to your hotel.
You will ride your bicycle over the romantic hills of Chiemgau to Aschau, where famous artists and actors have settled. The castle Hohenauschau towers over the small town and it is not far to the valley station of the cable car up to Kampenwand (Operating hours 9am - 6pm, the gondolas run every 30 seconds, not included in the tour package price). After a short visit to the waterfall Hammersbach, you will cycle via Bernau and on flat paths back to Prien.
The beautiful time in Bavaria went by way too quick. We are happy to book you another extra night.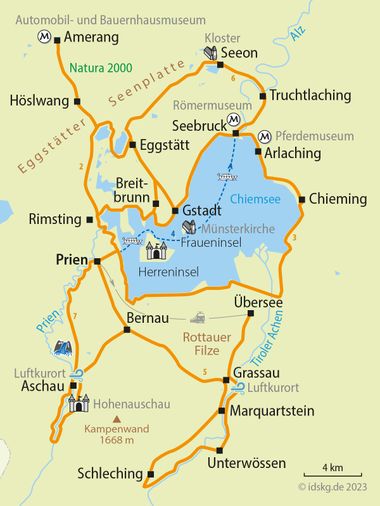 Accommodation in 4* hotel Reinhart in a comfortable double room (25 - 28 sqm) in country house style with balcony, safe, minibar and flat screen TV (Cat. A) or slightly smaller room (approx. 22 sqm) without balcony (Cat. B)
Personal tour briefing
1 ticket for the boat ride on Lake Chiemsee to Herren- and Fraueninsel excl. bike
1 ticket for the boat ride on Lake Chiemsee Prien – Seebruck incl. bike
Use of the pool area (For a fee: solarium and "Beauty-Farm")
Map of bike trails with marked route
Digital route guidance via smartphone app
Tips for tour preparation
Touristic information
7-day hotline service
Worth knowing about the bike trip Chiemsee radial tour
Below you will find specific information about the bike trip Chiemsee radial tour. If you have further questions about this trip, you simply call us: Phone: 06421 – 886890.
Arrival by train
Arrival by train to Prien. From the train station it is ca. 2,5 km to the hotel, we reccommend taking a taxi.
Parking facilities at the hotel
Free parking space at the hotel, no reservation possible.
Condition of cycle paths
The route is mostly easy to ride, with a few hilly sections. Longer distances will be cycled on nature trails, which are in good condition. You will find yourself mainly on cycle paths, country lanes, and side roads. Only some short sections have to be cycled on roads with more traffic.
Available rental bikes
You can choose between either 7-speed unisex bikes with hub gears and coaster brake or 21-speed ladies' or men's bikes with derailleur gears and freewheel as well as electric bikes (unisex).
Extra costs which are not inculded in the price
Train ride Prien - Übersee costs ca. 8,00 € per person (incl. bike) and has to be paid on site. A possibly applicable city tax is not part of the price and has to be paid at the hotel locally.
7 day hotline service
Just in case the bike chain breaks, flooding makes it impossible to continue your tour or any other nasty surprise: You can reach us seven days a week and we will do anything to help you as fast as possible.
Passport and visa requirements
For EU citizens, there are no special passport or visa requirements and no health formalities to be considered for this trip.
Travel insurance
The tour price already includes the statutory insolvency insurance. In addition, we recommend that you take out travel cancellation insurance upon receipt of your travel confirmation in order to protect yourself against financial disadvantages in the event of travel cancellation, interruption of travel, illness or accident.
You might also be interested in