Look forward to the 80 m long and 9.50 m wide comfort boat, which offers 49 outside cabins (about 10.5 sqm) with shower / WC, hairdryer, telephone, TV, safe and centrally controlled air conditioning. Of the 42 cabins on the main deck, 4 can be booked as a triple cabins by folding out a Pullmann bed (capacity of the 3rd bed max 70 kg).
The windows can not be opened on both decks. Of the two separate beds one is prepared as a sofa and sitting during the day. All decks can be reached by a stairlift next to the steep ship stairs, the passenger and sundeck by chairlift. The brightly decorated restaurant and the cozy salon invite you to relax.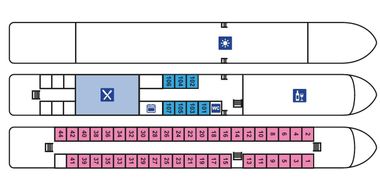 Come soon to Berlin, the city is worth it. Maybe you have time for a stroll over Kurfürstendamm, through Nicolai quarter at Spree Island or through Brandenburger Tor. Berlin offers many possibilities. Boarding from 4 pm at Berlin Tegel.
The bike path leads towards North to Oranienburg. Well-worth seeing is the baroque palace with park, the museum and the Orangery. You go on board again. Cruise to Eberswalde. In the heart of the city, in Finow canal, one of the oldest lock of the Elbe is located. It is a technical memorial since 1978.
Today you cycle on the towpath along the Finow Canal and through the almost deserted Mönchsheide to the boat lift Niederfinow to Hohensaaten. The oldest working ship lift in Germany from 1934 proudly bears the title "Historic Landmark of Civil Engineering Germany" and is even Europe's largest ship lift. In Hohensaaten you go on board and cruise comfortably on the Oder to Schwedt. If you want, you can of course also cycle the route from Hohensaaten to Schwedt (about 32 km).
You cross river Oder and cycle in Poland today. You cycle along side roads, country roads, forest tracks and dreamy small villages to Mescherin. Afterwards cruise to Stettin, the green big town at Oder estuary. There is one of the biggest harbors at Baltic Sea. Well-worth seeing is the reconstructed palace which is located in the old city.
Today you spend the whole day aboard. You pass through the protected landscape area Szczecin Haff / Oder Lagoon at a slow speed. Discover fine sandy beaches with small bays, typical Vorpommersche fishing villages and thatched houses. Look forward to Wolgast, the gateway to the island of Usedom. The city is known for its preserved historic center with many monuments, the city harbor and the Peene shipyard. Stroll through the renovated medieval city center, visit the St. Peter's Church from whose tower you can enjoy a fantastic view and marvel at the historic town hall in the brick building.
Today you cycle via Zecherin and Karlshagen-Hafen to Peenemünde (Tip: historic technical museum). In Peenemünde you go on board again. At 6 pm cruise to Lauterbach which is in the southeast of island Rügen.
A beautiful cycling day awaits you. Guests can visit the town of Putbus, which is only 2 km away, and has a classicist urban ensemble that is a listed building. Today's bike tour takes you via Putbus, Garz, Groß Schoritz, birthplace of Ernst Moritz Arndt, Poseritz and Gustow with its well-known village church and over the Rügendamm to Stralsund, where you meet your ship again. Marvel at this brick embossed historic Hanseatic city, which has been a UNESCO World Heritage Site since 2002. Let yourself be inspired by the unique ensemble from Alten Markt, Nikolaikirche and the imposing Stralsund Town Hall.
Today your eventful bike and boat trip ends after breakfast until 09:00 am with the disembarkation.
Timetable and program changes are basically reserved. If e.g. If a route cannot be traveled due to low or high tide or bad weather, the skipper reserves the right to change the route for your safety (this is not a free reason for cancellation). Since your ship usually calls for the next port on the same day, your time frame for your own activities and sightseeing is limited. With some bridges the headroom is so low that the sun deck is locked for your safety.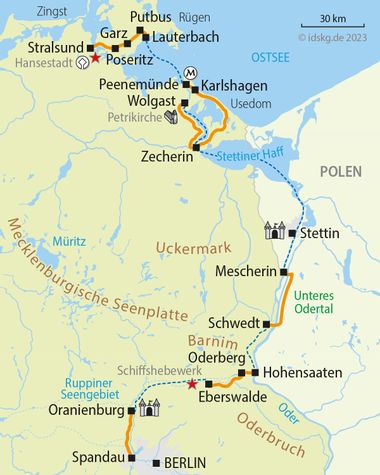 7 overnights in cabins with shower/toilet
Program as mentioned on MS Princess
Welcome drink
Full board (7 x breakfast, 6 x lunch paket for the bike tours or snack for lunch, 6x koffee and cake and 7x 3-cours dinner)
lunch packs or snack
Coffee and tea
three-course dinner
Daily cleaning of cabins
Linen and towels
Daily briefing in board
Tour guide on board
All harbor- and lock fees
GPS data
Travel documents per booked cabin
7 day hotline service
Please find more information about the Berlin - Usedom - Rügen bike & boat tour below. If you have any further questions feel free to contact us by phone: 0049 - (0)6421 - 886890.
Arrival to Berlin
The MS Princess landing stage is in Berlin Tegel, Tegeler See / Greenwichpromenade. The S-Bahn station Berlin Tegel (S 25) and the U-Bahn station Alt-Tegel (U 6) are about 1 km from the pier.
Parking facilities in Berlin
Multi-storey car park "Hallen am Borsigturm" (1,600 spaces), open all day, daily charge approx. € 10, approx. 800 m from the landing stage or various other multi-storey car parks in Berlin Tegel. Reservation not possible. Return transfer by train from Stralsund to Berlin possible, costs approx. € 46 per person (as of May 2023).
Noise level
Engine and generator noises can be heard in the cabins in the front and rear of the ship when the ship is moving and stationary.
Embarkation
Embarkation on the MS Princess in Berlin is possible from 4 p.m.
Luggage
Please note that the storage space in the cabin is limited. It is advisable to put your luggage in a sports bag or something similar instead of a sturdy suitcase. bring on board. We recommend good rainwear, a bicycle helmet, sun hat and sports shoes.
Condition of cycle paths
Usually you cycle on car-free roads, country roads with little traffic and graveld bike paths, but sometimes on sandy paths through the woods and short sections along a federal road as well. In the majority of cases the routes are flat however a few steep rises and descents have to be managed.
Available rental bikes
Tourer bike: 7-speed gear shift bike with hand and pedal brake and a pannier by Velo de Ville. Electric bikes: Swiss Flyer with freewheel (limited number available - an early booking is recommended).
Own bikes
Due to the limited space on the sun deck, you can only bring your own bike on request and only to a limited extent.
Return to the starting point of the journey
Return by train from Stralsund / Berlin to Berlin / Stralsund from approx. € 46 per person.
Subject to modification
Sailing list and program are subject to changes. If the boat cannot cruise due to low or high water or bad weather conditions, the skipper has the right to change the route for your own security. This is no reason for a cancellation at no charge. The tour can be cycled also in opposite direction.
Extra costs which are not included in the tour price
Arrival and departure, transfers, tourism tax, rental bike, city maps, insurances, and tip are not included in the tour price.
7 day hotline service
Just in case the bike chain is broken, flooding makes it impossible to continue your tour or any other nasty surprise: you can reach us seven days a week and we will do anything to help you as fast as possible.
Passport and visa requirements, health regulations
EU nationals (who do not have any special circumstances, e.g. dual citizenship, primary residence abroad or temporary travel documents) require a valid identity card or passport for this trip, which must be valid for at least 6 months after the end of the trip. If you have another citizenship or several citizenships or if you have to observe special legal regulations, please inform yourself about the respective visa and entry regulations at your responsible consulate.
Travel insurance
The tour price already includes the statutory insolvency insurance. In addition, we recommend that you take out travel cancellation insurance upon receipt of your travel confirmation in order to protect yourself against financial disadvantages in the event of travel cancellation, interruption of travel, illness or accident.
Velociped can withdraw from the tour twenty-one days before the starting date of the tour, at the latest, in case the minimum number of participants stated under the tour description is not attained. You will duly be informed without any delay in case of a withdrawal. Velociped will of course refund the paid tour price immediately. Please note our General Terms and Conditions.
You might also be interested in