Your Hotel:
Hotel Seeblick Bernried
Each of the six nights is spent in the three-star Hotel Seeblick with the Sailer/Lütjohann family. In addition to an excellent location, the hotel offers an indoor swimming pool and sauna area, and is only a few steps from the lake. Treat yourself to some much-needed recovery on the cycle tour and use the hotel spa! Your body will thank you!
You will find your travel documents and rental bikes at the hotel. Today, you can already enjoy the comforts of the hotel; or even take a first swim in the lake ...?
You will cycle on wonderful paths through unspoilt nature to Lake Riegsee. We recommend taking a short detour to the charming town of Murnau with its nice market street and many attractions. On the way back, you will be delighted by the picturesque Osterseen lakes, a group of 20 lakes which are among the warmest lakes in Germany.
After today's bike ride you can understand them - the monks, the nuns, and the priests - why they have built 159 churches in this area and a lot of monasteries. The Pfaffenwinkel is a wonderful spot, which can be best explored by bike. Places like the historic town of Weilheim with its car-free Marienplatz invite you to take a quiet break.
The day will start with a train journey to Munich. What could be better than exploring the attractions of the Bavarian capital by bicycle? Beautiful biking routes will lead you through the English Garden from one highlight to the next. Then, the Isar cycle path will lead you to Wolfratshausen and continue through the rolling hills back to Lake Starnberg.
You will spend a day in the famous Pfaffenwinkel. A particular highlight is waiting the cyclists. Monastery Andechs not only has a lot to offer for the culture-hungry. Also the beer garden is one of the most beautiful ones in Germany. A nice walk will take you to Lake Ammersee and to Herrsching. Of course, you can also get there by bike. Afterwards, you will soon be back at Lake Starnberg.
The loop trail around Lake Starnberg is really beautiful and it will lead you from one lake town to the next. Not only the homes of the Bavarian celebrities lie along the way, also quaint shady beer gardens, Italian ice cream parlours and dreamy bathing places shape the image of today's cycling tour.
Time passed too quickly. Lake Starnberg has much more to offer. Book an extension of your cycling trip in Bernried it's worth it!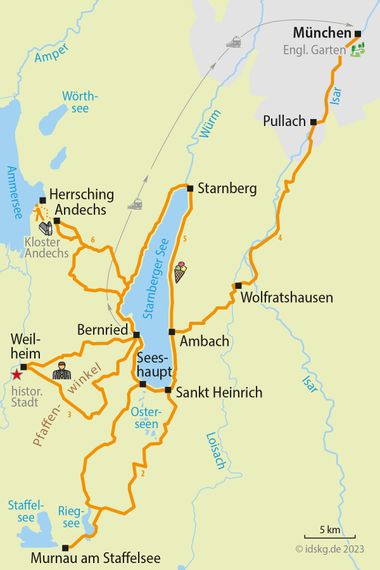 6 nights with breakfast at Hotel Seeblick 3*** in Bernried
1 train ride Tutzing - Munich excl. bike
Free use of the wellness facilities in the hotel
Map of bike trails with marked route
Digital route guidance via smartphone app
Tips for tour preparation
Touristic information
7-day hotline service
Below please find more information about your bike trip. If you have any further questions please feel free to contact us by phone: 0049 - (0)6421-88689
Arrival by train
Bernried is easily accessible by train via Munich with S-Bahn. Our partner hotel can be reached from the station by taxi or by public transportation. Current schedule information and price information can be found at:
Parking facilities at the hotel
Our partner hotels in Bernried always provide parking facilities, without costs.
Condition of cycle path
The area around Lake Starnberg is a bit hilly, a few short climbs can also be conquered by pushing. You cycle on beautiful bike trails and small roads, on main roads only for short distances. Mostly you bike on paved path only some sections are on dirt roads.
Available rental bikes
You can choose between either 7-speed unisex bikes with hub gears and coaster brake or 21-speed ladies' or men's bikes with derailleur gears and freewheel as well as electric bikes (unisex).
The rental bikes will be ready for you upon arrival at the start hotel.
Extra costs which are not inculded
Biketicket for the trainride Tutzing - Munich is not included and must be paid at the station approx. 5,00 €. A possibly applicable city tax is not included and has to be paid at the hotel locally.
7 days hotline service
Just in case the bike chain breaks, flooding makes it impossible to continue your tour or any other nasty surprise: You can reach us seven days a week and we will do anything to help you as fast as possible..
Passport and visa requirements
For EU citizens, there are no special passport or visa requirements and no health formalities to be considered for this trip.
Travel insurance
The tour price already includes the statutory insolvency insurance. In addition, we recommend that you take out travel cancellation insurance upon receipt of your travel confirmation in order to protect yourself against financial disadvantages in the event of travel cancellation, interruption of travel, illness or accident.
you might also be interested in