The old manor house has been stylishly renovated with great attention to detail and is now one of the most beautiful hotels in Switzerland. Founded in 1955 as Switzerland's first motel, it is now a 4-star hotel with Caribbean charm. Over 400 palm trees provide shade in the grounds park, which also features a heated outdoor pool. The comfortably appointed rooms are air-conditioned and have either a garden terrace or a balcony.
Free Wi-Fi is available throughout the building. In the morning, enjoy a buffet breakfast to fuel up for your cycling trips. In the evening, you can end the day in the bar or the bright restaurant. Ristorante Fontana serves traditional specialties prepared in a modern way.
Arrival at your hotel in Losone is on your own. Take a first short walk in the surroundings or enjoy the pool area at the Albergo Losone.
In the morning you first cycle towards Locarno. Along the beach promenade the path leads you further to the Magadino plain. You will pass small villages and large agricultural areas until you reach Bellinzona, the capital of the Canton of Ticino. Here many castles, hidden squares and the old city walls await your visit. After an extensive visit to this city, you will return to Losone in the afternoon
After breakfast you will cycle to Ascona. From here you will take the ferry to the Brissago Islands. In the Botanical Garden you can discover over 1700 species of plants. After visiting the islands and returning to the mainland, you will continue by bike towards the Centovallis. You will ride over a short climb to sleepy Ticino villages and then back to Losone to the hotel.
Today you will discover the Maggia River, which makes its way through the Alps for over 50 km before flowing into Lake Maggiore. You cycle past the wonderful waterfall at Monte Brolla deep into this fantastic valley. Your destination for the day is the small town of Maggia with the church of Santa Maria delle Grazie. The interior of the church has frescoes that are well worth seeing.
Early in the morning you will start by bike to Locarno, from where you will take the train to Lugano. Lake Lugano, like Lake Maggiore, stands for dolce vita and Mediterranean lifestyle. The colorful villages with the typical stone church towers and even palm trees are waiting for you. After this last beautiful bike ride of your trip, you will return to Locarno by train and end the evening relaxing by the pool or at the bar.
Unfortunately, this trip ends already today after breakfast at the hotel. We will be happy to book extra nights at the Albergo Losone for you.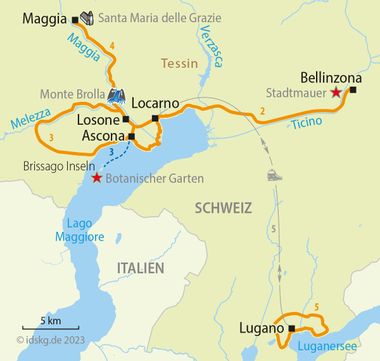 Overnight stay with breakfast
room with D/bath/WC
luggage transport
Cycling map with marked route
Digital route guidance via smartphone app
Tips for trip preparation
Tourist information
7-day hotline service
5 x overnight stay incl. breakfast
train rides Locarno - Melide, Lugano - Locarno incl. bike
excursion to the Brissago Islands on day 3
Entrance to the castles of Bellinzona
Ticino Ticket with numerous inclusive services and discounts (on request at the hotel)
Daily entrance to the wellness area incl. hammam
Below you will find specific information about the Lake Maggiore Star Cycle Tour. If you have any further questions about the tour, simply give us a call: Tel.: 06421 - 886890.
Arrival by train
You can easily reach the train station in Locarno from all major German cities via Zurich and Bellinzona. From Locarno train station, you can reach the Hotel Albergo Losone in about 15 minutes by bus or take a cab, which will take you comfortably to the hotel.
Parking facilities
There are plenty of free parking spaces available at the Hotel Albergo Losone for the duration of your stay; it is not necessary to make a reservation.
Condition of the cycle paths
You cycle on mostly asphalted or partly gravel paths. In the town centers of Locarno and Ascona, your route will take you through pedestrian streets where, depending on the time of day, it may be advisable to push your bike. There are small to medium gradients on almost every stage, but these are also manageable for less experienced cyclists.
Available rental bikes
27-speed bikes (unisex) with low entry, derailleur gears and freewheel are available. Electric bikes (unisex) are also available. Simply state your preference when booking.
Means of payment in Switzerland
In Switzerland, it is advisable to exchange Swiss francs, although you can pay in euros. Francs can be conveniently withdrawn from ATMs by debit or credit card.
Extra costs that are not included in the travel price
Any tourist tax is not included in the travel price and must therefore be paid at the hotel.
7-day hotline service
If your bike chain breaks, floods make it impossible to continue your journey or other nasty surprises await you: We are available for you 7 days a week and will organize help as quickly as possible.
Passport and visa requirements
For EU citizens, there are no special passport or visa requirements or health formalities to be observed for this trip.
Travel insurance
The statutory insolvency insurance is already included in the tour price. In addition, we recommend that you take out travel cancellation insurance after receiving your travel confirmation in order to protect yourself against financial disadvantages in the event of cancellation, curtailment, illness or accident.
You might also be interested in