Hotel Palace is a modern hotel located in Vasastan district. The hotel has 284 rooms equipped with free wi-fi, TV, bathroom with bath or shower, fridge, hairdryer, kettle. Enjoy the hotel's own exceptional spa area,
which awaits you with a pool, whirlpool, sauna and aroma room. Within a few minutes walk from the hotel you will find many cozy little restaurants, bars and cafes.
Hotel Arcadia is located in the center of Stockholm in the Östermalm district. The 90 spacious, pleasantly furnished rooms with balcony feature a bathroom with shower/WC, flat-screen TV, free Wi-Fi. The hotel's own restaurant serves international dishes, as well as Swedish specialties.
The fitness area and sauna are at your disposal. Strengthen yourself for the day at the rich breakfast buffet and enjoy finest cuisine in the evening at the restaurant OTIS.
Your Hotel
Hotel Birger Jarl
The comfortable Hotel Birger Jarl is centrally located in the Varastan district. The 271 modern rooms and suites are equipped with shower or bathtub and toilet, hairdryer, TV, free Wi-Fi, electric kettle and safe. All rooms have wooden floors and an armchair with side table. If cycling wasn't sporty enough for you,
you can use the hotel's gym with views of Stockholm. Start the day with a varied breakfast and end the day in the evening with dinner in a casual atmosphere. The bar in the lobby is the meeting place in the afternoon and evening to enjoy a coffee or cocktail and relax.
Travel early, because it's worth it. From Arlanda Airport you can reach the city center with its many sights by Arlanda Express or bus.
In the morning you cycle along Lake Mälaren to the island of Lovön, where the UNESCO World Heritage Drottningholm Castle awaits you. Take your time to visit this beautiful building with its enchanting location directly on the lake, the small "China Castle", the castle theater and the magnificent castle park. Afterwards, the tour continues by bike to Södermalm. The former working-class district is now inhabited by hipsters and designers. Through the old town Gamla Stan with its cobbled alleys, crooked houses and beautiful cafes you cycle back to the hotel.
Today's stage takes you to the archipelago at the gates of Stockholm. The idyllic small town is the "capital of the archipelago". Small stores, restaurants and a stately fortress from the 16th century await you. Today you have enough time to see everything at your leisure, because the return trip is by ferry (approx. 60 min, not included).
Today you will first cycle to the World Heritage Site Skogskyrkogarden (Forest Cemetery), a significant example of the fusion of architecture and cultural landscape according to UNESCO. Take time to visit the visitor center. The day's destination is the seaside resort of Saltsjöbaden. On the way back, drive through Erstavik Nature Park back to Stockholm.
Today is dedicated to nature and culture. On the island of Djurgarden you will find a large number of museums (e.g. Abba Museum, Vasa Museum). On the way you will also find Skansen, the oldest open-air museum in the world and Prince Eugene's Waldemarsudde Art Museum. Afterwards you cycle over the northern foothills of Djurgård past Ulriksdal Castle with the orangery, castle chapel and rococo theater.
After breakfast your beautiful trip in and around Stockholm ends. We are happy to book extra nights for you.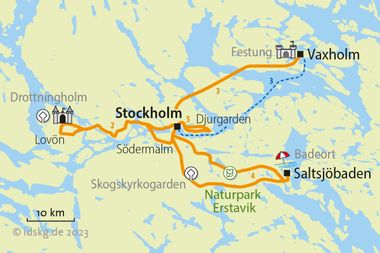 Overnight stay with breakfast
room with D/bath/WC
luggage transport
Cycling map with marked route
Digital route guidance via smartphone app
Tips for trip preparation
Tourist information
7-day hotline service
Below you will find specific information about the Stockholm star bike tour. If you have any further questions about this tour, simply give us a call: Tel.: 06421 - 886890.
Travel options by plane
The nearest airport is Stockholm/Arlanda Airport. From there you can reach the center of Stockholm by train (Arlanda Express) or bus (Flygbuss), journey time approx. 30- 45 min.
Public transportation Stockholm
Flygbussarna
Travel options by train
Stockholm Central Station is easy to reach by train, e.g. with the EC from Hamburg via Copenhagen to Stockholm or with the Snälltåget from Berlin via Malmö to Stockholm. From the station in Stockholm you can continue to your starting hotel by subway, streetcar or cab. Further information can be found at www.bahn.de, www.snalltaget.se or www.oresundstag.se.
Train information
Parking facilities at the arrival hotel
A parking space in the hotel garage costs from approx. 310 SEK per car/day, payable on site. Reservation is not possible.
You will receive detailed information about parking facilities approx. 3 weeks before arrival with your travel documents.
Condition of the cycle paths
You cycle on well-signposted cycle and gravel paths (coarser gravel also possible) as well as on forest paths and low-traffic side roads through the typical Swedish countryside. The route is flat to slightly hilly.
Available rental bikes
24-speed bikes (unisex) with freewheel and 8-speed electric bikes (unisex) with coaster brake are available. The bikes are each equipped with a pannier, handlebar bag and a service set with tools, spare inner tube, pump and lock for each room.
Extra costs that are not included in the tour price
Any tourist tax is not included in the tour price and must therefore be paid at the hotel.
7-day hotline service
If your bike chain breaks, floods make it impossible to continue your journey or other nasty surprises await you: We are available for you 7 days a week and will organize help as quickly as possible.
Passport and visa requirements
For EU citizens, there are no special passport or visa requirements or health formalities to be observed for this trip.
Travel insurance
The statutory insolvency insurance is already included in the tour price. In addition, we recommend that you take out travel cancellation insurance after receiving your travel confirmation in order to protect yourself against financial disadvantages in the event of cancellation, curtailment, illness or accident.
You might also be interested in