Low-cost flights and the nearby airport (Metro, 30 minutes) simplify individual travel. Look forward to Porto's lively Mediterranean shoreline and a colorful, charming old town with a variety of shopping opportunities.
Today your cycling trip starts spectacular. You cycle to the picturesque Douro river, across the historic iron bridge to the famous port wine producers and follow the Douro to the wide estuary to the Atlantic. Enjoy wonderful panoramic views of the picturesque old town. On a separate bicycle lane you bike along the beach promenade. Like this you can enjoy the gentle waves of the Atlantic and the wide white sand beaches. In the middle of the dune landscape, you follow the cycle path along wooden walkways. Look forward to Espinho, here you will find the most beautiful beaches south of Porto. In the afternoon you will cycle through the pine-tree forest to the former fishing village of Furadouro with its kilometers of sandy beaches. Take a stroll through the wide promenade and enjoy the day.
The well-developed lagoon landscape of Aveiro, separated from the Atlantic by an extended dune strip, offers a unique biotope with wide shallow waters, small canals, diverse flora and fauna and lively fishing. Enjoy the beautiful fishing village of Aveiro with picturesque canals. In the Art Nauveau dominated old town, colorful traditional boats offer small canal cruises. Dive into this picture-book town, visit the cathedral and enjoy the evening in one of the numerous restaurants of the old town.
In Ilhavo you can admire the museum and the historical factory area of the Vista-Alegre porcelain factory, where noble porcelains of world renown is produced. The Spanish and Belgian royal houses, the White House and many museums are among the customers. Take a break at the coast in the town of Costa Nova with its countless colorful painted houses (palheiros), which now houses pretty holiday houses, cafés, restaurants and nice shops. Kilometers of dunes, the foothills of the lagoon landscape and a variety of bathing facilities will accompany you all day. The seaside resort of Praia de Mira, with its fine beach promenade and typical small restaurants and fishermen's houses, can be reached on separate cycle paths away from any traffic.
Today quite different landscape impressions characterize your day. 12 km you cycle through the wide state forest with beautifully scented pine trees. A separate cycle path leads you idyllically along densely wooded streams to historic water mills and small lakes. Afterwards, you will cycle along small streets through dreamy villages, colorful fields and green forests. Enjoy the well wooded track, as just before your reach your destination you have to master 200 meters height. Reward yourself with a "stopover" and look forward to the deserved descent down to the coast to the wide dream beach of the fashionable seaside resort Figueira da Foz.
Today you will cycle on the new bike path along the river Mondego (optionally by train) to the impressive castle complex of Montemor-o-Velho. This widely visible fortification complex on the top of the hill will be reached by using three escalators in the narrow old town. Enjoy the fantastic panorama without effort. After leaving the town, you have to master 100 meter uphill before you will roll on small roads along the edge of the Mondego valley. Follow the river to the old town of the venerable university town of Coimbra, which is located majestic on a slope.
Today's day is free to define. We recommend to start the morning with a walk through the historic city of Coimbra. In 2013 the old but still quite busy part of the city became UNESCO world heritage. Particularly worth seeing is the famous university and it's so called historic-baroque 'golden' library, which is open for visitors. After a short lunch break in one of the Cafés or student bars our transfer service to Porto starts at 2 pm. In Porto you can explore the city and enjoy the sunset and rest of the evening at the waterfront of Douro river.
Departure after breakfast.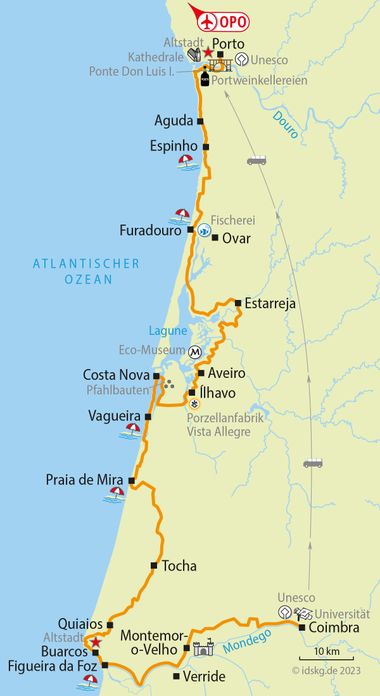 Overnight stay with breakfast
Room with D/bath/WC
Luggage transport
Cycling map with marked route
Digital route guidance via smartphone app
Tips for trip preparation
Tourist information
7-day hotline service
Shuttle from the hotel to the personal welcome (1st bike day)
Transfer Coimbra - Porto (reservation required)
Personal welcome and tour breefing
Please find more information about the "Porto - Coimbra" bike trip below. If you have any further questions feel free to contact us by phone: 0049 - (0)6421 - 886890.
Arrival by plane
Porto can be reached from many German and European airports. From the airport in Porto you will reach downtown Porto by metro (journey time approx. 30 minutes).
Condition of cycle paths
You cycle 90% on paved paths and only a few km gravel paths.
Available rental bikes
We provide touring bikes (unisex), hybrid bikes (females/men's) an electric bikes (unisex) with a pannier and a lock. The bikes are available with freewheeel and in different frame sizes Please specify your wishes with your booking.
Your Velociped contact person at the location
In Porto we have an absolutely reliable all-round service for you as well. Our english- and german-speaking local partner, will be at your disposal every day, will welcome you, takes care of the bikes and knows every bicycle tour personally. He is looking forward to give you insider tips and common information.
Navigation with your mobile phone
You often cycle on small roads and paths with many branches in a very varied landscape. There are only a few bike path signs or information signs. Therefore we recommend to use our GPS files in addition to our tour book with maps. We are happy to send you the GPS files free of charge by email. You can save all day tours on your smartphone to follow them easily.
On request, we will also provide a GPS device with the files on site for a rental fee (50.00 EUR). GPS device is subject to availabilty, so please contact Velociped at least 1 week before your journey starts. A short video for handling can be found here tutorial.
Travel seasons
In March daytime temperatures are well suited for cycling already and in April you can expect balmy evenings. High season starts in May and in June a shelter from the sun is already treasured. The bathing season is in July and August and you are going to meet many locals at the waterfront. As of September the temperatures are very pleasant for cycling again. Even October is still a good month for travelling but the Atlantic Ocean is way too fresh for a long bath at that time.
Return transfer Coimbra - Porto
On day 7 a transfer to Porto is included. You will be picked up at your hotel at 2 pm.
Extra costs which are not included
The short train ride on the 6th day from Figueira da Foz costs about 3.00 EUR and has to be paid locally.
Since March 1st 2018 the city of Porto charges a visitor's tax of 2,00 EUR per person per night. The tax has to be paid at the hotel.
It is possible to use one of our GPS devices. The fee is 50.00 euros.
7 day hotline service
Just in case the bike chain is broken, flooding makes it impossible to continue your tour or any other nasty surprise: you can reach us seven days a week and we will do anything to help you as fast as possible.
Passport and visa requirements
For EU citizens, there are no special passport or visa requirements and no health formalities to be considered for this trip.
Travel insurance
The tour price already includes the statutory insolvency insurance. In addition, we recommend that you take out travel cancellation insurance upon receipt of your travel confirmation in order to protect yourself against financial disadvantages in the event of travel cancellation, interruption of travel, illness or accident.
You might also be interested in