You travel individually to Gdańsk/Gdansk, our tour guide will welcome you at the hotel. We meet at 3:00 pm. Afterwards, your holiday begins with an extensive tour of the beautifully restored Old Town of Gdansk (approx. 3 hours). The evening will be rounded off with dinner in a restaurant on the Motlau. Overnight stay in a hotel in Gdańsk.
After breakfast we will take the train to Malbork/Marienburg, where we will see the largest medieval fortress in Europe, the Crusader Order Castle. In the afternoon, the first cycling tour (an easy route to cycle in, very scenic) and then a short bus transfer to Elbląg/Elbing. Tonight's dinner we will enjoy in the hotel restaurant with excellent Polish cuisine. Overnight stay in a hotel in Elbląg.
A morning boat trip on the Oberland Canal (approx. 3 h) from Jelonki to Buczyniec offers you unforgettable impressions! Then take an enjoyable bike ride to Frombork, the city of Nicolaus Copernicus. Here you can visit the famous cathedral (optional). On the route you will have a view of the Vistula Lagoon. Dinner and overnight in a hotel in Frombork/Frauenburg.
Before leaving Frombork, we visit the most beautiful work of ecclesiastical architecture, the Frauenburg Cathedral. There, in the northwest tower, Nicolaus Copernicus lived and worked for thirty years with short interruptions. Around noon bus transfer to Orneta. By bike you will reach your today's location Lidzbark Warmiński/Heilsberg, where you can visit the castle of the Prince Bishops of Warmia the next day (optional). Dinner and overnight in a hotel in Lidzbark Warmiński.
Our today's bike and bus tour shall lead us to Kętrzyn/Rastenburg. We start by bike in Lidzbark Warmiński. On the way, the Masurian silence is interrupted only by chattering storks. On the way to our destination today we will reach Święta Lipka /Saint Linden by bus. Here we visit the famous pilgrimage church from the 17th century and listen to a short organ concert. Simply beautiful. You will enjoy it. Dinner and overnight in a hotel in Kętrzyn.
In the morning we start with a short bus transfer to the "Wolfsschanze", the former Hitler headquarters, which we visit with a knowledgeable guide. Then we will go on a cycling tour via Sztynort/Steinort to Giżycko/Lötzen. Dinner and overnight in a hotel in Giżycko.
Today we can take a scenic bike ride around numerous lakes (approx. 50 km) or spend the day as we please. Dinner and overnight stay as on the 6th day.
After breakfast we will go on a boat trip through the most beautiful Masurian lakes connected by canals to Mikołajki/Nikolaiken, the small town is often called Venice of the North. After exploring the town and a short stroll, we will cycle through Mazurski Park Krajobrazowy/Masurian Landscape Park to Krutyń/Kruttinnen. Dinner and overnight in a pension in Krutyń.
Today's program includes: a particularly beautiful bike ride through the nature reserves around Krutyń/Krutynia and an unforgettable experience on the water - kayaking. There are many beautiful paddling routes on the Krutynia. The calm river is only up to 90 cm deep, special previous knowledge is not necessary! In the evening we will have an atmospheric farewell dinner around the campfire. Overnight stay as on the 8th day.
Right after breakfast we will take a bus to Warszawa/Warsaw, where we will be guided through the Old Town. The end of the tour is scheduled at Warszawa Centralna train station at about 4:00 pm. Individual journey home.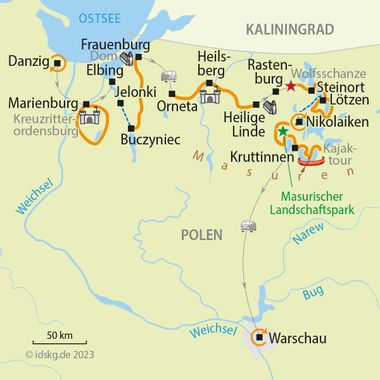 Accommodation in good, typical hotels and guesthouses in double/twin rooms with shower/WC.
Half-board (breakfast and warm dinner); vegetarian food is possible if ordered in advance (please specify, with or without fish).
The first board service: dinner on the day of arrival
Last meal: breakfast on day of departure
Local taxes
Mineral water available on the cycling days
All transfers as per programme
Guided tour of Gdansk incl. entrance fee
Guided tour of the Crusader Order Castle in Marienburg incl. entrance fee
Organ presentation in Frauenburg
Guided tour of Frauenburg Cathedral incl. entrance fee
Guided tour of the pilgrimage church in Święta Lipka incl. organ concert
Guided tour of the "Wolfsschanze" incl. entrance fee
Boat trip through the Masurian lakes
Paddling tour on the Krutynia River
Campfire
Guided tour of Warsaw
7 picnics/lunches
Rental 28 inch unisex bikes with low entry, equipped with 7-speed Shimano hub gears
Luggage transport/escort bus/breakdown service
German-speaking and professionally qualified tour guide
Map of the area
Below please find more information about your bike trip. If you have any further questions please feel free to contact us by phone: 0049 - (0)6421-886890.
Arrival to Gdansk
If you are traveling to Poland, it is advisable to travel by train from Berlin. From Berlin (main station, east train station) there are several daily trains to Warsaw, from where you can travel to Gdansk. There are also several train connections from other German cities. Find out about Deutsche Bahn at www.bahn.de.
The airport in Gdansk-Rebiechowo is about 10 km from the center. From the airport you can take the taxi 9686 (City Plus Taxi) to the hotel (about 20 minutes, cost about 70 PLN).
Departure from Warsaw
The journey ends at Warsaw Central Station at around 4 pm. From Warsaw you have good train connections to Berlin. If you have a longer return journey, an extra night in Warsaw is recommended.
There are direct flights from Warsaw to Berlin, Hamburg, Dusseldorf, Munich and Frankfurt. The companies fly daily: LOT (Polish Airlines) www.lot.com and Lufthansa www.lufthansa.com. Also recommended is Eurowings www.eurowings.com.
Warszawa-Okecie Airport is about 10 km from the center. It is with shuttle service (bus No. 175 stops, inter alia, at the train station, in the old town, about 20-30 minutes, about 4.4 PLN) or taxi to reach quickly (recommended are the following taxi companies: ECO TAXI, City Taxi and ELE TAXI). A direct and comfortable train connection is also available directly from Warsaw Central Station.
The journey takes about 20 minutes. There are several connections per hour. The MODLIN Airport near Warsaw www.modlinairport.pl can be reached from Warsaw either by bus www.modlinbus.pl or by train www.mazowieckie.com.pl.
Condition of cycle paths
The tour runs in different landscapes. Around Malbork and in the highlands, the land is rather shallow (the area is below sea level). Slightly hilly and with gentle gradients (at Elbinger Höhe and in Masuria up to 150 meters) run the other sections of the tour. You cycle mostly on side roads, which can also be busy on shorter sections, but also on sandy roads, field, forest and partly cobblestone roads.
Available rental bikes
This trip includes 7-speed bikes with hub gears and low entry. If you want electric bikes (pedelecs), they are also bookable with an extra charge. All bikes are equipped with a luggage bag.
Taking your own bikes
Taking your own bike is possible. The transport of your own bike during the tour is free on the bike trailer.
Information on catering
The trip includes half board (breakfast and hot dinner) and 7 picnics/lunches. The first meal is dinner on the day of arrival, the last meal is breakfast on the day of departure. Vegetarian food is available upon advance request, please specify when booking. Mineral water is available on the cycling days.
Currency
The currency in Poland is the zloty (also abbreviated PLN), 1 zloty = 100 grosz. In Poland, money can be exchanged at banks, in larger hotels and in exchange offices (Polish: Kantor) respectively, whereby the exchange offices often offer a more favorable exchange rate. No compulsory exchange at the border. Foreign currencies can be carried without restrictions. Many hotels, restaurants and large stores accept credit cards, e.g. American Express, EuroCard, MasterCard and others. The acceptance of credit cards is indicated by emblems. However, we recommend that you take enough cash with you for your daily needs, as this is less complicated.
Extra costs which are not included in the travel price
A possibly resulting tourist tax is not part of the travel price and therefore it has to be paid locally in the Hotel.
7 day hotline service
In case of chain breakdown, flooding or other bad surprises that makes a continuation of your tour impossible: no problem, we also work during weekends and you can reach us 7 days a week in case of emergency.
Passport and visa requirements
For EU citizens, there are no special passport or visa requirements and no health formalities to be considered for this trip.
Travel insurance
The tour price already includes the statutory insolvency insurance. In addition, we recommend that you take out travel cancellation insurance upon receipt of your travel confirmation in order to protect yourself against financial disadvantages in the event of travel cancellation, interruption of travel, illness or accident.
Velociped can withdraw from the tour twenty-one days before the starting date of the tour, at the latest, in case the minimum number of participants stated under the tour description is not attained. You will duly be informed without any delay in case of a withdrawal. Velociped will of course refund the paid tour price immediately. Please note our General Terms and Conditions.
You might also be interested in