Your Hotel
Białowieski Conference Wellness & SPA
Located on the edge of the Białowieża primeval forest, the Hotel Białowieski Conference, Wellness & SPA welcomes you to your cycling vacation in Poland. It has 86 comfortably furnished rooms with a private bathroom with a bathtub or a shower. Furthermore, towels and bathrobes are provided for your convenience. In addition to a free indoor pool, Hotel Białowieski also offers a wellness center with waterscape, sauna and steam baths, as well as a variety of beauty treatments and relaxing treatments with natural products.
Specializing in regional dishes, fish and homemade cold cuts, as well as dairy products, the hotel restaurant serves a rich breakfast buffet daily. In the evening, you can relax in a hotel club and try some of the numerous drinks there. The 3-star hotel has its own brewery, which will spoil you with Polish beer specialties.
Arrive either individually directly to Białowieża, or by bus transfer from Warsaw. Your hotel "Białowieski Conference Wellness & SPA" (very good cuisine, there are among others pierogi and porcini soup, very nice wellness area with indoor pool and many treatments) is located in the immediate vicinity of the primeval forest of Białowieża). After checking in at the hotel you will receive the detailed maps and a detailed stage description , which is constantly kept up to date.
In the morning you can visit the National Park Museum and the surrounding park. In the village of Białowieża, the two churches are worth seeing: the Polish Orthodox brick church with onion domes and a unique iconostasis made of Chinese porcelain with plant motifs, and the Catholic church, where root wood was used for the chancel and interior decoration. In the afternoon you can take a cycling tour in the surroundings of Białowieża to get a first impression of the primeval forest.
The hotel bus will take you to the vicinity of Cisówka on the northern edge of the nature park. Here you can observe interesting and rare birds at the Siemianowka Lake. Take the binoculars with you - it's worth it! Via Narewka, a small village inhabited mainly by Jews before World War 2, you will cycle back to Białowieża.
Today you can take a nice paddling tour on the small river Narewka (near the hotel, about 3 km long). As the river is shallow and calm, no special previous knowledge is required. The afternoon is at your free disposal. Your hotel offers a variety of opportunities for relaxation and recreation: swimming pool, indoor and heated outdoor Jacuzzi and sauna area. Or treat yourself to one of the offered cosmetic treatments.
Today, an enjoyable bike ride through the Białowieska primeval forest to Topiło awaits you, where you can take a break at the beautifully situated forest lake and enjoy the untouched nature. You may also take the time to visit the station of the old forest railroad, which was built under German rule in WW1 and used to handle timber transport in earlier decades. After the break you will cycle back to your hotel through wonderful forests.
Right after breakfast you will cycle to the border crossing Białowieża/Piererow. The Belarusian part of the national park is very well maintained and the nature is beautiful. If you are lucky, you can get to see various rare species of animals. As there is a new asphalt bike path network in the primeval forest, your bike ride to Kamieniuki will be very relaxing. You will reach Kamieniuki village around noon. There you can visit an interesting forest museum (optional). The friendly people of this region will greet you with "Dobryj Den" - "Good day". In the late afternoon you will cycle back across the border to Poland.
After breakfast your eventful cycling tour ends and you start your journey home either individually or by bus and train transfer to Warsaw. If you wish, you can also book an extension in the Polish capital.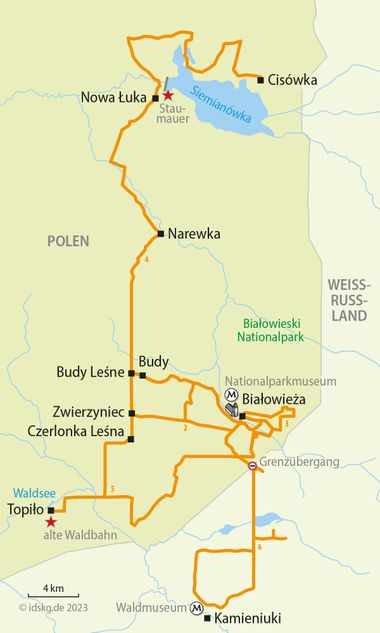 Overnight stay with breakfast
room with D/bath/WC
luggage transport
Cycling map with marked route
Digital route guidance via smartphone app
Tips for trip preparation
Tourist information
7-day hotline service
6 x overnight stays in the *** hotel "Białowieski Conference Wellness & SPA" in a double / single room with shower / toilet
Half board (breakfast and hot dinner); vegetarian meals are possible if you order in advance in writing (please specify, with or without fish). The first meal: dinner on the day of arrival. The last meal: breakfast on the day of departure
Guided tour through Białowieski including entrance tickets
Paddle tour on the Narewka River
Bus transfer to Stare Masiewo / Cisówka
Trip to Belarus
Local taxes
Below you will find specific information about the Białowieski National Park: Star Bike Tour. If you have any further questions about the trip, just give us a call: Tel: 06421 - 886890.
Condition of the cycling routes
The cycling routes are mostly flat. You will ride on side roads, firm field and forest paths and partly on newly built cycle tracks.
Arrival and departure via Warsaw
There are many direct flights to Warsaw from Berlin, Hamburg, Düsseldorf, Munich and Frankfurt. Daily flights are operated by the following airlines: LOT (Polish airline): www.lot.com Lufthansa: www.lufthansa.com Eurowings: www.eurowings.com Warszawa-Okęcie Airport is about 10 km from the center www.lotnisko-chopina.pl The city of Warsaw can be quickly reached from the airport by shuttle bus service (bus No. 175 stops at the train station and in the Old Town, among other places, about 20-30 min, or by cab. There is also a direct train connection to Warszawa Centralna (Warsaw Central Station). The trip takes about 20 minutes and trains run several times an hour. MODLIN Airport near Warsaw www.modlinairport.pl can also be reached from Warsaw by bus and by train.
Available rental bikes
Unisex bikes with low entry: equipped with 7-speed Shimano hub gears, with coaster and rim brakes. Furthermore, 7-speed electric bikes with hub gears and coaster can be booked. For each bike we provide you with a bike bag, a bike lock and one tool set per room.
Since the route descriptions indicate the mileage, we recommend that you bring your own speedometer. This will enable you to make a smooth progress of the bike tour. However, you can also borrow a good speedometer for a fee: 10 euros/tachometer (together with the assembly). Please be sure to note what you might want when you register.
Travel documents
A valid identity card is required for arrival. Persons under 16 years need a child ID with photo or a passport. For a trip to Belarus, a passport is required. The passport must be valid until 3 months after the end of the trip.
Currency
The means of payment in Poland is the Złoty (also abbreviation PLN used), 1 Złoty = 100 Grosz. In circulation are coins in denominations of 1, 2, 5, 10, 20, 50 grosz and 1, 2, 5 Złoty, as well as banknotes of 10, 20, 50, 100, and 200 Złoty.
In Poland, money can be exchanged at banks, larger hotels, and exchange offices (Polish: Kantor) respectively, with exchange offices often offering a more favorable exchange rate. No compulsory exchange at the border. Foreign currencies can be carried without restrictions. The current daily exchange rate can be found on the Internet at the following address: www.bankier.pl.
Extra costs that are not included in the tour price
A certain applicable tourism tax is not included in the travel price and has to be paid at the hotel on site.
7-day hotline service
If the bicycle chain is broken, floods make the further journey impossible or other bad surprises are waiting for you: We are available for you 7 days a week and organize help as quickly as possible.
Passport and visa requirements
For EU citizens, there are no special passport or visa requirements and no health formalities to be considered for this trip.
Travel insurance
The tour price already includes the statutory insolvency insurance. In addition, we recommend that you take out travel cancellation insurance upon receipt of your travel confirmation in order to protect yourself against financial disadvantages in the event of travel cancellation, interruption of travel, illness or accident.
You might also be interested in