By plane to Athens or Kalamata. Transfer from the airport to the hotel (approx. 1-2 hours travel time depending on the airport) can be booked.
Look forward to a wonderful bike ride through the mountains of the Peloponnese. From the excursion town of Vytina you cycle on small streets through rugged mountains, green forests and small dreamy towns to the lively town of Tripoli, the capital of the region. A total of approx. 550 meters in altitude.
Look forward to this day tour through the plateau around Tripoli. Marvel at the wealth of the earth as you cycle through apple orchards, small orchards and vineyards. Completely surprisingly, you suddenly find yourself in front of one of the most important caves in Greece with magnificent stalactite creations, before you can get to know a selection of red, rosé and white wines from a winegrower. Other highlights of your round tour are the excavations of the ancient city of Mantinea. A total of approx. 270 meters in altitude.
Today you cycle past the ruins of the temple of Athena Alea in Tegea through wide olive groves and through the Parnonas Mountains down to the old, picturesque fishing village of Paralio Astros with its kilometer-long pebble beach and tranquil restaurants right on the water. Shortly before your destination for the day, however, you should definitely pay a visit to the small monastery of Loukós and plan a short visit to the current excavations of the ancient city of Eva. A total of approx. 700 meters in altitude.
A beautiful bike ride on the coastal road awaits you today. Again and again you will be fascinated by magnificent views of the turquoise sea, small fishing boats and the wide bay of the Argolic Gulf. After a refreshing dip in the sea, you continue on the fertile plain to Argos, which is one of the oldest cities in Europe. Impressive here is not only the mighty fortress high up on the Lárissa mountain, but above all the archaeological excavation site at the foot of the mountain. Marvel at the ancient remains of the amphitheater built into the mountain, one of the largest in Greece. Look forward to your day's destination with its narrow old town streets, the beautiful harbor promenade and the many cafés. It is not for nothing that the picturesquely situated Nafplion is now considered the most attractive city in Greece. A total of approx. 460 meters in altitude.
Today you roll through wide orange and lemon groves to Mycenae, a fortress with massive walls that was built around 3,300 years ago and is one of the most important cities of antiquity. The ascent at the edge of the mountain slope is quickly forgotten, because you are amazed at the impressive excavations and important finds. The world-famous Lion's Gate, which weighs tons, and the shaft tombs are among the great cultural and historical attractions in Greece and will not only inspire us cyclists. A total of approx. 360 meters in altitude.
The last cycling stage of your journey begins quite comfortably with a transfer to Epidaurus, which is one of the historical highlights of every trip to Greece. Be impressed by the gigantic and well-preserved amphitheater, which is over 2,300 years old and held 14,000 spectators at the time! After an extensive tour get on your bikes. Mostly going downhill, you whiz through mountainous karst landscape and through the vast pistachio-growing area back to the coast. Enjoy another refreshing swim in the crystal clear sea water and look forward to another evening in Nafplion. A total of approx. 330 meters in altitude.
Transfer to the airport (can be booked), or extension program, if desired.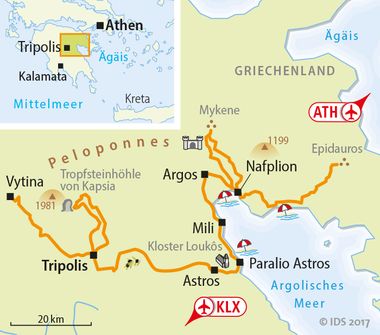 Overnight stay with breakfast
room with D/bath/WC
luggage transport
Cycling map with marked route
Digital route guidance via smartphone app
Tips for trip preparation
Tourist information
7-day hotline service
Transfer Nafplion - Epidauros on the 7th day
Below you will find specific information about the bicycle tour in the Peloponnese. If you have any further questions about this trip, simply give us a call: Tel.: +49 (0)6421 - 886890.
Arrival to Vytina
By car: If you want to travel completely overland from Germany to Greece, the route from Frankfurt is about 2550 km long and leads via Austria, Hungary, Croatia and Macedonia to Athens and on to Tripoli. Or you can drive to Italy and take a ferry from Venice, Trieste, Ancona, Bari or Brindisi directly to Patras in the Peloponnese. From Patras it is then about 150 km to Vytina.
By plane: Flights to Athens airport or - depending on the season - to Kalamáta. A transfer can also be booked from the airport (journey time approx. 2 hours from Athens, 1 hour from Kalamata). Public intercity buses also run every hour from the airport to Vytina and from Nafplion to the airport (journey time approx. 3 hours).
The cycling routes
You cycle 99% on paved paths and only a few km on gravel roads. The fertile plateau of Tripoli and the flat countryside between Nafplion and Argos are criss-crossed by small and very small asphalt roads, and even on the few passages on wider roads there is hardly any disruptive car traffic. Overall, the sparsely populated region has little traffic and is therefore ideal for leisurely cycling. On each cycling stage there are always short and some longer climbs to be mastered, but overall the descents predominate, since you start in Tripoli at 600 m altitude and roll down to the sea and are also brought to 300 m altitude on the transfer to Epidaurus and again roll down to the sea. With a basic level of fitness, this tour, which is generally "moderately difficult", is easy to do and enjoy.
The Bikes
The rental bikes are equipped with a large luggage bag, a tool set and a first aid kit. New bikes are used as women's and men's bikes in different frame sizes (women's bikes from a height of 150 cm, men's bikes from a height of 160 cm). Circuit 27-gear derailleur. Electric bikes can also be booked.
The Travel Seasons
From March, the daytime temperatures in the Peloponnese are well suited for leisurely cycling and from April you can expect mild evenings. In May, the sea temperature is also pleasant for a longer swim, and in June shaded areas are already in demand. Real high season with hot temperatures is in July and August, then the locals are also in large numbers at the water. The hustle and bustle subsides abruptly from September and pleasant temperatures for the cyclists prevail again. October is still a good month to travel in the saddle of a bike and the crystal-clear water has retained the heat.
The catering
Greek cuisine is more diverse than you might think. Of course, all the usual dishes known in this country are offered, but mostly the taverns and restaurants also have their own regional specialties on offer and of course fresh fish is always served in a variety of ways, especially on the coast. In addition, a suitable house wine from the barrel and an aperitif in advance, and the sunset on the beach or on the promenade can become a real pleasure!
The Hotels
You will stay in small family-run hotels, all of which have either been newly opened in recent years or have been extensively modernized during this time. In the selected hotels, personal charm is combined with modern comfort. According to German criteria, these hotels would get 3 - 4 stars and thus convincingly meet the expectations of most cyclists.
Extensions/ Additional Arrangements
In the saddle of a bike you will get to know and love one of the most beautiful and historic regions of Greece. You are welcome to extend your cycling holiday and your time in Greece, we will be happy to help you further. Just ask about this when you make your booking.
Bathing Facilities
You can cycle to a large number of bathing bays and can go swimming every day from the 3rd day of cycling. Fine pebble beaches with crystal clear water await you everywhere, and there is often a public shower nearby.
Navigation app (GPS)
You often cycle on small roads and paths with many junctions in a very varied landscape. There are no cycle path signs here and there are usually no other place or information signs. To make it easier for you to find your way around, we provide a navigation app that makes navigating on your smartphone easy and convenient. This will always get you to your desired destination without detours and long searches - we guarantee that!
Cycling in Greece
One thing is certain: as a cycling holidaymaker you are still exotic in the Peloponnese. In the towns, children are the dominant group in the saddle and in front of the city gates, local cyclists are only rarely to be found on the mostly deserted streets. At the latest when you stop at the next tavern along the way, you are sure to get admiring looks and you will soon be involved in hospitable conversations. As a cyclist you are very close again - to the people, the beautiful landscape and the many sights.
7 day hotline service
Just in case the bike chain breaks, flooding makes it impossible to continue your tour or any other nasty surprise: You can reach us seven days a week and we will do anything to help you as fast as possible.
Passport and visa requirements
For EU citizens, there are no special passport or visa requirements and no health formalities to be considered for this trip.
Travel insurance
The tour price already includes the statutory insolvency insurance. In addition, we recommend that you take out travel cancellation insurance upon receipt of your travel confirmation in order to protect yourself against financial disadvantages in the event of travel cancellation, interruption of travel, illness or accident.
You might also be interested in