The Caprice offers a total of 11 cabins divided into 2 double cabins (bed 1,90m x 1,40m), 8 twin cabins (beds 1,90m x 0,80m) and 1 single cabin. The 7-8 m² cabins with 3 opening portholes are all air-conditioned and have an en-suite shower room. The air-conditioned lounge is comfortably
furnished with adjoining salon with nice bar. The total of 10 windows let in plenty of natural light. Here you will find free internet access. The sundeck with seats and fixed awning invites you to linger and enjoy beautiful hours on board.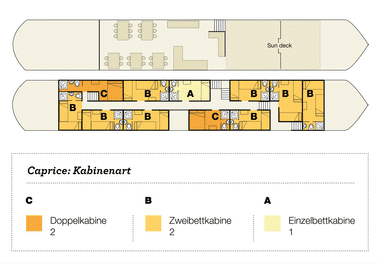 Embarkation is planned from 5 pm after individual arrival. Your maritime experience begins at the Quai de la Ligne, near the famous Pont St Bénezet bridge. At 6.30 pm, you will meet your tour guide and the ship's crew there to get to know each other before dinner and to herald the start of your journey.
During the course of the day, you will reach the Île de la Barthelasse. Here you cycle through the characteristic garrigue landscape, which is characterised by vineyards and orchards. Before returning, you will make a stop in Villeneuve Les Avignon, a historic town that was once known as a refuge for cardinals. In the afternoon, you will have the opportunity to explore the historic centre of Avignon and discover its rich history.
The morning begins with a boat trip to Aramon, from where your cycle tour starts. Today the route takes you to an outstanding relic of Roman engineering, the Pont du Gard, the best-preserved Roman aqueduct in Europe. This architectural masterpiece awaits you and will undoubtedly impress you. Towards the evening, the ship docks in Aramon, where you can enjoy a picturesque view of Mont Ventoux. You will spend the night on the ship.
In the morning, a relaxing boat trip to Vallabrègues, a charming village on the banks of the Rhône, awaits you. From there, you continue your journey by bike. Your route takes you to Barbentane, where an impressive castle rises between the Rhône and Durance rivers. The cycle tour continues to the magnificent Saint Michel de Frigolet Abbey and then takes you to the medieval castle of Boulbon. The day ends with your overnight stay in Vallabrègues.
The next stage takes you to Saint Rémy de Provence, the birthplace of Nostradamus. This village also became famous because Van Gogh lived here for a while. You then continue your journey to the Alpilles, where the village of Les-Baux-de-Provence awaits you. During your journey, you will be accompanied by a picturesque landscape characterised by limestone cliffs and olive trees.
The morning begins with a visit to Arles, the ancient capital of Gaul, with its impressive Roman ruins. After a lunch break, you will reach Franquevaux. From there, you will continue your journey with a short boat trip to Aigues-Mortes, where you will spend the night.
Today's stage is a circular tour that takes you through the Camargue, a region where nature still exists in its original form in many places. On your route, you will also visit the picturesque fishing village of Le Grau-du-Roi. Here you have the opportunity to relax on the beach and enjoy the surroundings.
After breakfast, your spectacular bike tour ends with disembarkation.
As a rule, the tour follows the course of the River Rhône and the Rhone-Sète Canal. However, it is possible that changes may have to be made to the itinerary for various reasons. These changes may be due to weather conditions, official regulations or organisational reasons. High and low water, unexpected maintenance work on bridges or locks and logistical obstacles could mean that the daily routes or mooring points have to be modified. In some cases, a bus transfer may even be necessary. Ultimately, the decision on such changes lies with the ship's captain.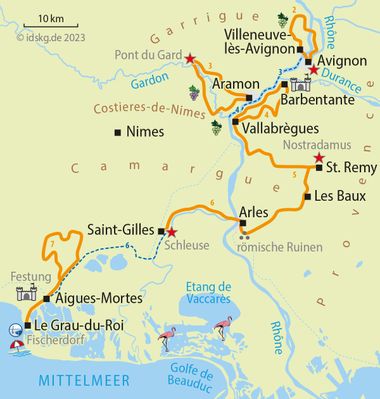 7 x accomodation
Full board (breakfast, 6 x dinner and a self-made packed lunch)
Coffee and tea on board
Sheets and towels
Courtesy kit
One mid-week cabin cleaning service and towel change
Bike helmet (please advise)
English speaking tour leader within an international group
Digital tour information
App with maps, route descriptions and GPX tracks
Guided visit of Arles
Harbour charges
Below you will find specific information about the tour in the Provence and Camargue. If you have further questions about this trip, you simply call us: Phone: 06421 – 886890.
Arrival to Avignon or Aigues Mortes
You have access to Aigues Mortes and Avignon from the following airports by bus or taxi:
Montpellier Mediterranèe (MPL), Marseille Provence (MRS), Nîmes Garons (FNI), Lyon Saint Exupéry (LYS) and Avignon Caumont (AVN).
Guided or individual itinerary
On this tour you can decide spontaneously on board whether you want to cycle in a group or explore the region individually.
The group (international audience) is led by a trained, English speaking tour guide. If you choose an individual cycling day, you will receive a very detailed route description on board.
Condition of the bike paths
The route guidance is mainly on cycle paths and rural roads with low traffic. Short sections of the route will cycle on unpaved roads or on roads with more traffic if there is no route alternative available (for example, for entry / exit to larger cities). The routes are generally very flat, some days there are short, slightly more demanding climbs.
Available Rental Bikes
There are 27-speed unisex bikes available in different frame sizes. Each bike is equipped with a luggage bag, water bottle, bike computer and a lock. For each cabin you will receive (not in the group tour) in addition a repair kit and a handlebar bag / card holder. In addition, 9-speed electric bikes are available on request.
Own Bikes
The use of own bikes is not possible for this tour.
Back transfer to the starting point of the trip
Between Avignon and Aigues Mortes are few train connections (you have to change the train in Nîmes), duration 2 hours.
Ridesharing during the bike tours
Of course, in case of emergency, a support vehicle is available, which is also used for the daily excursions, if the guests do not want to cycle. Information and programs on excursion options are available on board; Excursions are not included in the tour price and are paid locally.
Cycling in France
Cyclists are required to wear a striking dress code in France. Since October 1, 2008, you must wear a reflective reflective vest at night outside of places, as well as on days with poor visibility. Otherwise, you face a fine of up to 35 euros.
Extra costs which are not included in the tour price
One dinner, drinks on board as well as the entrance fees to museums are not included and payable locally.
7 day hotline service
Just in case the bike chain breaks, flooding makes it impossible to continue your tour or any other nasty surprise: You can reach us seven days a week and we will do anything to help you as fast as possible.
Passport and visa requirements
For EU citizens, there are no special passport or visa requirements and no health formalities to be considered for this trip.
Travel insurance
The tour price already includes the statutory insolvency insurance. In addition, we recommend that you take out travel cancellation insurance upon receipt of your travel confirmation in order to protect yourself against financial disadvantages in the event of travel cancellation, interruption of travel, illness or accident.
Velociped can withdraw from the tour twenty-one days before the starting date of the tour, at the latest, in case the minimum number of participants stated under the tour description is not attained. You will duly be informed without any delay in case of a withdrawal. Velociped will of course refund the paid tour price immediately. Please note our General Terms and Conditions.
you might also be interested in