Arrive early to explore the old town with the castle of Blois, which is well worth seeing. If you have booked rental bikes, they are ready for you at the hotel.
Today's first day of cycling will take you first along the Loire River with views of the rock dwellings characteristic of this area, built directly into the limestone. You will cross the Loire to pay tribute to the most royal of castles - Amboise Castle. All five kings and a Roman emperor were housed here, and Leonardo da Vinci spent his last years here. After the visit, continue cycling on the Loire Cycle Route to Tours. If the stage is too long for you, you can hop on the train in Amboise (not included) and shorten the stage by about 30 km.
In the morning, follow the Cher River, which will lead you straight to Villandry Castle with its terraced gardens. Enjoy a walk through the magnificent gardens. A few kilometers further you will reach the Loire again and after a short while you will have the next castle in view: Castle Langeais. From the fortified tower you have a wonderful view of the river and the surrounding countryside. Then you will continue cycling towards Chinon, where on the edge of the mysterious forest rises the castle of Ussé - the Sleeping Beauty castle. From here, your destination for today, Chinon, is quickly reached.
Today you first cycle along the Vienne to the small village of Candes-St-Martin. Here you will find a magnificent Romanesque church at the place where St. Martin died. In Montsoreau, where the Vienne rejoins the Loire, you will experience an impressive natural spectacle. The "cave gardens" stretch over 800 km. In Fontevraud l'Abbaye there is a very well-preserved medieval monastery complex. On the way back to Chinon, you will drive past the birthplace of the writer Francois Rabelais and through the valley in which the plot of his famous book "Gargantua" is set.
You leave Chinon with its medieval alleys behind you and cycle north. Through old vineyards and lonely villages you ride to Crissay. This place is one of the most beautiful villages in France and enchants with its houses from the 15th century. Of course, a visit to the castle must not be missed - the Renaissance castle Azay-le-Rideau is waiting for you. Balzac wrote that the castle is "a diamond with a thousand facets, set by the Indre." Take plenty of time to visit this castle and the town, because with Azay-le-Rideau you have reached your overnight destination today.
Today's stage holds a scenic highlight in store for you. Your way leads you through the romantic river landscape, always following the Indre to the pretty little town of Montbazon. Over a small ridge you will reach the valley of the Cher. Now you cycle on meadow paths along the river bank to Bléré and further to Chenonceaux. Chenonceau Castle is perhaps the most beautiful of all Loire castles. A magnificent bridge gallery spans the river, the main building towers over the Cher and in front of it stretches the magnificent garden.
Decide for yourself how long your day's stage may be today. The shorter stage takes you through lovely countryside to Chaumont Castle and further along the Loire to Blois. Here you have the opportunity to explore the town. Or would you prefer to take a longer bike ride? Via Montrichard, Cheverny, Villesavine you cycle to the castle of Chambord. Even from a distance you will see the mighty walls of the largest and most magnificent residence of the Loire. Whatever you decide. The last evening of your bike tour you can end in Blois with a wine from the wine-growing areas of the Loire.
After breakfast your bike tour ends at the hotel. We are happy to book additional nights in Blois for you.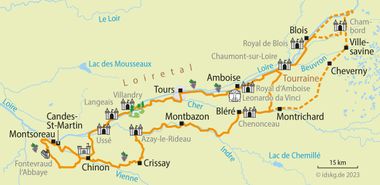 Overnight stay with breakfast
room with D/bath/WC
luggage transport
Cycling map with marked route
Digital route guidance via smartphone app
Tips for trip preparation
Tourist information
7-day hotline service
Below you will find specific information about the Loire Tour and surroundings. If you have further questions about this trip, you simply call us: Phone: 06421 – 886890.
Arrival by train
Target station is Tour- Centre. By arrival with train in Tours a station change in Paris with subway is necesssary. It is not possible take bicycles in the train. From Paris Montparnasse train station it takes about 1,5 to 2,5 hours to Tours-Centre.
Parking facilities at the hotel
If you will arrive with your car, you can park in the hotel garage or in a public parking garage depending on your hotel category. The weekly fee is approx. 45,- EUR (payable locally). A pre-reservation is not possible.
Condition of cycle paths
The route trough the valley of the Loire usually leads over little roads, cycle paths or economic routes. Except for two shorter climbs, you will find a consistently flat route guidance.
Available rental bikes
There are 21-speed ladies and gentlemen's bicycles of the brand Gitane available with free-wheeling. Electric bicycles are subject to availability, but they have no rescission. When booking a rental bike, the warning vest is included.
Cycling in France
For cyclists in France a striking dress code is prescribed. Since October 1, 2008, you have to wear a reflective warning vest at night outside of localities, as well as on days with poor visibility. Otherwise you will be fined up to 135 Euros. The measure is an initiative of the French Government.
Hotels
Category A (comfort): nights in comfortable hotels in local 3* level with nice rooms with shower / bath and toilet. A mixture of charming and modern hotels, with good cuisine awaits you. Most centrally located accommodations
Category B (Standard): Overnight stay in country-style hotels on 2*/3* level with friendly rooms with shower / bath and toilet. A cozy and personal atmosphere awaits you. The accommodations are mostly centrally located.
Extra costs which are not included in the price
A possibly applicable city tax is not part of the travel price and therefore has to be paid at the hotel locally.
7 day hotline service
Just in case the bike chain breaks, flooding makes it impossible to continue your tour or any other nasty surprise: You can reach us seven days a week and we will do anything to help you as fast as possible.
Passport and visa requirements
For EU citizens, there are no special passport or visa requirements and no health formalities to be considered for this trip.
Travel insurance
The tour price already includes the statutory insolvency insurance. In addition, we recommend that you take out travel cancellation insurance upon receipt of your travel confirmation in order to protect yourself against financial disadvantages in the event of travel cancellation, interruption of travel, illness or accident.
You might also be interested in