Individual arrival in Køge. The city is one of the best preserved medieval cities in Denmark. It was built by royal order with the largest market place in the region, where trade of all kinds and large jousting tournaments took place.In Kirkestraede you will find the oldest half-timbered house in Denmark, from 1527.
Today you cycle north on beautiful paths, mostly along the bay, to Copenhagen. With a history that goes back to the year 1043, the metropolis will captivate you with its many historic landmarks and important buildings. Visit the more than 100-year-old amusement park Tivoli and the 1.25 m tall statue of the famous mermaid, the city's most recognizable symbol. Plan a walk through the Strøget shopping street, which is one of the longest pedestrian streets in Europe at over 1 km long, and stroll along the "Nyhavn", where ships from all over the world used to dock. Today the beautiful old houses there have all been renovated and fine restaurants dominate the old harbour. You can easily return to Køge by train (on your own).
Today's cycling day begins with a train ride to Copenhagen before cycling north through the former hunting grounds of the Danish kings at Dyrehaven in Klampenborg. Let yourself be enchanted by idyllic landscapes and deep forests before you reach the coast again. Enjoy rolling to Helsingbørg, always accompanied by beautiful beaches that invite you to take a dip in the cool water. Visit Kronborg Castle in Elsinore, one of the most important Renaissance castles in Northern Europe. More fortress than castle, Kronborg is famous the world over for being the setting of Shakespeare's drama Hamlet. But the old port city has much more to offer. Allow plenty of time before a leisurely (own-arranged) train ride back to Køge.
On completely car-free paths, you cycle today partly along the bay, partly inland to Roskilde, steeped in history, whose cathedral can be seen from afar. Roskilde was once a royal town and played an important role in Denmark's history. Visit the magnificent red brick cathedral with its slender spires, recognised as a UNESCO World Heritage Site since 1995. The sarcophagi and tombs, where 38 Danish kings and queens found their final resting place, make the church something special. After a worthwhile break, you then either return to Køge by train (on your own) or use the extensive network of cycle paths and cycle back to the hotel (89 km).
Today is at your free disposal. Use the time for a relaxing day at the beach or take a leisurely stroll through one of Denmark's most beautiful half-timbered towns. Enjoy your stay - the city exudes a lot of flair and is often used as a film set.
Today a spectacular natural phenomenon lures, the cliffs of Stevns Klint. The massive rock formations belong to the UNESCO World Heritage Site due to the unique "fish tone", which provides the key to the mass extinction of the dinosaurs. The breathtaking chalk coast can be hiked along the entire length. On a clear day you can watch the ships sailing towards Øresund from here. You can take the train from Rødvig back to Köge (on your own).
After breakfast, your wonderful cycle tour through the Copenhagen area comes to an end. If you want to extend the trip, we will be happy to help you.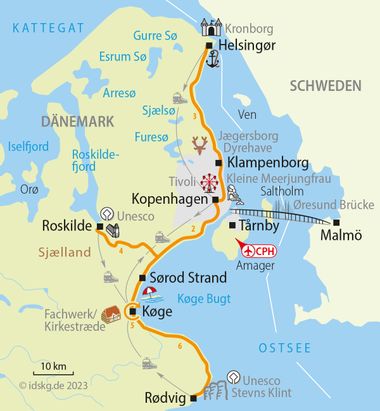 Overnight stay with breakfast
Room with D/bath/WC
Luggage transport
Cycling map with marked route
Digital route guidance via smartphone app
Tips for trip preparation
Tourist information
7-day hotline service
Please find more information about the radial bike tour around Copenhage below. If you have any further questions feel free to contact us by phone: +49 - (0)6421 - 886890.
Arrival
Arrival by train / long-distance bus:
You can travel to Copenhagen by train or with long-distance bus companies via Hamburg (via ICE, no bicycles can be transported, advance reservation required) or via Flensburg (via Danish IC, bicycles can be transported). From Copenhagen Central Station you can take the train to Køge in about 40 minutes
Arrival by plane:
There are numerous direct flights from Germany to Copenhagen, e.g. from Hamburg, Hanover, Berlin, Düsseldorf, Frankfurt, Stuttgart and Munich.
Arrival by car:
You can easily reach Køge by car.
Parking facilities at the hotel
Free parking at the hotel in Køge possible, alternatively there is a free parking area near the train station. Depending on availability, pre-reservation is not possible.
Condition of cycle paths
You cycle in flat to slightly hilly terrain with differences in altitude of up to approx. 150 m.
In Copenhagen you will find paved cycle paths throughout, a very well developed network.
On all day tours, over 90% of the bike paths are paved, only short sections are unpaved bike paths. All bike paths are paved.
Available rental bikes
There are 8-speed touring bikes with back pedal (women's or men's bike), 24-speed touring bikes with freewheel (women's or men's bike) and 7/8-speed electric bikes (unisex with low entry) with back pedal or with freewheel available.
Extra costs which are not inculded in the price
Any visitor's tax that may be incurred is not part of the travel price and must therefore be paid on site at the hotel.
In addition, the various train journeys take place independently:
Train ride Copenhagen - Køge, approx. 10-15 € / person
Train ride Helsingør - Køge, approx. 10-15 € / person
Train journey Roskilde - Køge, approx. 10-15 € / person
Train ride Rødvig – Køge, approx. 10-15 € / person
7 days hotline service
Just in case the bike chain is broken, flooding makes it impossible to continue your tour or any other nasty surprise: you can reach us seven days a week and we will do anything to help you as fast as possible.
Passport and visa requirements
For EU citizens, there are no special passport or visa requirements and no health formalities to be considered for this trip.
Travel insurance
The tour price already includes the statutory insolvency insurance. In addition, we recommend that you take out travel cancellation insurance upon receipt of your travel confirmation in order to protect yourself against financial disadvantages in the event of travel cancellation, interruption of travel, illness or accident.
You might also be interested in