Arrive on your own. One of the most beautiful medieval market squares and Denmark's oldest town hall awaits you in Køge. In front of the city, beautiful white sandy beaches invite you to swim or dream.
You cycle straight through the green south of Zealand through forest, meadows and fields in which truly stately mansions are nestled. Look forward to Naestved on the west coast, it is one of the oldest towns in Denmark. The pretty town's distinctive red brick tells you that Næstved was at its peak during the Hanseatic League. Take a trip to the island of Gavnø, where there is a rococo castle worth seeing. Marvel at the well-known tulip cultivation in the castle park, the butterfly house and the magnificent picture gallery in the castle.
Today you cycle along the coast to the Great Belt, the strait between the Baltic Sea and the Kattegat. Look forward to a stopover in Karrebæksminde, a small bustling resort with a beautiful sandy beach. Marvel at the historic iron bascule bridge, which is well worth seeing, and be sure to try the freshly smoked fish in the harbour, a real delicacy. In the afternoon stroll through Korsør. Visit the remains of the old city fortifications, the royal court and marvel at the 18-kilometer-long bridge over the Great Belt. The journey then continues inland to your next stage inland.
Today you cycle to the coasts and fjords at Roskilde. First to the Iselfjord and then on to the Roskildefjord. Look forward to Roskilde. Be sure to visit the cathedral, which was declared a World Heritage Site by UNESCO in 1995. It is the final resting place of 20 Danish kings and 17 queens. The gilded Antwerp reredos and the ornately carved choir stalls from 1420 are among the most precious pieces of the rich interior of the cathedral.
Today's stage takes you to the Danish capital. Copenhagen is a pocket-sized cosmopolitan city. Here you can reach all sights in a short distance. Visit the Round Tower, Europe's oldest observatory, stroll through the waterfront with its gabled houses and the Little Mermaid, visit Rosenborg Castle and Amalienborg, where the Danish royal family resided, and have fun at Tivoli, the most famous amusement park in Europe.
Today belongs to Copenhagen and its sights. Discover the Danish capital by bike, which is certainly the No. 1 means of transport here and has an excellently developed network of cycle paths. If you don't want to cycle, take a stroll to Nyhavn to see the little mermaid and stroll along the Stroget shopping street or visit the Tivoli amusement park today.
Today you cycle south on a beautiful bike route along the beaches of Copenhagen and through the coastal hinterland. You then follow the cycle path "Berlin - Copenhagen" back to the small town of Køge. Drop off the rental bikes at the hotel in the afternoon.
After breakfast, you will travel home on your own. If you wish, we can book additional nights in Køge.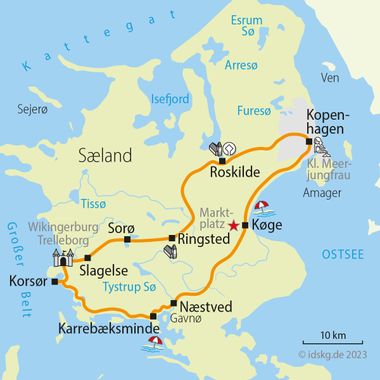 7 nights incl. breakfast
Luggage transfer from hotel to hotel
Travel documents with maps and route description
7-day hotline service
Please find more information about the tour "Denmark's Island: Zealand circuit tour" below. If you have any further questions feel free to contact us by phone: 0049 - (0)6421 - 886890.
Arrival
Flight: There are numerous direct flights to Copenhagen. Continue by train to Copenhagen Central Station and from there to Køge Central Station. (approx. 1:15 h). Alternatively, we recommend taking a taxi, which will take you to Køge in about 35 minutes.
Train: First by train to Hamburg and from Hamburg by IC to Copenhagen (limited number of bikes possible, reservation required) Next, take the train to Køge Central Station. (approx. 0:45 h). Alternatively, we recommend taking a taxi, which will take you to Køge in about 30 minutes.
Bus: Various long-distance bus providers are available
Parking facilities at the hotel
Depending on the hotel booked and availability, free parking is available. You will receive further information on parking options with your travel documents approx. 2 weeks before arrival.
Condition of cycle paths
The routes are quite different. Mostly on cycle paths, if there is no cycle path, then economical paths. The paths run mostly on flat to slightly hilly terrain with gradients of up to 150m.
Available rental bikes
Lehmkuhl or Kalkhoff rental bikes are available in the following versions:
8-speed touring bikes with coaster brake and 24-speed touring bikes with freewheel as women's or men's bikes.
7-/8-speed electric bikes as women's bikes with freewheel or back pedal
Please let us know what bike you want when you make your booking.
Extra costs which are not inculded in the price
A possibly applicable city tax is not part of the price and has to be paid at the hotel locally.
7 days hotline service
Just in case the bike chain is broken, flooding makes it impossible to continue your tour or any other nasty surprise: you can reach us seven days a week and we will do anything to help you as fast as possible.
Passport and visa requirements
For EU citizens, there are no special passport or visa requirements and no health formalities to be considered for this trip.
Travel insurance
The tour price already includes the statutory insolvency insurance. In addition, we recommend that you take out travel cancellation insurance upon receipt of your travel confirmation in order to protect yourself against financial disadvantages in the event of travel cancellation, interruption of travel, illness or accident.
You might also be interested in