DE AMSTERDAM is a 311 ft. long and 36 ft. wide, very well equipped river cruise ship. The vessel has 56 staterooms for max. 112 passengers. All staterooms are outside cabins. The lower deck has 10 twin cabins and 20 superior twin cabins (approx. 135 sq.ft.). All cabins have an individual climate control system, digital TV, roomy wardrobe, mini-safe, hair dryer, 230V and 115V sockets, 2 separate single beds (78 x 31 inches) and a private bathroom with shower, toilet, basin and bath products. All twin cabins have a large picture window (4.59 ft. x 2.95 ft.) that can be partly opened. The difference between twin and superior twin cabins on the lower deck is their location in relation to the engine room, stairs and salon. The upper deck offers 18 identical superior twin cabins and 8 spacious French Balcony Suites. The Suites (approx. 200 sq. ft.) have the same amenities as the superior twin cabins, but are larger and - in addition -
also have a mini-bar and a "French Balcony" (floor-to-ceiling sliding glass doors) instead of a window. The beds in all suites are set as a hotel-style bed (78 x 62 inches) and can, optional (on request), be set as two separate single beds (78 x 31 inches). DE AMSTERDAM has a restaurant on the lower deck. You can enjoy the scenery in the cozy lounge / bar with dance floor and large panoramic windows on the upper deck. In the bar/lounge, Wi-Fi is available for guests (complimentary limited data packages included / additional data packages can be purchased online). On the partially roofed sun deck, chairs and sun loungers invite for a stay. Bicycles will be stored on a separate part of the sun deck. Inside areas of DE AMSTERDAM are non-smoking areas; the sun deck has a smokers' area. Onboard languages: English/German (international guests, international crew).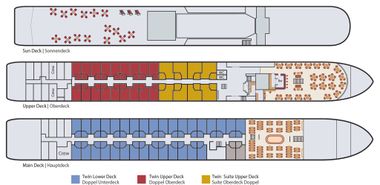 Amsterdam Embarkation and check-in from 2 pm to 4:30 pm in Amsterdam. Take the opportunity to go shopping, to explore downtown Amsterdam, to make a canal cruise or to visit a museum Welcome drink, dinner and first briefing (at 5 pm) on board. First night on board in Amsterdam.
Your first cycle tour starts in Breukelen. You'll tour along the beautiful and winding river Vecht with its enchanting background of imposing castles, country houses and quaint tearooms. You will follow the Vecht into the center of Utrecht where you will have the opportunity to explore the beautiful historical city center: the Dom Cathedral with its tower, the canals, special shops and nice cafes. In the afternoon you will continue by ship from Utrecht to Rotterdam.
Today you will cycle via the "jenever city" of Schiedam and through the Delfland area to Delft, famous, of course, for its blue pottery. Visit the beautiful city center with its small canals, picturesque streets, bridges and alleys. For many of our guests a visit to the Delftware factory is one of the highlights of their tour. Afterwards, you will cycle back to Rotterdam, where you can enjoy a short city walk in the evening.
Today you can cycle the first part or the "waterbus" will take you and your bicycle to Alblasserdam. After just a few minutes of cycling you will reach Kinderdijk (UNESCO cultural heritage, with its impressive row of 19 large windmills). You then have the choice between a longer bike tour with a visit to the beautiful cheese city of Gouda and a short bike tour through the Alblasserwaard. Both tours end in the "silver city" of Schoonhoven, where you can visit a silversmith.
Today you will cycle from Schoonhoven through the beautiful "Green Heart" of Holland along small villages and quiet roads to Utrecht. On your way you can visit a traditional cheese farm and in Oudewater you can visit the Witches Weigh House. In the late afternoon the ship will sail from Utrecht to Haarlem.
Today you can choose from 2 bike tours. Both tours takes you through the beautiful Kennemer dunes, a national park where you can spot several bird species, Scottish Highland cows and Shetland ponies. After a visit to the seaside resorts Bloemendaal and Zandvoort you cycle through the forests and the center of Haarlem back to the ship. The longer cycling tour leads to the largest steam engine of the world, the Cruquius pumping station and back to Haarlem. During dinner your ship will cruise to Zaandam.
From Zaandam your final day of cycling will take you to the open air museum the Zaanse Schans (free entry), with its beautiful windmills, an Old Dutch village with traditional wooden houses, a cheese farm and a traditional wooden clog maker. After exploring the museum you cycle through the recreational area "Twiske" back to Amsterdam. The afternoon and evening are yours to enjoy everything Amsterdam has to offer. If you didn't go for a canal tour on the first day, you will have the opportunity to do so today.
After breakfast (ca. 9:30 a.m.) your bike- and ship experiences end with the disembarkment.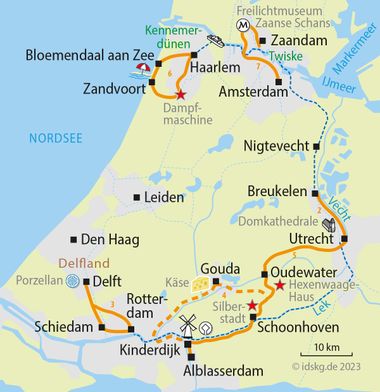 7 x accomodation in the booked cabin (with shower/WC)
Cabin with air condition
Bed linen and towels
Daily cabin cleaning
Full board (breakfast, packed lunch and 3-course dinner)
Welcome drink and information talk on the 1st evening
Coffee and tea in the afternoon until 4 pm
Daily tour briefing on board
Some short city walks
Experienced & local tour guide (during the day on the bike and always reachable by cell phone)
Maps and information package
All harbour-, bridge- and watergate fees
7-day hotline service
Reductions on entrance fees and excursions
Below you will find specific information about the bike and boat tour in Holland. If you have further questions about this trip, you simply call us: Phone: 06421 – 886890.
Arrival by car
The ship's landing point is usually close to the train station. You will receive final information on the location of the ship with the detailed travel documents before you start your journey. If you arrive by car, we recommend that you first drive to the jetty and drop off your luggage and, if necessary, your bicycles there. We then recommend using the parking facility specified below.
Parking in Amsterdam
If you come to Amsterdam by car, we recommend that you use the parking service from Amsterpark.nl, which we offer with a pick-up and delivery service ("Valet Parking"). You will receive a registration form with the travel documents.
Valet Parking:
With valet parking, you drive your own car to the ship, from where your car is driven to a monitored parking area by a driver. A driver is waiting for you in front of the ship who will help you with your luggage. The driver, who knows the location and the vehicle, brings your car to a parking lot, where your car is parked under constant surveillance by cameras; When you return from the trip, your car will be in front of the ship within about 30 minutes of your call, so you can get on and drive off.
Benefits of the Amsterpark valet service
No waiting times, no loss of time, no bus journeys on / off / transfers, no need to carry luggage. Since you reserve in advance, you can be sure that there will be a parking space. You are immediately at your destination without having to take a taxi or public transport. Your car is parked safely and guarded. Reliable and responsible drivers with the appropriate papers take care of your vehicle. Amsterpark valet parking is cheaper than many public car parks in Amsterdam and is accessible 24/7.
What does Amsterpark's valet parking cost?
Valet Parking: For only approx. € 175, you can park your vehicle (car) safely and guarded for one week, including 2 x transfer services for your car.
Arrival by train
The ship's landing point is usually close to the train station. You will receive final information on the location of the ship with the detailed travel documents before you start your journey.
Current DB timetable information can be found very practically at www.bahn.de. www.bahn.de
Luggage
For reasons of space, we would like to ask you to refrain from luggage with a hard shell, the storage space in the cabin is very limited!
Available rental bikes
So-called unisex bikes are available (suitable for men and women). They have a 7-speed gear shift with coaster brake and are available in different frame sizes. Please enter therefore your weight when booking the tour. On request and extra charge some electric bikes can be made available.
Bring your own bikes
You can take your own bike with you to a limited extent. There is little space available on the ship for a surcharge: € 10.00 per regular bike or € 25.00 per electric bike. Advance registration is required to bring your own bike.
Important note
The captain reserves the rights to make any necessary changes to the itinerary due to wind, weather and navigational features.
Extra costs which are not included in the tour price
A fuel surcharge due to the sharp rise in fuel prices, is not included in the cruise price and must be paid on board. The amount of the surcharge - if applicable - we will let you know approx. 3 to 4 weeks prior to your arrival.
Short history of MS De Amsterdam
By the end of the 2017 season, the river cruise ships Angela Esmee and Anna Maria Agnes had moved into their winter quarters in the port of Amsterdam. There was a serious accident in October. A freighter drove unchecked on the two side by side moored ships - and damaged them hard. Fortunately, there were no casualties in the collision.
After a shipyard had thoroughly assessed the extent of the damage, it was clear that the MS Anna Maria Agnes could not be repaired in time for the start of the 2018 season. Therefore, from 2018, the MS De Amsterdam - a larger, much more comfortable and better equipped ship - will drive the southern route in Holland. Since the new ship can accommodate more passengers, we set up a second tour guide on board, if more than 60 guests have booked the tour.
When booking, you also have the advantage of being able to select the new cabin categories "Superior Twin Cabin" and "Suite".
7 day hotline service
In case of chain breakdown, flooding or other bad surprises that makes a continuation of your tour impossible: no problem, we also work during weekends and you can reach us 7 days a week in case of emergency.
Passport and visa requirements
For EU citizens, there are no special passport or visa requirements and no health formalities to be considered for this trip.
Travel insurance
The tour price already includes the statutory insolvency insurance. In addition, we recommend that you take out travel cancellation insurance upon receipt of your travel confirmation in order to protect yourself against financial disadvantages in the event of travel cancellation, interruption of travel, illness or accident.
You might also be interested in