The imposing three-masted barquentine LEAFDE FAN FRYSLÂN was used for cycling and sailing trips for the first time in 2018 and is operated by the owner couple Joris and Rinske de Wit, who have been operating the three-masted clipper MARE FAN FRYSLÂN for many years. The luxurious ship has an upscale interior. The ship has 10 comfortable twin cabins, 1 smaller twin cabin, 1 junior suite with 2 single beds each and 1 single cabin. In some cabins, an optional third bed is available as a bunk bed. All cabins have a bathroom with shower, sink and toilet.
A window or deck hatch can be opened in each cabin. Delightful meals are served in the nautical-themed restaurant and the quaint ship's bar is well stocked. The wheelhouse has a nice seating area: Here and on deck you have the best view over the water. The LEAFDE FAN FRYSLÂN accommodates 25 (up to max. 27) passengers, is 48 m long, 7 m wide and has a total sail area of ​​760 m².
In winter 2023/2024, the ship will be converted into a four-masted schooner. This will create new cabins and also the new upper deck suites.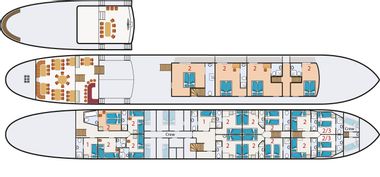 Enkhuizen is 65 km (60 minutes) northwest of Amsterdam. Embarkation from 4pm (bag drop from 11am already possible). During the welcome the skipper tells you with an aperitif all about the upcoming trip. Overnight stay on board in the port of Enkhuizen.
In the pretty harbor town of Enkhuizen with its historic old town you start your first bike ride along the IJsselmeer to the old port of Medemblik and then continue to Den Oever with its small interesting fishing port. Depending on weather conditions the ship goes already today out into the Wadden Sea island of Texel.
The day belongs to one of the largest Dutch North Sea island. Cycle through extensive dune fields and picturesque villages, follow the well signposted Thijsseroute (about 40 km) and visit the seal breeding station EcoMare.
Today we are sailing! In about 5-6 hours we will reach our destination today, the island of Terschelling, also known as the "Amsterdam of the Wadden Sea". Look forward to a lovely village that still retains much of its original charm.
Lots of nature and culture offers today's round trip to Terschelling. 70 km cycling paths, four beautiful villages, West-Terschelling, the largest town on the island with plenty of shops and pubs and the 400 year old lighthouse waiting to be discovered. In the late afternoon you will sail to Harlingen.
After breakfast you cycle via Franeker, with its famous planetarium from Eise Eisinga through the wonderful, spacious Frisian landscape to Makkum. Makkum is located on the eastern shore of the IJsselmeer. If you want to take the longer bike ride, visit Bolsward, one of the eleven Frisian cities.
Today you first cycle to Stavoren. If you have chosen the short route, you will cycle through the old trading town of Hindeloopen. The first Frisian skating museum is in Hindeloopen. The longer bike tour takes you along several lakes in the Frisian Lake District and shows you a completely different landscape. After the bike ride you will sail back to Enkhuizen.
Your adventure ends after breakfast with disembarkation in Enkhuizen at 09:30 am.
A Sail & Bike Tour always involves a bit of adventure: on this trip, only the port of embarkation and disembarkation, Enkhuizen, are 100% fixed in advance. The route to be covered depends primarily on the weather and the tides and is determined from day to day. We therefore reserve the right to change the route or the order of the individual stages at any time. The skipper and his crew discuss the possibilities with the guests on a daily basis and will do everything to offer you a varied mix of culture and nature. Let yourself be surprised! Several sections of the route are covered by sailing boat. All distances mentioned are "approximate distances" of the recommended cycle tours. If guests do not wish to cycle on one day, they can relax and stay on board. Program + details subject to change, e.g. for meteorological or nautical reasons.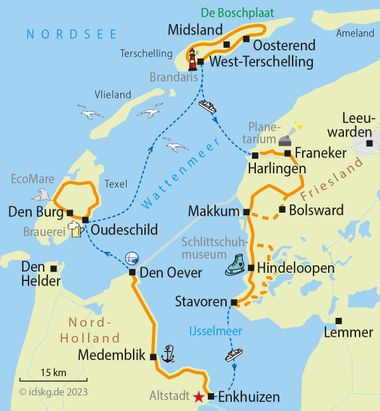 7 x breakfast, lunch on board or packed lunch for cycling, coffee and tea till 4pm, 7 x 3-course dinner)
Bed linens and towels
Daily cleaning service
Welcome drink and briefing at the first evening
Free coffee and tea
Cruise manager
Detailed maps and route descriptions for cycling
WLAN / Wi-Fi in the lounge at the port
Below you will find specific information about the bike & boat bike tour in Holland. If you have any further questions about this trip, just give us a call: Tel .: 06421 - 886890.
Landing point Enkhuizen
The ship's landing point is usually close to the train station. You will receive final information on the location of the ship with the detailed travel documents before you start your journey.
Parking in Enkhuizen
You can park your car behind the train station. Parking is free.
Available rental bikes
So-called unisex bikes are available as rental bikes (suitable for men and women). They all have the 7-speed gear hub with coaster brake and are available in different frame heights. Therefore, please state your height when booking. Electric bikes can also be provided on request.
Bring your own bikes
You can take your own bike with you to a limited extent. There is little space available on the ship for a surcharge: € 10.00 per regular bike or € 25.00 per electric bike. Advance registration is required to bring your own bike.
Change of the tour
Any necessary changes to the itinerary due to wind, weather and nautical features are reserved for the skipper as captain of the ship at any time!
Extra costs which are not included in the tour price
Arrival and departure, transfers, drinks, rental bikes and helmets, personal insurance, gratuities and personal expenses, ferry and parking fees.
7 day hotline service
In case of chain breakdown, flooding or other bad surprises that makes a continuation of your tour impossible: no problem, we also work during weekends and you can reach us 7 days a week in case of emergency.
Passport and visa requirements
For EU citizens, there are no special passport or visa requirements and no health formalities to be considered for this trip.
Travel insurance
The tour price already includes the statutory insolvency insurance. In addition, we recommend that you take out travel cancellation insurance upon receipt of your travel confirmation in order to protect yourself against financial disadvantages in the event of travel cancellation, interruption of travel, illness or accident.
Velociped can withdraw from the tour twenty-one days before the starting date of the tour, at the latest, in case the minimum number of participants stated under the tour description is not attained. You will duly be informed without any delay in case of a withdrawal. Velociped will of course refund the paid tour price immediately. Please note our General Terms and Conditions.
You might also be interested in