The MS Fluvius can accommodate 44 guests in 22 air-conditioned outside cabins (approx. 10-12m²) with two single beds and shower/ WC each. Seven cabins are located on the upper deck, 15 on the main deck. The panoramic windows of the double cabins on the upper deck can be opened. The windows of the twin cabins cannot be opened. You can make yourself
comfortable on the sun deck of the 70-meter-long ship. A cozy atmosphere and friendly crew await you. With its large sun deck, elegant panoramic salon and beautiful cabins, it is one of the especially cozy cabin ships. In winter 2017/2018 the ship was completely renovated. On the upper deck 4 new, spacious double cabins have been created.

From 1 pm embarkation in Amsterdam begins, at pm 14.00 panoramic ride from Amsterdam to Vianen. After dinner, you will take a first small bike tour along the Lek and near the fortified town of Vianen.
A morning bike ride takes you first to the silver town of Schoonhoven. Through typical polder landscape you cycle to Kinderdijk, where you can admire 19 windmills in a row (Unesco World Heritage Site). After an interesting tour, the "Waterbus" will take you to Dordrecht, one of the oldest cities in Holland. The historic city center is impressively nestled between mighty rivers. Enjoy the view over the busiest river junction in Europe! For painters and poets, this broad watershed with its Dutch cloud skies has been a source of inspiration for centuries. You will spend the night in historic Wolwevershafen. Look forward to a rewarding city walk after dinner.
During breakfast, the Fluvius will sail to Tholen, which was once located on an island in the middle of the large rivers of the province of Zeeland and was often flooded. There the bike tour starts through the forest area "Wouwse Plantage" and further to the impressive Kreekrak lock. Here you reboard and through the port of Antwerp the Fluvius heads for the city center. Look forward to the diamond city of Antwerp also known as the birthplace of the famous painter Peter Paul Rubens. Explore the old town individually, discover the Grote Markt, visit the cathedral "Onze Lieve Vrouwe" with works by Rubens and join the city walk after dinner.
After breakfast, you will first cycle or sail to the Zeeschelde. You follow this beautiful but capricious tidal river upstream. Enjoy the excellent bike path on the Scheldedamm and let your eyes wander far into the varied surrounding countryside. If you want you can board again in Temse, but the bike route is getting more and more beautiful! Past nice excursion restaurants and small ferry ports you roll to Dendermonde. Here you must visit the medieval market square, the bell tower and the Sint-Alexius-Beginenhof (1288).
In the morning you cycle along the Scheldt to Ghent. Look forward to this lively university city with its rich past. Admire the many old patrician houses, the Belfry, the Count's Castle, one of the most important Romanesque castles in Belgium, and of course St. Baaf's Cathedral with the famous Ghent Altar by Jan van Eyck during a stroll through the city. The ship is moored at the lock in Merelbeke, a suburb of Ghent.
Today you roll comfortably through the pleasantly flat countryside of West Flanders to Bruges. Here the highlight of the trip awaits you. Bruges, also called Venice of the North, is often rated as the most beautiful of all Flemish cities. Its old town, which dates back to the Middle Ages, today presents itself like a doll's house. The medieval city center was declared a UNESCO World Heritage Site in 2000. Discover on your own the large market square, the town hall, the Cloth Hall, the Belfry, the Beguinage and the Church of Our Lady with Michelangelo's Madonna.
Look forward to this round trip via the small town of Damme, birthplace of Till Eulenspiegel. Passing the Abbey Ter Doest, which is worth seeing, you will drive to Lissewege, the "most beautiful village in Flanders". Marvel at the whitewashed houses that picturesquely line both sides of the canal and at the imposing village church. In no time at all you will be in the seaside resort of Blankenberge. A 12 km long sandy beach and numerous cafés entice you to stay before you cycle back to Bruges.
After breakfast, your trip ends with disembarkation at approximately 9:30 am.
The skipper as captain of the ship reserves the right to make any necessary changes to the itinerary due to wind, weather and nautical peculiarities!
We are glad to offer this tour as a guided tour. If you choose this option a guide will cycle with you during the day and show you a lot of interesting towns and the most outstanding places.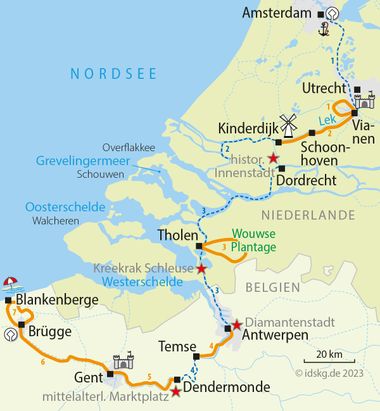 7 nights in outside cabins with shower/toilet
Air-conditioned cabin
7 x breakfast, 6 x packed lunch
6 x 3-course-dinner
Coffee and tea daily
Welcome talk and welcome drink
Daily cabin cleaning
Bed linen and towels
On-board tour guide and daily route briefing
Maps and detailed route description (1 x per cabin)
GPS tracks
Below you will find specific information about the bike & boat cycle tour from Amsterdam to Bruges. If you have any further questions about this trip, simply give us a call: Tel.: 06421 - 886890.
Train - Arrival
Amsterdam can be easily reached by train from all cities in Germany. The ship's pier is on Buiksloterweg across from Amsterdam Central Station. From the north exit of the station there is a pedestrian and cyclist ferry (Buiksloterveer) that runs every 6 minutes. Use is free!
Current DB timetable information can be found at www.bahn.de.
train arrival
Car - arrival
The pier of the ship is in Amsterdam near the central station.
If you are arriving by car, we recommend driving to the jetty first and handing in your luggage and bicycles there. We then recommend using one of the specified parking options.
You will receive precise information on the location of the ship and further information with the detailed travel documents two weeks before the start of the trip.
Amsterdam:
If you come to Amsterdam by car, we recommend that you use Amsterpark.nl's valet service, which we offer with a pick-up and return service ("Valet Parking"). You will receive a registration form with the travel documents.
Valet Parking:
With valet parking, you drive your own car to the ship, from where your car is driven by a driver to a monitored parking area. A driver will be waiting for you in front of the ship, who will help you with your luggage. The driver, who is familiar with the area and the vehicle, will bring your car to a parking lot where your car will be parked under constant camera surveillance; When you return from your trip, your car will be at the docking station in Amsterdam within about 30 minutes of your call, so you can get in and drive straight away. Amsterdam Valet Parking offers many advantages such as:
No waiting, no loss of time, no boarding/departing/changing bus journeys, no need to carry luggage. Because you reserve in advance, you have the security that a parking space is available. You are immediately at your destination without having to take a taxi or public transport. Your car is parked safely and guarded. Reliable and responsible drivers with the appropriate papers take care of your vehicle. Amsterpark Valet Parking is cheaper than many public car parks in Amsterdam and is accessible 24/7.
How much does valet parking cost from Amsterpark?
Valet parking: For around €175.00 you can park your vehicle (car) safely and guarded for a week.
Bruges:
Buiten Begijnenvest at Central Station, about 20 minutes walk to the pier.
in parking lot costs about €3.50 per day. The parking lots are monitored.
All information as of 2023
On the day of arrival you can bring your luggage on board from around 11:00 am, but embarkation and check-in do not begin until 1:00 pm.
For reasons of space, we would like to ask you to refrain from carrying hard-shell luggage, the storage space in the cabin is very limited!
The tour guide offers daily guided bike tours. Detailed cycling maps and route tips are available for guests who want to cycle individually and at their own pace; the tour guide can always be reached via mobile phone for questions, breakdowns and emergencies.
So-called unisex bikes of the brand "Bikkel" - private label are available as rental bikes (suitable for men and women). They all have the 7-speed gear hub with handbrake and luggage bag and are available in different frame heights.
The e-bikes, also from the "Bikkel" brand - private label, are equipped with 7 gears, 6 support levels, only hand brakes and a pannier bag.
You can take your own bike with you to a limited extent. There is a small amount of space available on the ship "MS Fluvius" for a surcharge: €10.00 per regular bike or €25.00 per electric bike, including charging station.
For safety reasons, it is not possible to charge the batteries of your own electric bikes in the cabin.
The crew will inform you about where to charge your battery on deck/onboard. In this case, the ship's crew and the organizer are not liable for any damage, loss or theft of your own bicycle or e-bike.
Pre-registration for taking your own bike is required.
There are good train connections between Bruges and Amsterdam and between Amsterdam and Bruges.
Arrival and departure, parking fees, drinks, rental bikes, entrance fees and excursion fees, personal insurance, tips and personal expenses.
If the bicycle chain has broken, flooding makes it impossible to continue your journey or other nasty surprises await you: we are available for you 7 days a week and will organize help as quickly as possible.
For EU citizens, there are no special passport or visa requirements and no health formalities to be considered for this trip.
The tour price already includes the statutory insolvency insurance. In addition, we recommend that you take out travel cancellation insurance upon receipt of your travel confirmation in order to protect yourself against financial disadvantages in the event of travel cancellation, interruption of travel, illness or accident.
You might also be interested in