Launched in 2016, Magnifique 2 offers a total of 12 twin cabins (11 m²), 1 twin cabin premium (13 m², 2 single beds, and a small sitting area) and 4 suites (14 m²) with large panoramic windows on the upper deck. All seventeen cabins are equipped with adjustable air-conditioning, flat screen satellite TV, mini safe and
hairdryer. On the upper deck there is a salon/restaurant (air-conditioned), bar, lounge with wide screen TV, a partially covered sun deck with tables and chairs where you can enjoy sunny hours and mild evenings.

Embarkation and check-in at 2:00 pm, where the crew will welcome you on board. After stowing your luggage in your cabin, your ship will take you from Amsterdam to Vianen. After dinner, you will take your first short bike ride along the Lek River and by the fortified town of Vianen.
Today starts with a bike ride to the silver town of Schoonhoven, where many talented silversmiths have been located since the 17th century. Later you will follow the Lek river, cross the Ablasserwaard polder and reach Kinderdijk. Kinderdijk is famous for its 19 windmills, which are UNESCO World Heritage Sites. You can visit one of these windmills! For the last stretch you will use the "Waterbus" which will take you from Alblasserdam to Dordrecht, one of the oldest cities in Holland.
During breakfast you will sail to Willemstad, where your next bike tour begins. First you cycle to Tholen, once an island in the middle of the great rivers of the province of Zeeland. Today Tholen, still a picturesque town, is connected to the mainland. You will then continue to your destination for the day, Bergen op Zoom, a historic fortified town. After dinner, you will have the opportunity to explore the old town with its ancient squares and monumental buildings and stroll through the narrow streets.
During breakfast the ship will take you to Willemstad. First you cycle to Tholen, once an island in the middle of the big rivers of the province of Zeeland, which was often flooded. Today Tholen is still a picturesque little town. In the afternoon, you will reboard the ship and continue through the Kreekrak locks to the port city of Antwerp. In the world capital of the diamond trade, after dinner you will have the opportunity to visit the city hall, the historic "Grote Markt" square, the cathedral and the medieval stone castle.
In the morning you will cycle on a beautiful route out of Antwerp and along the picturesque tidal river Scheldt to St. Amands, where you will spend the night. The scenery around the Scheldt is breathtakingly beautiful. Undoubtedly, this part of the tour is one of the nature highlights.
Today you continue your journey along the Scheldt and cycle to Ghent. The ship docks for the coming night in Merelbeke, a suburb of Ghent. Ghent is a beautiful university city that boasts a rich history. Due to the city's location at the confluence of the Leie and Scheldt rivers, it has been a very important trading port since Roman times. With the magnificent Opera House, 18 museums, over 100 churches and more than 400 historic buildings, it has many attractions. The main attractions are the St. Bavo Cathedral, where you can admire some masterpieces of medieval art and especially the world famous "Adoration of the Lamb of God" by Jan Eyck, and the 95 meters high former watchtower Belfort of Ghent, which is considered one of three medieval towers overlooking the old town. Before dinner, you can join a guided canal tour of the historic city.
Today you cycle through the enchanting Flemish countryside of West Flanders to Bruges, also called the "Venice of the North". This city attracts more than two million visitors a year, who cannot escape the flair of this cultural city. A unique example of a medieval settlement, Bruges has managed to preserve its historic buildings as the city has developed over the centuries. As a result, today the Gothic buildings blend well into the cityscape and form part of its identity. During your stay you can visit one of the many museums or just relax and enjoy the atmosphere of this beautiful city with a coffee in one of the many nice street cafes.
After breakfast, your trip ends at 9:30 am with disembarkation.
Possible, necessary changes of the itinerary due to wind, weather and nautical peculiarities remain reserved to the skipper as captain of the ship at any time!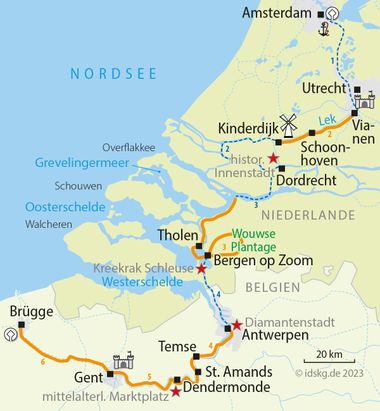 7 x overnight stays in the booked cabin
7 x breakfast
6 x dinner (3-course-menü) - no dinner in Antwerp
6 x lunch pakets for bike tours
Coffee and tea on board
Welcome drink
Daily briefing of program
Air conditioned cabin
Daily cleaning of the cabin
Linen and towels
Guided bike tours (2 tour guides)
Some short guided city tours
Fees for ferries
Canal tour Ghent
Entrance fee Red Star Line Museum Antwerpen
Tasting of typical products in Belgium
WLAN/ Wi-Fi
GPS-tracks
7-day-hotline-service
Below you will find specific information about the bike & boat bike tour in the Netherlands and Belgium. If you have any further questions about this trip, just give us a call: Tel .: 06421 - 886890.
The ship's dock in Bruges as well as in Amsterdam is near the central station.
If you are arriving by car, we recommend that you first drive to the ship's dock and drop off your luggage and, if necessary, your bicycles. Afterwards we recommend using one of the indicated parking facilities.
If you arrive in Amsterdam by car, we recommend that you use the parking service of Amsterpark.nl, which we offer with pick-up and drop-off service ("Valet Parking"). You will receive a registration form with your travel documents.
Valet Parking:
With Valet Parking you drive your own car to the ship, from where your car is driven by a driver to a supervised parking area. A driver will be waiting for you in front of the ship to assist you with your luggage. The driver, who is familiar with the area and the vehicle, will take your car to a parking lot where your car will be parked under constant camera surveillance. When you return from your trip, your car will be waiting for you at the dock in Amsterdam within about 30 minutes, so that you can get right in and start your trip.
Advantages of Amsterpark valet parking
No waiting, no time wasted, no bus ride in/out, no need to carry your luggage. Because you make a reservation in advance, you have the certainty that a parking space is available. You will be at your destination immediately, without having to take a cab or public transport. Your car is parked safely and guarded. Reliable and responsible drivers with the appropriate papers will take care of your vehicle. Amsterpark valet parking is cheaper than many public parking lots in Amsterdam and is available 24 hours a day.
How much does Amsterpark valet parking cost?
Valet Parking: For about 175,00 € you park your car for one week safely and guarded incl. transfer service to/from the port.
Bruges: Buiten Begijnenvest at the central station, approx. 20 minutes' walk to the pier. A parking lot costs about 3,50 € per day. The parking lots are supervised.
All information as of 2023
The pier of the ship is opposite the main station Amsterdam Centraal.
Bruges: You arrive in Bruges at the Stationsplein, the central station. From there, the berth is not far!
You will receive detailed information about the location of the ship with the detailed travel documents two weeks before the start of your trip.
Current DB timetable information can be found very practically at www.bahn.de.www.bahn.de
For reasons of space, we would like to ask you to refrain from luggage with a hard shell, the storage space in the cabin is very limited!
Possible, necessary changes of the itinerary due to wind, weather and nautical peculiarities remain reserved to the skipper as captain of the ship at any time!
As rental bikes we have so-called unisex bikes available (suitable for men and women). They all have 7-speed hub gears with hand brake and are available in different frame heights. Therefore, please indicate your body size when booking. E-bikes can also be provided on request for an additional charge.
Bringing your own bike is possible to a limited extent. There is a small amount of space available for this on the ship "MS Magnifique 2" for an additional charge: 10,00 € per regular bike or 25,00 € per e- bike. Pre-registration for taking your own bicycle is required.
1 Dinner, drinks, entrance fees and excursions not listed in the included services as well as expenses for personal use are not included in the tour price.
In case of chain breakdown, flooding or other bad surprises that makes a continuation of your tour impossible: no problem, we also work during weekends and you can reach us 7 days a week in case of emergency.
For EU citizens, there are no special passport or visa requirements and no health formalities to be considered for this trip.
The tour price already includes the statutory insolvency insurance. In addition, we recommend that you take out travel cancellation insurance upon receipt of your travel confirmation in order to protect yourself against financial disadvantages in the event of travel cancellation, interruption of travel, illness or accident.
You might also be interessted in