Arrival to Montecatini Terme, one of the most famous and elegant thermal resorts in Italy. There are direct train links from Florence to Montecatini. In the afternoon you have a personal route information with hand over of the rental bike (if booked) in the hotel. Take a leisurely stroll through the famous spa town. In the Parco delle Terme (thermal park) there are various thermal baths, such as the Terme Leopoldine and thermal baths Tettuccio (small roof).
The first cycling tour offers a very worthwhile destination. The route leads through the wide plain of Valdenievole valley to the village Vinci, birthplace of Leonardo. Here the museum presents numerous reproductions as well as sketches and photos of the genius inventor, architect, engineer, philosopher and artist (Audio Video Guide can be borrowed, admission payable on spot). After this rewarding break the cycle tour leads on a different route back to Montecatini Terme.
Look forward to the charming town of Lucca, which can be reached by bike or train (optional). Definitely you should take a bike ride along the perfectly preserved city wall (4 km). It offers fascinating views from the old town. Then you cycle down hill to the Lake Massaciuccoli, the home of the composer Giacomo Puccini (now a museum). On dams and secret paths you cycle to the Leaning Tower in Pisa, where a visit to the well-preserved old town lures.
Enjoy the flat bike path on the banks of the Arno before you cycle through gently hilly landscapes on small roads through the Pisan mountains. Here on the slopes best wine, great olives and juicy peaches thrive. Afterward you have time to relax in the idyllic spa town of Casciana and pamper yourself with a visit to the 36 ° C thermal pools.
Today, the route offers countless wonderful views from the typical Tuscan "postcard" panorama. Olive trees, cypresses and vines line the narrow streets that lead you with some ups and downs through this enchanting hills to San Gimignano. Look forward to the great restored medieval village with its typical "gender towers", where you can saunter cozy in the evening.
Again you cross a beautiful Tuscan countryside. Even from a distance you see the small village Monteriggione which is idyllically situated on a small hill. Visit the historic city center, which is surrounded by an almost 600m long city wall and stroll through the narrow streets. After rewarding break you will cycle in the afternoon to the architectural jewel Siena. Here you can marvel at the huge cathedral and the charming square "Il Campo".
Today a real highlight is waiting for you: Your bike tour takes you right into the heart of the wide, hilly Chianti - wine country. From Castellina in Chianti to Greve you cycle in "Chianti Classico" area and you will be delighted by the extensive vineyards of the Tuscan hills. Take some samples in Greve on one of the most beautiful market places of Tuscany take some samples before you get in via transfer back to Florence in the late afternoon.
Today the beautiful bike tour ends in Florence. If you like you can still extend your stay in Tuscany before you travel back home – highly recommended.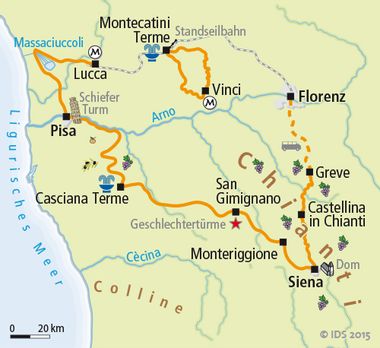 Accommodation incl. breakfast
Room with shower/bath/WC
Luggage transport
Map of bike trails with marked route
Digital route guidance via smartphone app for almost all journeys
Tips for tour preparation
Touristic information
7 days hotline service
Bike transportation Greve - Florence by bus, transfer for persons by public transportation
Personal tour breefing
Daily arrival possible on request
Below please find more information about your Tuscany bike trip. If you have any further questions please feel free to contact us by phone: 0049 - (0)6421-886890.
Arrival by plane
Florence Airport Amerigo Vespucci (approx. 40km from the hotel in Montecatini Terme). From the airport by shuttle bus to Santa Maria Novella/Florence Central Station. Direct train links to Montecatini Terme. Alternatively, Pisa Galileo Galilei Airport (approx. 60km from the hotel in Montecatinit Terme). From the airport either by train or by red bus line to Pisa Centrale Central Station. From here continue by train via Lucca or Florence to Montecatini Terme Centro, travel time approx. 1 hour 15 minutes.
Arrival by train
There are good international connections to Florence. From here you may go by train to Montecatini Terme every hour. Please find the actual connections and prices in the internet.
Train schedule information Deutsche Bahn
Train schedule information Trenitalia
Arrival by car
Vignette compulsory on the motorways in Austria (10-day vignette approx. 9,50 EUR) and Switzerland (approx. 38,50 EUR). The toll on the Brenner motorway is around 10,00 EUR on the Austrian side and around 23,00 EUR on the Italian side of the Brenner.
Parking facilities
Hotel parking spaces/ garage are available at the hotel for approx. 10,00 EUR per day, on availability, payable on spot. Alternatively, free parking spaces are available near the hotel. You will receive detailed information on parking at the hotel booked for you with the detailed travel documents two weeks before the start of your journey.
Tourinformation and rental bike
The personal route information with rental bike takes place on the day of arrival in the hotel. Any changes will be announced upon arrival at the reception.
Available rental bike
You can choose between unisex 21-speed touring bikes and unisex 7-speed touring bikes with coaster brake, men's bikes available on request in different frame sizes. 8-speed unisex electric bikes in different frame sizes are also available on request. You simply specify your wishes at time of booking.
Weather and clima
Tuscany has a sub-mediterranean climate. In the spring, the temperatures can rise to 20 degrees and more, in autumn the weather is mostly stable. Rainfalls should be expected in spring and autumn. Summer months from mid-June to mid-September can be very hot and dry.
Condition of the bike paths
The Tuscany is a very beautiful but as well hilly landscape. On small roads and bike paths you cycle from one famous city to another. In the entrance and exit of the cities you may find some more traffic.
Cycling in italy
In Italy, warning vests are mandatory outside closed areas at night and at dusk.
Transfer back to Montecatini Terme
You can go from Florence to Montecatini Terme by train. Alternatively you can book an organised back transfer to Montecatini Terme (45,00 EUR per person (2024: 49,00 EUR), payable in advance, reservation obligatory, only saturdays).
Your own bikes will be transfered back to Montecatini Terme without extra fee.
Charme-Hotels
In the charm category the following hotels will be booked for you (depending on availability).
Grand Hotel Croce di Malta Montecatini Terme: The hotel is quietly located just a few steps to the center. You will feel at home in the modern, renovated deluxe rooms and in the elegant hotel lobby, in the cozy bar or on the inviting sun terrace. The wonderfully landscaped pool with sun loungers and the excellent restaurant ensure a relaxing stay.
Grand Hotel Croce di Malta 4****

Hotel Bologna Pisa: This elegant hotel is located in the historical center of Pisa. Only a few minutes' walk away from the impressive Piazza dei Miracoli with its famous Leaning Tower. The elegant town house from 1850 has been lovingly renovated into a small hotel with only 60 rooms. The spacious and elegantly designed rooms and the extensive breakfast buffet leave nothing to be desired. Enjoy a refreshing aperitif in the cozy inner courtyard in the evening.
Hotel Bologna 4****

Agriturismo La Valli Casciana Terme: In a wonderful panoramic location you will spend the night "typically Tuscan". The owner is happy to cook for you in the evening with a real Tuscan menu. In the spacious area there is a sunbathing lawn and fruit trees as well as a wonderfully landscaped pool for cooling down.
Agriturismo Le Valli
Hotel La Cisterna San Gimignano: Located directly on the famous Piazza la Cisterna, the hotel knows how to impress with both personal service and special charm. The town house dates from the 14th century and lets you immerse yourself in times long past. The rooms are stylish and comfortable and offer either a view of the piazza or the picturesque hilly landscape
Hotel La Cisterna 3***

Hotel Garden Siena: The hotel is located a few minutes' walk from the Porta Camollia city gate at the gates of Siena. The historic villa is surrounded by a beautiful, quiet garden that offers plenty of shady spots to relax. You will also find these in the classically furnished rooms, some with antique furniture. The beautifully landscaped outdoor pool offers a welcome cool-down.
Hotel Garden 4****

C-Hotels Florenz: The hotels Ambasciatori, Club and Diplomat are located right in the heart of the city of Florence. All important architectural monuments can be easily reached on foot. In addition to their central location, the hotels also have a modern design, extensive breakfast buffet and comfortable rooms in common.
C-Hotels 4****
Standard rooms are booked in all hotels.
Special dates
Special dates are bookable on request.
Costs which are not included in the travel price
Since the beginning of 2011 guests have to pay a tourism tax in many italian towns. The costs are Euro 1,00 - 5,00 EUR per person and night. This tourism tax is not included in the travel price.
7 day hotline service
In case of chain breakdown, flooding or other bad surprises that makes a continuation of your tour impossible: no problem, we also work during weekends and you can reach us 7 days a week in case of emergency.
Passport and visa requirements
For EU citizens, there are no special passport or visa requirements and no health formalities to be considered for this trip.
Travel insurance
The tour price already includes the statutory insolvency insurance. In addition, we recommend that you take out travel cancellation insurance upon receipt of your travel confirmation in order to protect yourself against financial disadvantages in the event of travel cancellation, interruption of travel, illness or accident.
You might also be interested in