Bressanone / Brixen is quickly reached! Look forward to a worth seeing old town with arcades and impressive cathedral.
In the morning you will travel by train to the Brenner Pass. From here you mostly follow the river Eisack to the village of Gossensass. Shortly after, you will reach the Fugger town of Sterzing. Take a longer break here before continuing on the bike path to Reifenstein Castle and Franzensfeste with its famous fortress. From here it is not far back to Bressanone, where you will spend the evening.
Today you follow the Eisacktal cycle path from Bressanone to Bolzano. The vineyards of the famous white wine region line the way and entice you to make many a stop. But the picturesque town of Chiusa with its alleys and narrow houses awaits you and, of course, South Tyrol's capital, Bolzano. Stroll through the arcades of Bolzano, you will not be able to stop looking and marveling: noble boutiques and pretty stores, cafes, delicatessens and nice bars are lined up next to each other. Linger at the famous fruit market, visit "Ötzi" in the archeology museum or enjoy a cappuccino in one of the cafés on Waltherplatz.
Today you start on an eventful round trip to South Tyrol's most famous wine-growing region. You cycle past Sigmundskron Castle on an old railroad line up to Eppan, the largest wine-growing community in South Tyrol. Numerous vineyards, many castles, manors, churches and farms characterize today's picture. If you wish, you can take a short detour to the idyllic Montiggler See lake near St. Michael for a refreshing swim before the small wine town of Kaltern with the South Tyrolean Wine Museum beckons you to visit. Cycle along the idyllic Lake Kaltern to the Adige Cycle Path, which will take you back to Bolzano.
On the new flat cycle path directly on the Adige River, you will cycle today through the largest fruit-growing area in South Tyrol. One plantation follows the next and wonderfully fragrant apples grow everywhere. Look forward to Merano, where you will be spoiled by a gentle Mediterranean climate that even Empress Sissi appreciated. Blooming parks and promenades with exotic plants, picturesque leafy alleys and numerous Art Nouveau buildings give the city its special charm. How nice that you spend 2 nights here. So you have plenty of time also for the worth seeing gardens of Trauttmansdorff Castle just above Merano.
Today, the Vinschgau Railway takes you ever-so-slightly uphill from Merano to Mals in the Vinschgau Valley. Since you've already done your elevation gain today, you'll swing onto your bike in good spirits. Via the Montaniruinen through Schlanders you follow the path through the Etschtal back to Merano. Take a break in Glurns, the smallest town in South Tyrol, which is full of surprises and historical treasures.
Today your bike tour in the South Tyrolean mountains ends. We are happy to book extra nights for you.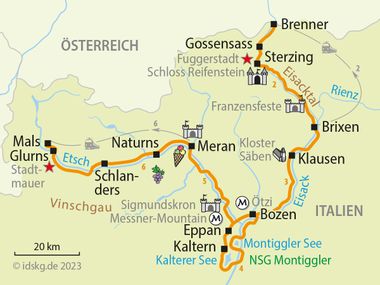 ccommodation incl. breakfast
Room with shower/bath/WC
Luggage transport
Map of bike trails with marked route
Digital route guidance via smartphone app
Tips for tour preparation
Touristic information
7 days hotline service
1 train ride Bressanone - Brennero incl. bike
1 ride on the Vinschgau Railway Merano - Malles incl. bike
Below you will find specific information about the bike tour in South Tyrol from Bressanone to Merano. If you have any further questions about this trip, just give us a call: Tel.: 06421 - 886890.
Arrival by car
Take the Brenner freeway (A22) to Bressanone or the Felbertauern road to Lienz in East Tyrol, cross the Austrian-Italian border and continue on the SS49 through the Puster Valley to Bressanone.
Arrival by train
Bressanone can be reached by train via Munich, Kufstein, Innsbruck and Brennero. The best way to reach the partner hotels in Bressanone is to take a short cab ride from the train station. Current timetable information and price information can be found very conveniently at:
Train schedule information Deutsche Bahn
Train schedule information ÖBB
Train schedule information Trenitalia
Arrival by flight
From Düsseldorf, Berlin and Hamburg you can fly relaxed with the airline Sky Alps non-stop to Bolzano, from there it is about 45km to Bressanone. Alternative destination airports are Innsbruck (about 83km), Verona Villafranca (about 191cm), Treviso (about 228km) and Venice Marco Polo (about 313km)....
Parking possibilities at the place of arrival
In Bressanone you can park your car in a parking garage (cost approx. 10,00 € per day, not reservable, payable on spot) or on the outskirts of town on free, unguarded parking lots.
You will receive detailed information about the parking possibilities approx. 2 weeks before arrival with the travel documents.
Condition of the cycle paths
A cycling tour for everyone. In recent years the network of cycle paths in South Tyrol's valleys has been very well developed. Although South Tyrol is mainly known for its unique mountain scenery, you will find many easy, flat valley bike paths without any major climbs. Only on the way to the Lake Caldaro lake do smaller inclines have to be overcome.
Available rental bikes
21-speed unisex, 7-speed unisex, 21-speed men's bikes and electric bikes are available for this trip. Please reserve the bikes as early as possible to guarantee availability. Simply indicate your bike preference when booking.
Return to the starting hotel
For the return journey from Merano to Bressanone there are good train connections.
Extra costs that are not included in the tour price
A possibly accruing tourist tax is not part of the travel price and therefore to be paid at the hotel on site.
7 days hotline service
If the bicycle chain is broken, floods make it impossible to continue your journey or other nasty surprises are waiting for you: We are available for you 7 days a week and organize help as quickly as possible.
Passport and visa requirements
For EU citizens, there are no special passport or visa requirements and no health formalities to be considered for this trip.
Travel insurance
The tour price already includes the statutory insolvency insurance. In addition, we recommend that you take out travel cancellation insurance upon receipt of your travel confirmation in order to protect yourself against financial disadvantages in the event of travel cancellation, interruption of travel, illness or accident.
You might also be interested in