Your Hotel
Hotel Lido International
This hotel was renovated recently. Within a few minutes by foot you reach the beautiful harbour city of Desenzano. A lot of spots, beautiful promenades and narrow alleys are inviting you to pause. The rooms are equipped with terrace and lake view.
The beautiful terrace, the sunbathing area, the splendid pool and the private shingle beach assure a great stay in relaxing atmosphere after your bike tours.
Individual arrival to the hotel in Desenzano. After arrival you will have a personal tour information. During the information you will also get the bikes (if booked). We recommend taking a stroll through the old town.
In the morning transfer to Trento (old town with dome, castle Buonconsiglio). Along the river Adige you cycle via Rovereto to Mori. Here you leave the river and cycle west to Lake Garda. After a brief climb you cycle down to Torbole and Riva. Enjoy your boat tour across the Lake back to Desenzano!
Transfer to Verona. The city of Romeo and Juliet with renaissance palaces, the Roman arena and many cosy places. Enjoy a stroll through the city. Over soft hills, past cypress trees and vineyards you cycle on to the south bank of Lake Garda.
Follow river Mincio southwards to Mantua. The 1000 year old city of the Gonzaga will enchant you with art and beauty. Visit Castello S. Giorgio and Palazzo Ducale, Piazza Sordello with the house of Rigoletto, the dome, Piazza Broletto and the old city hall, Piazza Erbe with justice-palace, clock tower, Rotunde S. Lorenzo and Basilica S. Andrea. Return journey by train.
Today you follow solitary roads, through vineyards, peach orchards and kiwi plantations to Solferino. Here Garibaldi won the famous "Battle of Solferino" and united Italy. Back to Lake Garda you cycle through the wine growing area Lugana.
Leaving Sirmione you cycle to Cavalgese di Riviera, enjoying unforgettable views of the Lake. Along Naviglio Grande Bresciano (canal with cycle path) you cycle on to Brescia, a city of Roman origin with many more points of interest. Return by train.
After breakfast your nice cycle holiday ends. Of course you can also stay some extra days on Lake Garda.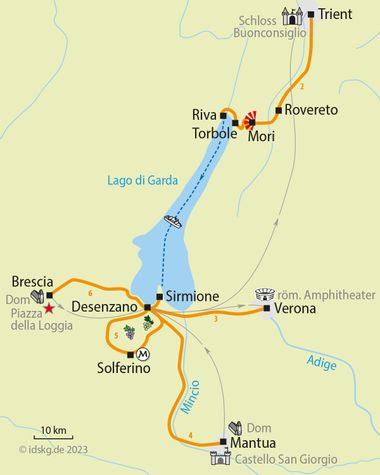 Overnight stay with breakfast
room with D/bath/WC
luggage transport
Cycling map with marked route
Digital route guidance via smartphone app
Tips for trip preparation
Tourist information
7-day hotline service
1 bus transfer Desenzano - Trento including bike
Train rides Brescia - Desenzano, Mantua - Desenzano and Desenzano - Verona each including bike
1 boat trip on Lake Garda incl. bike
1 pistachio ice cream or 1 fresh fruite juice
Worth knowing about your bike trip
Below please find more information about your bike trip. If you have any further questions please feel free to contact us by phone: 0049 - (0)6421-886890.
Arrival by train
Desenzano is easily accessible by train. The train station is about 1,5 km (20 min. walk) from the hotel Lido International. We recommend to take a taxi from the station to get to the hotel Lido International. Current schedule information and price information can be found at:
Train schedule information Deutsche Bahn
Train schedule information Trenitalia
Arrival by plane
There are four airports near the Lake Garda. Verona, Venice, Treviso and Bergamo can be reached cheaply from many German and European airports. Please use a shuttle bus or a taxi to the train station and go by train to Dezenzano.
Arrival by car
In Austria there are tolls (Brenner) and motorway fees. A vignette is compulsory on the motorways in Austria. You can buy vignettes at petrol stations just before or at the border. In addition, there are tolls for the Brenner motorway on the Italian side from the Brenner Pass to Desenzano del Garda.
Parking facilities at the hotel
There are free parking facilities near the hotel. A reservation is not possible. Detailed information on parking at your hotel, you will receive together with the travel documents two weeks prior to departure.
Condition of the bike paths
The route is mainly flat, but there are also some hilly sections to master on almost every day (especially on the 5th day). You ride on cycle paths, side roads and sometimes on dirt roads. When entering and leaving the bigger cities, you have to expect more traffic at times.
Available rental bikes
You can choose between either 7-speed unisex bikes with hub gears and coaster brake or 21-speed ladies' or men's bikes with derailleur gears and freewheel as well as electric bikes (unisex). You simply specify your wishes at time of booking.
Special dates
Special dates are bookable on request.
Cycling in italy
In Italy, warning vests are mandatory outside closed areas at night and at dusk.
Costs which are not included in the travel price
A possibly resulting tourist tax is not part of the travel price and therefore it has to be paid locally in the hotel.
7 days hotline service
In case of chain breakdown, flooding or other bad surprises that makes a continuation of your tour impossible: no problem, we also work during weekends and you can reach us 7 days a week in case of emergency.
Passport and visa requirements
For EU citizens, there are no special passport or visa requirements and no health formalities to be considered for this trip.
Travel insurance
The tour price already includes the statutory insolvency insurance. In addition, we recommend that you take out travel cancellation insurance upon receipt of your travel confirmation in order to protect yourself against financial disadvantages in the event of travel cancellation, interruption of travel, illness or accident.
You might also be interested in