You can look forward to Alberobello, the small town with its conical buildings (Trulli), a UNESCO World Heritage Site. From the airport Bari or Brindisi, you can make advantage of our convenient transfer opportunities.
Today you cycle beautifully through the valley Valle d'Itria. With its olive groves and trullis, it is one of the most beautiful cultural landscapes in southern Italy. Take a break in the well-known wine town of Locorotondo, which impresses with its circular shape. In any case you should taste the local white wine here. Your destination Ostuni with stunning views of the sea, attracts with an excellently preserved old town and a picturesque tangle of streets and stairways between the typical whitewashed houses.
Today you cycle on small streets from town to town through wide olive groves, best wine growing areas and colorful fruit cultures to Avetrana, a small historical town, on the old Via Appia. This ancient Roman road once led from Rome to Brindisi. Today only a few parts of the ancient paved road are preserved as Via Appia Antica.
Only a few kilometers in the bicycle saddle and you look out on the open sea. Look forward to a wonderful coastal road, to white sandy beaches with crystal clear water and to numerous towers, which offer idyllic and wonderful photo opportunities. Gallipoli, proudly nicknamed the beautiful city, lives up to its name. The old town from the 14th Century perched on a small island, surrounded by a thick fortification wall. Marvel at imposing Baroque churches and aristocratic palaces, all witnesses of the city's past wealth. Stroll through a winding labyrinth of narrow streets, all ending in a wide sea promenade. Enjoy coffee houses, bars and restaurants that line the sidewalks, the beautiful views and a delicious sunset dinner.
Today you cycle to Santa Maria di Leuca, the most southern point of Salento. The place is especially known for its pilgrimage church. Visit the sanctuary and enjoy the peace and quiet of the place. All around, many splendid villas have sprung up over the centuries, which are an absolute architectural highlight due to their imaginative shapes. The tranquility that surrounds the basilica should not deceive you, because Santa Maria di Leuca is a lively seaside resort, with an ancient harbor and a charming beach promenade.
Enjoy a varied cycling route along the southern coast of the Adriatic Sea. Visit the famous Zinzulusa Cave, the only coastal grotto open to the public. Also, it is worth taking a well-deserved break in the old spa town of Santa Cesarea Terme with its turquoise waters and rock-cut swimming pools. In the afternoon, the small port town of Otranto awaits you, a jewel of art history amidst a charming landscape. The old town, surrounded by a mighty city wall, impresses with the fascinating Habsburg Castle and awaits your visit.
Along the coast and through countless olive groves, you will not cycle to Lecce without a worthwhile break in the bay of Torre dell 'Orso, surrounded by high limestone cliffs. Let yourself be inspired by Lecce, one of the most beautiful cities in southern Italy and capital of the Italian Baroque. Already in Roman times Lecce was an important military and harbor place. Still bearing witness from this period are the remains of the half-exposed amphitheater that once held up to 20,000 spectators. Between 1550-1750, the city experienced its heyday when it was expanded to the base of Spanish-dominated southern Italy against the Turks. Here the old town received its characteristic Baroque appearance. Marvel at the numerous buildings made of honey-colored tufa baroque buildings, stroll through the traffic-calmed downtown and enjoy the special atmosphere of a proud city, which is the center of the Salento peninsula due to the university with its many young people.
Individual departure or possibility to extention.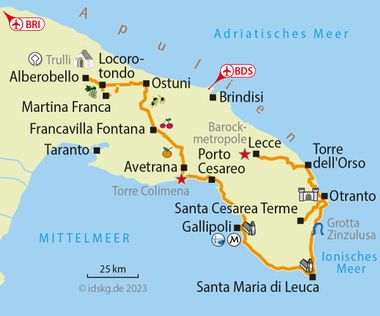 Accommodation incl. breakfast
Room with shower/bath/WC
Luggage transport
Map of bike trails with marked route
Digital route guidance via smartphone app
Tips for tour preparation
Touristic information
7 days hotline service
3*** and 4**** star hotels and agriturism
Video tour breefing (2024)
Below you will find specific information about the Apulia round trip. If you have further questions about this trip, you simply call us: Phone: 06421 – 886890.
Arrival by plane
You can arrive by plane to Bari or Brindisi. From both airports a transfer by minibus can be booked, minimum number of participants 2 persons. The journey takes about 60 to 70 minutes. A reservation is necessary, as there is only a limited number of seats.
Parking facilities at the hotel
At the start hotel you will find free parking for the duration of the trip. A reservation is not possible, parking costs are payable locally. You will receive detailed information about the parking facilities at the hotel booked for you with the detailed travel documents two weeks before the start of your journey.
Condition of cycle paths
Apart from a slight up and down in some sections, the route is mainly on flat, asphalted side roads. The bike tour is suitable for children over 14 years
Available rental bikes
You can choose between 21-speed gear shift women's and men's bikes with freewheel and electric bikes (all unisex) are available on request. Please reserve the bikes as early as possible to guarantee availability. You simply give your bike request when booking.
Touring information and rental bike
The personal route information with rental bike takes place on the day of arrival in the hotel. Any changes will be announced upon arrival at the reception (as of 2023).
Special dates
Special dates from 5 persons on request possible.
Return from Lecce to Alberobello or return to the airport
You have the possibility to take the minibus from Lecce to the starting point Alberobello. If you arrived by plane, there are also bookable transfers for you: The journey takes about 50 minutes to Brindisi or 120 minutes to Bari. Please note that all transfers from 2 persons are bookable and must be pre-booked.
Cycling in italy
In Italy, warning vests are mandatory outside closed areas at night and at dusk.
Costs which are not included in the price
A possibly resulting tourist tax is not part of the travel price and therefore it has to be paid locally in the Hotel.
7 day hotline service
Just in case the bike chain breaks, flooding makes it impossible to continue your tour or any other nasty surprise: You can reach us seven days a week and we will do anything to help you as fast as
possible.
Passport and visa requirements
For EU citizens, there are no special passport or visa requirements and no health formalities to be considered for this trip.
Travel insurance
The tour price already includes the statutory insolvency insurance. In addition, we recommend that you take out travel cancellation insurance upon receipt of your travel confirmation in order to protect yourself against financial disadvantages in the event of travel cancellation, interruption of travel, illness or accident.
You might also be interested in