Introductory meeting and issue of the rental bikes. Enjoy today the cozy arcades of Bolzano, the fruit market and the Walther square with Italian flair. And if you have time, visit "Ötzi" in the Museum of Archaeology.
Mostly along the Adige, partly through the orchards to Salurn, where the German speaking South Tyrol comes to an end. The dam pathways lead to Trento. The historic city centre is very much worth seeing.
At first again along the Adige through Roverto to Mori. From here the tour leads westward in the direction of the Lago di Garda. After a short ascent a descent follows and leads you to Torbole and to Riva. From here you go on a boat journey on the whole length of the lake to Sirmione/Desenzano.
Partly flat, partly easily hilly through the vine hills to Verona, a city full of places of interest: festival arena, Julia`s house, old city walls, roman bridge, Scaglieri palace and so much more.
Today is the longest stage on the program. At first flat and then through the hills of "Monti Berici", the excursion region of Vicenza, with a beautiful view over the city. In the old part of town one can still feel the spirit of Palladio, the famous architect from the Middle Ages. If you want to cut the stage a little shorter, you can take the train for the first kilometers.
Numerous Venetian villas are located at the exit of Vicenza, such as for example the Villa Rotonda. Along the Bacchiglione the way leads to Abano Terme/Montegrotto, one of Italy's famous spas, as the destination of the stage. The short stage allows an excursion to Padova, the city of Saint Antonius, that can be easily reached from Abano by bus. If you prefer to relax enjoy the thermal springs.
Usually supported by the light wind you bike easily along the Brenta Canal in the direction to the mediterranian sea. Fields and meadows set the tone of the landscape. The destination of the stage is located in or near to Marghera/Mestre on the mainland before Venice with good bus connections to the lagoon city.
Your beautiful cycle tour ends today. Thanks to the good train connections to Bolzano (duration approx. 3.5 hours), you can quickly get back to the starting point of your journey. Or you can extend your journey in Venedig. Please note that it is not possible to take your own bikes on the train.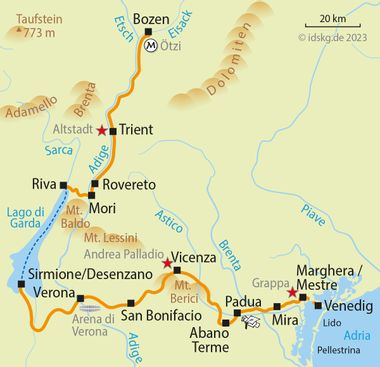 Overnight stay with breakfast
room with D/bath/WC
luggage transport
Cycling map with marked route
Digital route guidance via smartphone app
Tips for trip preparation
Tourist information
7-day hotline service
Personal tour information at Bolzano
1 x boat tour at Lago di Garda
Pistachio ice cream or fresh fruit juice in Mori
1 small grappa tasting in Venice
Below you will find specific information about the bike tour from Bolzano to Venice. If you have further questions about this trip, you simply call us: Phone: 0049 (0)6421 – 886890.
Arrival by train
Bolzano can be easily reached by train from Venice. The best way to get to our partner hotels in Bozen and the surrounding area from the train station is by taking a short taxi ride (costs around EUR 10, payable locally) or by public transport. Current timetable information and price information can be found very conveniently at:
Train schedule information Deutsche Bahn
Train schedule information Trenitalia
Arrival by plane
From Düsseldorf, Berlin and Hamburg you can fly non-stop to Bolzano with the airline Sky Alps. Alternatively, there are three other airports nearby. Verona, Venice and Treviso can be reached inexpensively from many German and European airports.
Parking at Bolzano
Near the start hotel you will find parking facilities for the duration of the trip. Hotel parking in the garage or in a car park outside costs approximately 10 to 25 euros per day and car, this is payable on site. A reservation in advance is not possible. Free, unguarded parking spaces can be found outside the city center. You will receive further information about parking options with the detailed travel documents approximately 2-3 weeks before the start of the trip.
Condition of cycle paths
The route is flat to slightly hilly, but also has some steep sections to offer. The strenuous passage is the way up the Monti Berici. The first two stages run mainly on bike paths, south and east of Lake Garda mostly on farm roads and side roads. Due to the lack of cycle paths there, some sections on roads with moderate traffic are unavoidable. The route is almost completely paved and has its own signage.
Available rental bikes
For this trip you can choose between 7-speed unisex touring bikes with back pedal and 21-speed unisex touring bikes with freewheel in different frame sizes as well as unisex electric bikes with back pedal. 21-speed men's touring bikes with freewheel can be made available for people taller than 1.85m. Simply let us know what bike you want when you make your booking.
Touring information and rental bike
The personal route information with rental bike (if booked) takes place on the day of arrival in the hotel.
Special dates and additional nights
Special dates are possible on request. Additional nights can be booked in each stage location, prices on request.
Transfer back to the starting point of the journey
You have the option of booking a relaxed return transfer by minibus from Venice to Bolzano, which runs every Friday, Saturday and Sunday morning. Costs per person 85.00 euros, for your own bike there is an additional charge of 29.00 euros. Please indicate your request when you make your booking. Please note that it is not possible to take your own bikes on the train.
Cycling in italy
In Italy, safety vests are compulsory outside built-up areas at night and at dusk
Costs which are not included in the price
A possibly resulting tourist tax is not part of the travel price and therefore it has to be paid locally in the Hotel.
7 day hotline service
Just in case the bike chain breaks, flooding makes it impossible to continue your tour or any other nasty surprise: You can reach us seven days a week and we will do anything to help you as fast as possible.
Passport and visa requirements
For EU citizens, there are no special passport or visa requirements and no health formalities to be considered for this trip.
Travel insurance
The tour price already includes the statutory insolvency insurance. In addition, we recommend that you take out travel cancellation insurance upon receipt of your travel confirmation in order to protect yourself against financial disadvantages in the event of travel cancellation, interruption of travel, illness or accident.
You might also be interested in