Launched in 2016, Magnifique 2 offers a total of 12 twin cabins (11 m²), 1 twin cabin premium (13 m², 2 single beds, and a small sitting area) and 4 suites (14 m²) with large panoramic windows on the upper deck.
All seventeen cabins are equipped with adjustable air-conditioning, flat screen satellite TV, mini safe
and hairdryer. On the upper deck there is a salon/restaurant (air-conditioned), bar, lounge with wide screen TV, a partially covered sun deck with tables and chairs where you can enjoy sunny hours and mild evenings.

Your ship awaits you in the port of Bruges. At 2 pm the crew will welcome you on board. After a short time for initial orientation, the day continues with dinner followed by a short walking tour of the charming historic Old Town of Bruges. Arriving one or two days before embarkation gives you the opportunity to explore Bruges at your leisure.
Your first bike ride today will take you through the picturesque Flemish countryside along the Ghent Canal. Upon arrival, you will have the opportunity to discover the city on a walking tour. The city center of Ghent enchants with its illuminated streets and an impressive wealth of historical architecture. In times past, Ghent was the second largest city in Europe, after Paris. The ship will moor for the night at the lock of Merelbeke, a suburb of Ghent about a 30-minute bike ride from the city center. Before dinner is served, you will have the opportunity to join a guided canal tour of the city.
After breakfast, you will have some time in Ghent. In the late morning you will cycle downstream along the tidal river Scheldt to Dendermonde, a town at the confluence of the rivers Dender and Scheldt. The movement of the boat in this part of the Scheldt depends on the tides. You will travel either by bike or by boat (depending on the tide) from Dendermonde to St. Amands. Your floating accommodation will be moored in St. Amands for the night.
Today you continue your journey and follow the Scheldt downstream to Antwerp. Over the centuries, this stretch of the Scheldt has been a strategically important place for various historical players. Today, this leg of your journey presents itself as an ideal combination of bicycle and boat travel. Your destination today, Antwerp, is a port city along the Scheldt. As early as the 15th century, it carried the reputation of being the world capital of the diamond trade. There are numerous remarkable sights to explore in this fascinating city. These include historical monuments such as the Renaissance City Hall, the historic marketplace "Grote Markt" or the Onze-Lieve-Vrouwe Cathedral.
This morning the ship navigates the Scheldt-Rhine canal to the imposing Kreekrak locks. Here your bike tour starts through the forest area "Wouwse Plantage", leading you to Tholen. Tholen was once a modest fishing village on an island in the Dutch province of Zeeland, but since the implementation of the Delta Project it is now connected to the mainland. From Tholen, you will continue your journey by boat through the impressive Volkerak lock system until you reach Dordrecht - one of the oldest cities in the Netherlands and your stopover for tonight.
Today the first stage takes place in about 10 minutes by bus transfer to Alblasserdam. You will quickly reach Kinderdijk by bike, known for its row upon row of 19 windmills, which have been designated a UNESCO World Heritage Site. Your bike ride continues via Schoonhoven to Vianen, a small fortified town on the banks of the Lek River. Here the ship will dock for tonight and after dinner you will have the opportunity to explore the town.
During breakfast, the ship moves towards Breukelen, where you will disembark for your last bike ride. You will cycle along the picturesque river Vecht, which is lined with many manor houses, small castles and magnificent country houses with extensive gardens. The route will take you through several small towns until you reach Nigtevecht, where you will have the opportunity to visit a traditional cheese farm. Your journey continues to Amsterdam, where you board the ship again for your last night in the port of Amsterdam.
Disembarkation and individual journey home after breakfast from 9:30 am.
Possible, necessary changes of the itinerary due to wind, weather and nautical peculiarities remain reserved to the skipper as captain of the ship at any time!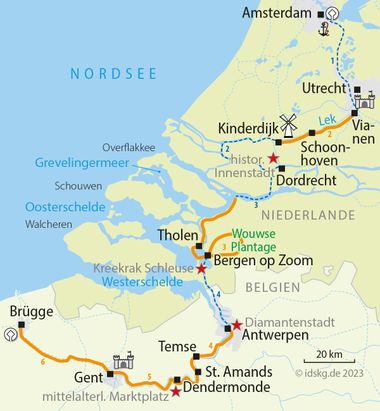 7 x overnight stays in the booked cabin
7 x breakfast
6 x dinner (3-course-menü) - no dinner in Bruges
6 x lunch pakets for bike tours
Coffee and tea on board
Welcome drink
Daily briefing of program
Air conditioned cabin
Daily cleaning of the cabin
Linen and towels
Guided bike tours (2 tour guides)
Some short guided city tours
Fees for ferries
Canal tour Ghent
Entrance fee Antwerp Cathedral
Tasting of typical products in Belgium
WLAN/ Wi-Fi
GPS-tracks
7-day-hotline-service
Below you will find specific information about the bike & boat bike tour in Belgium and the Netherlands. If you have any further questions about this trip, just give us a call: Tel .: 06421 - 886890.
How to get to Bruges by train or car
Train - Arrival
You arrive in Bruges at Stationsplein, the main train station. From there, the mooring is not far!
Current DB timetable information can be found very conveniently at www.bahn.de.
Bahnanreise
Arrival by car
The pier of the ship is in Bruges near the central station.
If you are arriving by car, we recommend that you first drive to the ship's pier and drop off your luggage and, if necessary, your bicycles. Afterwards we recommend to use one of the indicated parking facilities.
You will receive detailed information about the location of the ship and further information with the detailed travel documents two weeks before the start of your trip.
Parking possibilities in Bruges
Buiten Begijnenvest at the central station, approx. 20 minutes walk to the pier.
A parking lot costs about 3,50 € per day (2022). The parking lots are monitored. (as of 2023)
Embarkation
On the day of arrival, you can bring your luggage on board from approx. 11:00 a.m. Embarkation and check-in, however, do not begin until 14:00 p.m.
Luggage
For reasons of space, we would like to ask you to refrain from luggage with a hard shell, the storage space in the cabin is very limited!
Available rental bikes
As rental bikes we have so-called unisex bikes available (suitable for men and women). They all have 7-speed hub gears with hand brake and are available in different frame heights. Therefore, please indicate your body size when booking. E-bikes can also be provided on request for an additional charge.
Bring your own bikes
Bringing your own bike is possible to a limited extent. There is a small amount of space available for this on the ship "MS Magnifique 2" for an additional charge: 10,00 € per regular bike or 25,00 € per e- bike. Pre-registration for taking your own bicycle is required.
Extra costs which are not included in the tour price
1 Dinner, drinks, entrance fees and excursions not listed in the included services as well as expenses for personal use are not included in the tour price.
7 days hotline service
In case of chain breakdown, flooding or other bad surprises that makes a continuation of your tour impossible: no problem, we also work during weekends and you can reach us 7 days a week in case of emergency.
Passport and visa requirements
For EU citizens, there are no special passport or visa requirements and no health formalities to be considered for this trip.
Travel insurance
The tour price already includes the statutory insolvency insurance. In addition, we recommend that you take out travel cancellation insurance upon receipt of your travel confirmation in order to protect yourself against financial disadvantages in the event of travel cancellation, interruption of travel, illness or accident.
You might also be interested in