Juniors also wish to get along speedy. We have juvenile bikes available that don't fall short compared to those for the adults: with 24 inch tyre size and 21 gear dérailleur, every child is 'as bold as brass' and won't fail its destination - be it the promised ice cream shop or the swimming pool in the next overnight location. In our experience, trained children from approx. 9 years on cycle the same distances on good bikes as adults do. Only some more varied breaks should be planned beforehand.
The right bicycle is indispensable for guaranteeing safe and relaxed tours to children of all ages. We help the young braves to estimate whether they have grown enough to ride the green Velociped juvenil bike. These are the facts:
Recommendation: For a safe use of the Velociped tourer, at least both tiptoes should go from the saddle to the ground. We, therefore, also state here the saddle height aboveground. Thus enabling you to compare with the accustomed bicycle at home or to take measurement of the length of leg, respectively. In our experience, juniors should have a length of leg of at least ca. 62 cm (measured innerleg from crotch to heel).
On our juvenile bikes the fun factor is built right in: the robust structure with gel seat, sturdy aluminium frame and straight tourer handlebars with easy-to-use, modern 24-speed dérailleur gear shift even allows young cycling enthusiasts to go "off piste" onto uneven ground. The Velociped juvenile bike is suitable for ages 9 to 14 and heights 120 to 145 cm.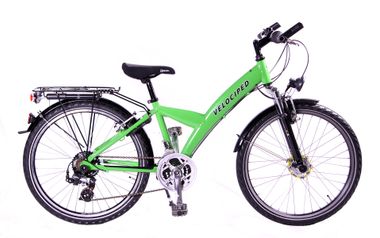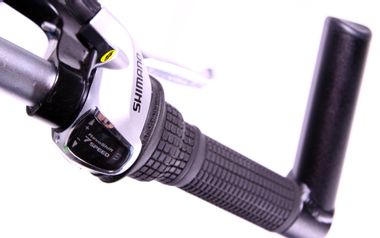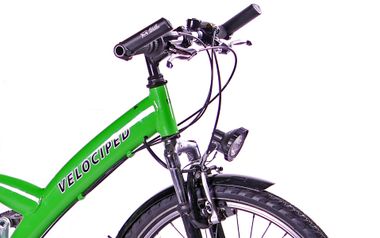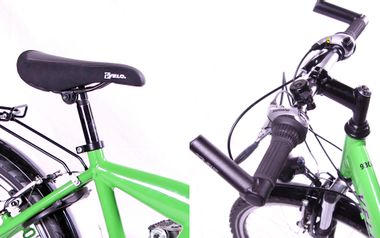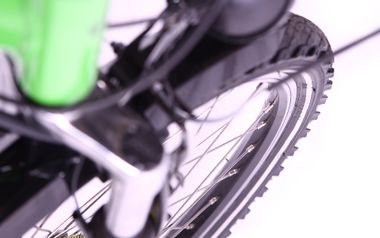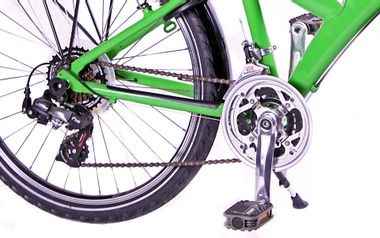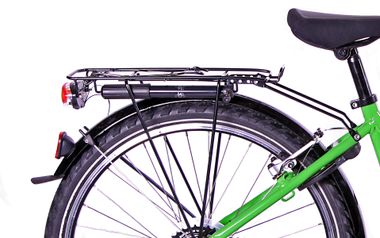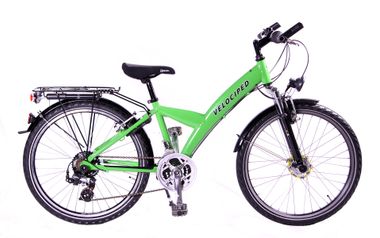 The robust aluminium frame in modern Y-design and with 'thick' tubes ensures cool visual appearance and quiet running even in case of high 'payload'. Thanks to a lowing of the upper tube, there is enough mobility to jump off in case of need. The frame is coated with our long-living and non-polluting powder lacquer showing the typical Velociped green, same as are frames for adults.
Frame size, from the bottom bracket to the upper edge of the saddle tube: 35 cm.
Distance from handlebar to saddle nose (this is more or less an arm's length from the armpit to the wrist): 47 cm.
Saddle height aboveground: at least 68 cm (this measure is more important for juveniles than 'the frame size', respectively 'the distance saddle to pedal' otherwise used for measurement).
Our fully equipped Velociped juvenile bike is particularly designed for stability and safety. Even so, the total weight does not exceed 15 kilos.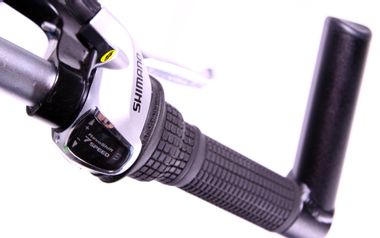 The modern 24-gear derailleur by the market leader Shimano complies with the latest standard. Gears are changed with two turning handles that are easy to move and lock; it's really a child's play to operate the dérailleur. The gear shifting is identical to the mountain bike gearshift of our Velociped tourers. One should always be able to keep up with the adults.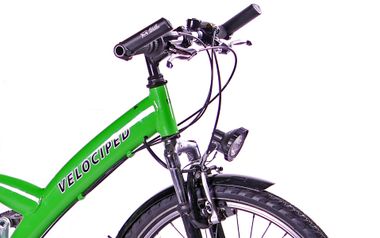 Fast drivers should also brake well: the brakes are 'borrowed' from the mountain bike. In each case, state-of-the-art rim brakes (V-brakes) are mounted in front and at the back and offer fair braking power.
Even the best brake lever is to no avail if you can't reach it. Therefore, the brake levers can be adapted to the grasp of small hands in order to ensure a safe grip at any time.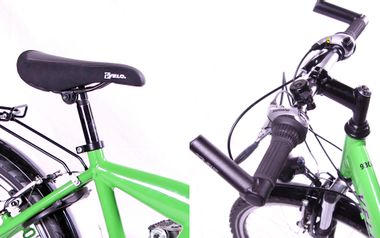 Our straight tourer handlebar with bar ends has comfortable grips, lies perfectly in the hand and permits several grip variants. You have the operating elements always in hand. The width is juvenile-oriented. And we made sure that there is still enough place left for a speedometer or the adapter of the handlebar bag ('Klickfix').
Needless to say that the Velociped juvenile bike is also equipped with a modern, cushy gel saddle for maximum comfort. The seat post can be adjusted with precision. As little riders also want to sit comfortably.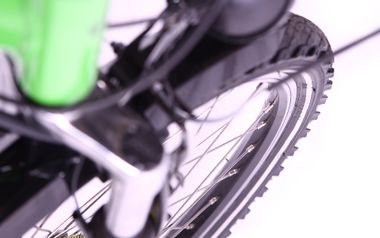 24-inch wheels run particularly smooth in sealed naves. Reinforced spokes and robust aluminium hollow section rims make for stability. Excursions offside the road are no problem thanks to a slightly deeper profile of the tyres that ensure good grip. But don't worry, they continue running smoothly on the road.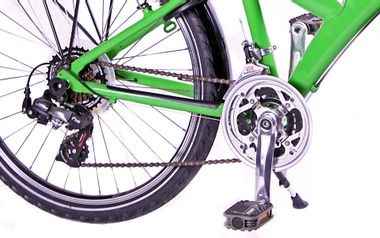 Aluminium pedals with a large rubber surface offer wide and safe support for normal shoes.
Little bikers have shorter legs, obviously. We have, therefore, equipped our Velociped juvenile bike with shorter cranks. (160 mm instead of 175 mm as usual).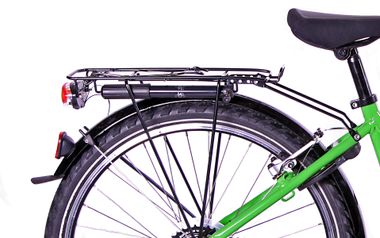 Lights, mudguards, reflectors, carriers, lateral kickstands, lock
The smooth-running nave dynamo generates current for the modern halogen lamp which illuminates the route perfectly, even under adverse conditions. Behind, a backlight keeps watch with a big reflector. Of course, our juvenile bike is equipped with all kind of prescribed reflectors in the spokes and with a reflex bar on the wheel. And a bell, anyway, as required by the road traffic regulations. The stable carrier made of steel wire admits uncomplainingly the panniers. A spring mounted flap retains small pieces of luggage. Mudguards keep face and back clean, a lateral kickstand makes parking considerably easier, and a frame ring-lock protects against sudden desire of third parties.