How can we manage that even small children keep speed during a bike tour without any difficulty? Very simple: just taking our Velociped child transporter with you on tour. They meet all requirements on safety and riding fun. The children sit comfortable, wind- and weather-proof, they can eat and drink while riding, or take a relaxing nap. But the best of our transporters is not only the high comfort for the kids. They are extremely smooth-running even with two kids sitting on board, and the driver hardly perceives the trailer. The load distribution of the traction bike practically remains unchanged (no top-heaviness). In case the traction bike should fall over: the trailer stays safe and rugged. You must only get used to the new vehicle width of 87 cm. But this is no problem, even on bike tracks that have middle posts.
The child transporter allows you to strap 1 to 2 children in safely with plenty of space to sit comfortably, play or even sleep during the journey and a roof over their heads. The child transporter also offers plenty of benefits for the adults, being easily manoeuvrable, laterally stable and easy to attach to any bike or e-bike in a few simple steps.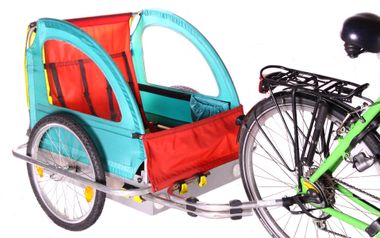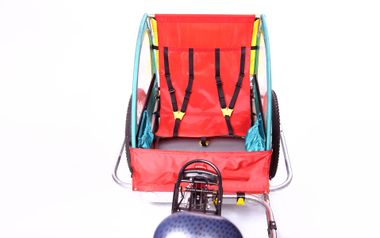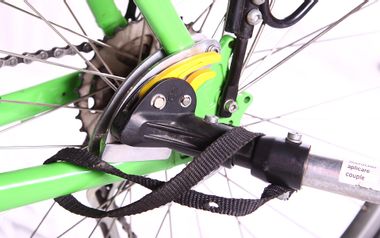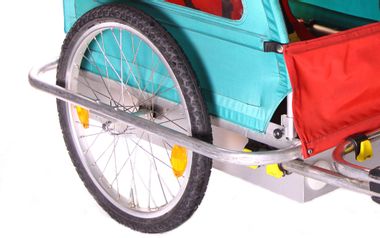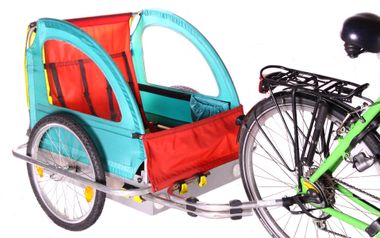 Thanks to the low sitting position, the trailer has a very good lateral stability and cannot not roll over. Even in case of a fall with the traction bike the trailer mostly remains upright. Besides, the little passenger sits in his own roll cage well protected with seat belts. The use of a helmet is not required but strictly recommended both for the child and the rider.
From 8 to 10 months of age, more or less, i.e. when children are able to sit on their own, 'trailer driving' is allowed by paediatrists. Needless to say that the stages should not be too long. The interior has a sitting height (from the seat to the top) of ca. 60cm. This means that it would even be possible to transport children who could already be good stage bikers themselves if they wished. What's more: Two kids of max. 5 years, more or less, can easily sit side by side, belted, without any need for retrofitting. For two taller children is gets rather cosy.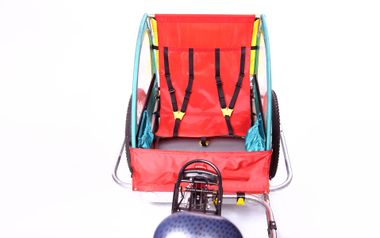 Picking up a hitchhiker is permitted. But you should not exploit voluntarily the maximum load: 50 kilograms of 'payload' become painfully noticeable when running up hills.
Should your little passenger wish to pick up a hitchhiker: two kids can sit side by side belted, without the need for retrofitting. For this purpose, there are two adecuate three-point seat belts available.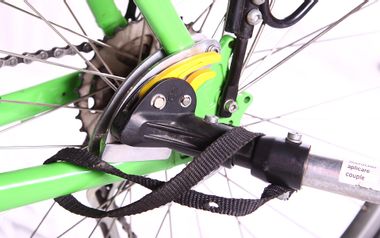 Our trailer is equipped with a coupling element that is bolted to the traction bike. Mounting time: about eight to ten minutes. It fits most of the traction bikes. The trailer is engaged by means of a self-locking lever. In addition, a so-called breakaway quick-closing device is available (as per regulation): a safety belt connecting the trailer to the traction bike once more to ensure safety. Thus, the clutch is not only very safe but also comfortable. Coupling and uncoupling only needs two movements of the hand.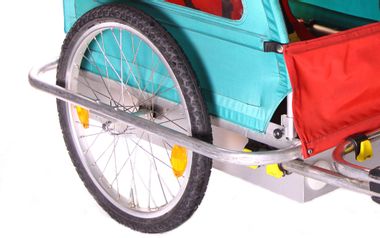 In case you should wish to transport the trailer: The wheels are equipped with quick release skewers and can be removed with a flick of the wrist and without the need for tools. The assembly can easily be made plain (connector system). That way, the trailer with an outside dimension of 80 x 87cm and an installation height of approx. 20 cm fits into any boot. The dead weight of approx. 15 kg is rather low.