Let's go to Würzburg! The town has attained worldwide fame thanks to its residence and the fortress Marienberg.
Follow the romantic course of the Aalbach through the Steinbachtal until reaching the Main again. Let the medieval fortified church of Dertingen inspire you, just as Wertheim, situated picturesquely between the landscapes of Spessart and Odenwald at the banks of the Tauber and the Main.Take a walk up to the beautiful castle ruin built of red sandstone or enjoy a cup of coffee in one of the cafes on the medieval town's colorful market place.
Be looking forward to the Taubertal valley! Genuine nature, broad evidence of a distinct history of art and Balthasar Neumann, the "Master of bridge construction in the Taubertal valley" will impress you on your way. You will cycle through blooming meadows and vinyards spoilt by the sun in order to reach Bad Mergentheim. Loaf through one of Germany's most beautiful spa garden and visit one of the nice cafes at the market place in renaissance style.
A stage bursting of highlights! Already after a few kilometres you will reach Weikersheim and its worthwhile castle, then pass by Creglingen and its famous Lady altar by Tilman Riemenschneider. You will enter Rothenburg through one of the 7 ancient gates and find yourself behind massif defense walls, making you feel like in medieval times. Marvel at this glamorous town of half-timbered houses and look forward to a tour with the watchman at night (on one's own initiative).
Meadows of a bright green accompany you to Schillingsfürst, whose baroque castle dominates the town. A visit is very worthwhile here, just as at the Bavarian "Jagdfalkenhofs". Past Feuchtwangen you will continue to the former free imperial town Dinkelsbühl. Explore the colorful central place of the town, marvel at the most beautiful late gothic hall churches of Southern Germany. Frankish delicacies are waiting to be served at night in traditional restaurants before joining the watchman on his night tour.
The Nördlinger Ries is an area of great geological interest. A stone meteorite crashed to the ground with a speed of 72.000 km/h 15 million years ago.It has left a crater of a diameter of 20 -25 km. Be looking forward to the town wall of Nördlingen accessible at all points. Climb the "Daniel", the bell tower measuring 90 m of St. Georg's hall church. Then, visit the crater museum and loaf around the tanner's quarter almost completely in its original state. And as almost every night, you are welcome to follow the steps of a watchman again tonight.
Castles and monasteries seam your way through the Wörnitztal valley today. You will pass Harburg and its castle throning high above the valley before reaching your wonderful destination Donauwörth. Enjoy the special atmosphere of the town and load along the grand "Reichsstraße" with its noble middle-class houses. Should you wish to see another highlight, we recommend a visit in the famous Käthe-Krusedoll museum. Overnight stay in Donauwörth or Rain upon Lech.
Your roundtrip ends after breakfast in your hotel.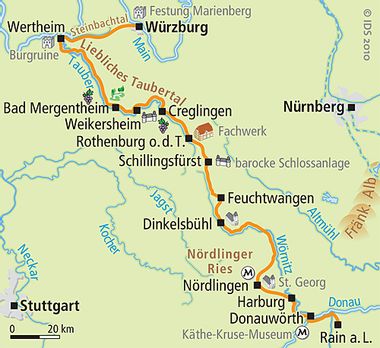 Overnight stay with breakfast
room with D/bath/WC
luggage transport
Cycling map with marked route
Digital route guidance via smartphone app
Tips for trip preparation
Tourist information
7-day hotline service
Night guard tour in Rothenburg ob der Tauber
Below you will find specific information about cycling on the Romantic Road from Würzburg to Donauwörth. If you have any further questions about this trip, just give us a call: Tel .: 06421 - 886890.
Arrival options by train
Würzburg can be easily reached by train from all major cities in Germany. The best way to get to our partner hotels in Würzburg is a short taxi ride from the train station. Current timetable information and price information can be found very practically at:
Parking facilities
Some of the hotels have their own parking spaces directly at the building (e.g. parking spaces for around € 12 or underground parking spaces for around € 12 per day). Alternatively, you will find public parking spaces, multi-storey car parks and underground garages in the vicinity, these are free of charge or for a fee.
Available rental bikes
If you would like a rental bike for the tour, we will bring it to your starting hotel and pick it up at your destination. You can choose from 24-speed unisex bicycles with free-wheeling and 8-speed unisex electric bicycles with hub gears and free-wheeling.
The rental bikes are equipped with a waterproof, spacious saddlebag as well as a tool set, an air pump, an odometer and a lock. You will also receive a handlebar bag per room. On request, we will be happy to provide a second saddle bag for you. Simply state your bike requirements when booking.
Characteristics of the cycle paths
For the most part, the cycle route runs on small, quiet and paved country roads; some of it is on paved or paved bike paths. There are also forest and field paths where you - but rarely - have to reckon with less well traveled parts of the path. You drive through hilly country between Würzburg and the Taubertal. The Taubertal itself is flatter again. The route is well signposted.
Transfer back to Würzburg
Daily there is the possibility to return to Würzburg by transfer by minibus (with bike transport trailer) at 11:00 AM. The driver comes to your hotel and has space for you, your luggage and, if necessary, your private bike. He will take you back to your starting hotel. Please note that a minimum of 4 people is required.
Extra costs that are not included in the tour price
A certain applicable tourism tax is not included in the travel price and has to be paid at the hotel on site.
7 day hotline service
Just in case the bike chain breaks, flooding makes it impossible to continue your tour or any other nasty surprise: You can reach us seven days a week and we will do anything to help you as fast as possible.
Passport and visa requirements
For EU citizens, there are no special passport or visa requirements and no health formalities to be considered for this trip.
Travel insurance
The tour price already includes the statutory insolvency insurance. In addition, we recommend that you take out travel cancellation insurance upon receipt of your travel confirmation in order to protect yourself against financial disadvantages in the event of travel cancellation, interruption of travel, illness or accident.
You might also be interested in