Take your time for a stroll through the Old town with its sights such as the Holsten Gate, the castle gate in the north of the old town and the many churches. You will find charming shops and specific locals in the lovely Old Town which is surrounded by harbour, ditches and ponds. Accommodation in Lübeck.
You leave the town and after a short time you reach Travemünde. The Baltic Sea bike way begins in the traditional Baltic Sea seaside resort at the 'Travemündung'. You get by ferry to Priwall and cycle through lovely landscape through the 'Klützer Winkel' to the seaside resort Boltenhagen. The bikeway leads along bluffs and beaches to the Bay of Wismar into the centre of the Hanseatic city Wismar. The old Hanseatic city is definitely one of the most beautiful in Mecklenburg Vorpommern. Glamour and power is reflected in the grand buildings of the once mightful Hanse. Accommodation in Wismar.
The Old Town of Wismar was fortunately hardly destroyed during the war - a stroll will be worth! You will be cycling through the "Kühlung", a landscape dominated by forests and valleys, to Kühlungsborn. Accommodation in Kühlungsborn or surroundings.
The landscape to Warnemünde stretches broad and flat. You cycle along the coast and it is optional to make a little detour to the museum train 'Molli' in Bad Doberan. Futher on you cycle comfortably through the back-country to Warnemünde. Accommodation in Rostock or Warnemünde.
The Warnow River meets the Baltic Sea in Warnemünde,. A stroll along the old major river, where old fishing boats and big yachts moor, will definitely be a nice experience. Along the embankment you will get to Wustrow and to the artists' colony Ahrenshoop. Accommodation on the "Fischland".
Through the "Darß Primeval Forest" you will today get to Prerow. You should definitely go for a trip to the west beach ("Weststrand") - a wild romantic coastal landscape awaits you! Now you will have to leave to discover the "Nationalpark Vorpommersche Boddenlandschaft". In this national park are some of the most important stations for cranes and gray gooses. Accommodation in Prerow, Zingst or Barth.
You will leave the town and cycle along the "Barther Bodden" to Stralsund. The Haseatic city is already visible from afar because of its three towers. Accommodation in Stralsund.
Your bike tour unfortunately ends after breakfast. The return journey home or to Lübeck is to be carried out by yourself. IC connections to Hamburg and Berlin.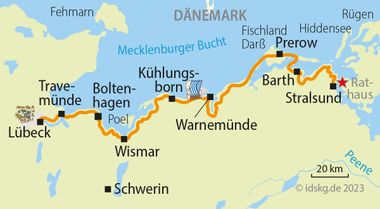 Accommodation incl. breakfast
Room with shower/bath/WC
Luggage transport
Map of bike trails with marked route
Digital route guidance via smartphone app for almost all journeys
Tips for tour preparation
Touristic information
7 days hotline service
Warnow ferry including bike
Below you will find specific information about the Lübeck - Stralsund bike trail and surroundings. If you have further questions about this trip, you simply call us: Phone: 06421 – 886890.
Arrival by train
Lübeck is easily accessible from all major cities in Germany by train. We recommend to take a taxi from the station to get to our partner hotels in Lübeck Current schedule information and price information can be found at: www.bahn.de.
Parking facilities at the hotel
A limited number of on-site parking (garage) is available. A reservation is not possible, fee payable on-site. Detailed information on parking at your hotel, you will receive together with the detailed travel documents two weeks prior to departure.
Condition of cycle paths
You cycle mostly on cycle paths and rarely travelled side roads, seldom you bike on hiking and country trails. Only during the first stage, you will cycle about 3 km on panel and plaster. The Baltic Sea Cycle Route is very well signposted.
Available rental bikes
There are 8-speed gear shift bikes (ladies and gentlemen) with gearhub and 24-speed gear shift freewheel bikes (ladies and gentlemen) available. Wheels with low access and children's bikes are available on request.
Transfer back to the starting point of the journey
Daily at 8am there is the possibility to transfer back to Lübeck with a small bus (with bike trailer). Arrival at 11.00am. The driver comes to pick you up at your hotel and has much room for you, your luggage and where required your own bicycle. The bus takes you back to your first hotel, thus ensuring a perfect return service without transfer and the hassle of hauling luggage
Extra costs
- train Lübeck - Travemünde
- ferry Travemünde - Priwal
A possibly applicable tourism tax is not part of the travel price and therefore has to be paid at the hotel locally. The use of the rental bikes during additional nights is possible for a surcharge. Please state this request when booking.
7 day hotline service
Just in case the bike chain breaks, flooding makes it impossible to continue your tour or any other nasty surprise: You can reach us seven days a week and we will do anything to help you as fast as possible.
Passport and visa requirements
For EU citizens, there are no special passport or visa requirements and no health formalities to be considered for this trip.
Travel insurance
The tour price already includes the statutory insolvency insurance. In addition, we recommend that you take out travel cancellation insurance upon receipt of your travel confirmation in order to protect yourself against financial disadvantages in the event of travel cancellation, interruption of travel, illness or accident.
You might also be interested in