Comfortable and low-priced flight connections are available. Arrival by train is also possible.
A whole day for the many sights of Prague! Visit the Hradschin castle and enjoy the view over the city. Walk across the famous Charles Bridge and immerse yourself in Prague's nightlife. Stroll through the city center and enjoy the variety of shops. This city has so much to offer culturally and historically that this day will fly by for you.
Past the planetarium, Troja Castle and the zoo, after a short time you will cycle directly along the Moldau river. Let yourself roll comfortably past Veltrusy, whose castle will surely inspire you, to Melnik. Marvel at the play of colors at the confluence of Moldau and Elbe rivers and enjoy the wonderful view from the castle.
Let's get on our bikes and cycle along the Melnik vineyards, where fine wines such as the Ludmilla thrive, to the hop-growing region around Litomerice. Shortly before your destination lies Terezin with the national cultural and memorial site, in which very good guided tours are offered (known as Theresienstadt, it gained notoriety during the Second World War).
It is worth taking another short tour of the huge market square and a photo stop at the Chalice House in Litomerice. You cycle past the ruins of Strekov (Schreckenstein) and Usti, which are located on a 100 m high rock, in easy ups and downs to Decin with its baroque castle, which is well worth seeing.
Look forward to the change of landscape, you will reach the Elbe Sandstone Mountains and will surely be amazed at the bizarre stone formations. Shortly before the border at Hrensko, a detour on the right side of the Elbe into the Prebisch Valley combined with a hike to the largest natural rock gate in Europe (2 km bike + 1 hour hike each way) is worthwhile.
Further past the Königstein fortress, which protrudes imposingly from the Elbe valley, the Elbe cycle path takes you to the old health resort of Rathen. Those who like to hike will look forward to a walk to the Bastei (1 hour). Enjoy a fantastic view over the entire Elbe valley up here!
Your trip ends in Dresden after breakfast. If you want, you can extend your cycle tour along the Elbe and continue cycling on the Elbe cycle path to Wittenberg, Magdeburg or even Hamburg.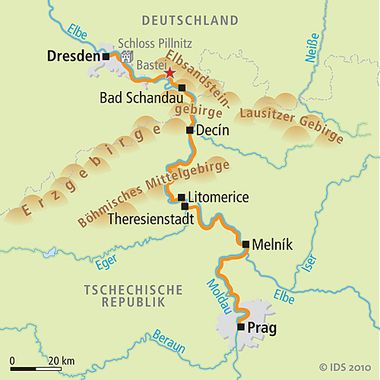 Accommodation incl. breakfast
Room with shower/bath/WC
Luggage transport
Detailed route description
Map of bike trails with marked route
Tips for tour preparation
Touristic information
7 days hotline service
Below please find more information about your bike trip. If you have any further questions please feel free to contact us by phone: 0049 - (0)6421-886890.
Arrival by train
From Germany Prag is easily accessible by train. We recommend to take a taxi from the station to get to our partner hotels in Prag. Current schedule information and price information can be found at
Parking facilities at the hotel
We recommend that you leave your car in Dresden and take a transfer or train to Prague before your trip.

Parking fees in Dresden vary, depending on your booked hotel, between 9,00 - 10,00 € per day (as of 2023). More detailed information will be included in your travel documents.
Condition of cycle paths
You mainly cycle on quiet country roads with moderate traffic and unpaved roads or riverside paths. Sometimes you also use country roads with more traffic. The signposting has improved a lot in the Czech Republic in recent years. The route has a flat to moderately hilly character. Since you leave Moldau valley and later the Elbe valley from time to time due to the lack of bike path expansion to switch to alternative routes, you often have to overcome shorter and longer climbs, which are followed by descents. We strongly recommend using a bicycle helmet during the entire tour.
Available rental bikes
You can choose between Unisex and men's bicycles either with 8-speed gear shift and coaster brake or 24-speed gear shift and freewheel or electric bikes. All bikes are equipped with a bag, card holder, bike lock and a repair kit. Speedometers are available upon prior order.
7 day hotline service
In case of chain breakdown, flooding or other bad surprises that makes a continuation of your tour impossible: no problem, we also work during weekends and you can reach us 7 days a week in case of emergency.
Passport and visa requirements
For EU citizens, there are no special passport or visa requirements and no health formalities to be considered for this trip.
Travel insurance
The tour price already includes the statutory insolvency insurance. In addition, we recommend that you take out travel cancellation insurance upon receipt of your travel confirmation in order to protect yourself against financial disadvantages in the event of travel cancellation, interruption of travel, illness or accident.
You might also be interested in