Arrive early, because it's worth it. Rotterdam is one of the most interesting cities in Europe and offers exciting places to eat and shop in addition to its architecture and harbour. Get to know the harbour from a different perspective on a harbour cruise.
After a short time in the saddle, the first highlight of the trip awaits you - the windmills of Kinderdijk. Marvel at the 19 preserved windmills from the 18th century, which are a UNESCO World Heritage Site. After the visit, cycle to Dordrecht, Holland's oldest city with its 1000 monuments and historic harbour area. In the afternoon, the tour continues to the fortified city of Willemstad.
Today you leave the mainland and cycle to the island of Goeree-Overflakkee. This paradise for nature lovers offers extensive polders and nature reserves as well as small villages with Dutch flair. From here, the cycle route continues to the island of Schouwen-Duiveland, which is known for its beautiful beaches. In your destination today, Zierikzee, you can end the day with a short stroll through the many small boutiques or along the beach promenade.
Am Morgen überqueren Sie zunächst die 5 km lange Zeeland-Brücke, die von Zierikzee nach Noord-Beveland führt. Diese Insel liegt zwischen der Oosterschelde und dem Veerse Meer. Besuchen Sie auf der Halbinsel Walcheren das Fort Rammekens. Das Fort aus dem 16. Jahrhundert gilt als das älteste Seefort Westeuropas. Genießen Sie während eines Rundgangs den herrlichen Ausblick auf die Westerschelde. In der Hafenstadt Vlissingen können Sie sich bei einem Spaziergang über die längste Promenade der Niederlande entspannen. Am Ende des Tages erreichen Sie Middelburg mit seinen verwinkelten Gassen und vielen Sehenswürdigkeiten.
Today's cycle stage takes you northwards across the Walcheren peninsula. Forests alternate with old villages and small towns. You can enjoy nature in the Kop van Schouwen nature reserve, where golden yellow beaches invite you to take a refreshing dip every now and then. The Delta Works are a highlight of this stage. The largest storm surge barrier in the world is made up of a total of 13 structures and is an impressive construction of dams, dykes and locks. In your overnight stay in Ouddorp today, you have the opportunity to end the day on the beach.
Pedal hard in the morning and you will quickly reach the island of Vorne-Putten from the island of Goeree-Overflakkee via the Harlingvlietdam. The dam is the sixth structure of the Delta Works. From here you have wonderful views of the sea. You cycle through Brielle and Maassluis to Vlaardingen and Schiedam before arriving back in Rotterdam in the afternoon.
Your cycle tour ends today after breakfast at the hotel. We are happy to book extra nights in Rotterdam for you.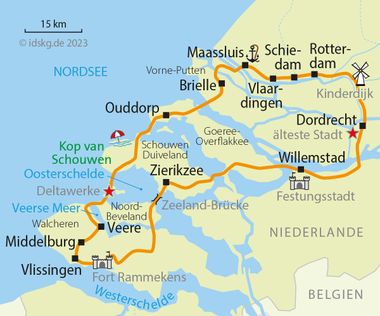 Overnight stay with breakfast
room with D/bath/WC
luggage transport
Cycling map with marked route
Digital route guidance via smartphone app
Tips for trip preparation
Tourist information
7-day hotline service
Below you will find detailed information about the cycle tour Zeeland: Round trip from Rotterdam.
If you have any further questions about this tour, simply give us a call: Tel: 06421 - 886890.
Travelling by train
Rotterdam is easily accessible by train from Germany. You can find up-to-date timetable information and prices at www.bahn.de.
Train information
Parking facilities
Public car parks, costs between €12 and €30 per day. The cheaper price is available if you book and pay for your ticket in advance.
You will receive detailed information on parking facilities at the hotel you have booked with your detailed travel documents two weeks before the start of your trip.
Nature of the cycle paths
You cycle on quiet, flat and tarmac cycle paths and side roads with virtually no inclines. The route is well signposted and the junction system in the Netherlands makes navigation easier. This tour is easy to cycle and is also suitable for families with children.
Available hire bikes
You can choose between 21-speed unisex bikes with derailleur gears and freewheel and 8-speed electric bikes (unisex). All unisex bikes have a low step-through and are available in various frame sizes. Simply state your bike preference when booking.
Extra costs that are not included in the tour price
Any tourist tax is not included in the price of the holiday and must therefore be paid at the hotel.
7-day hotline service
If your bike chain breaks, floods make it impossible to continue your journey or other nasty surprises await you: We are available for you 7 days a week and will organise help as quickly as possible.
Passport and visa requirements
For EU citizens, there are no special passport or visa requirements or health formalities to be observed for this trip.
Travel insurance
The statutory insolvency insurance is already included in the tour price. In addition, we recommend that you take out travel cancellation insurance after receiving your travel confirmation in order to protect yourself against financial disadvantages in the event of cancellation, trip interruption, illness or accident.
This might be interesting for you too