The MS Morena was completed in 2008 and is a classic motor sailer. The comfortable ship has air conditioning and a 130 m² open deck with numerous sun loungers and seating areas that invite you to linger. There are 10 outside cabins on the upper deck and 6 cabins below deck with portholes;
the portholes above deck can be opened. All cabins are equipped with basic beds (double or twin beds) and have shower/WC and air conditioning. All cabins are approx. 9.5 square meters in size. The dining room is also ideal for a cozy get-together.
Individual arrival to Poreč. Embarkation on the MS Morena takes place between 11:00 and 12:00. Immediately after that it's time to "cast off" and the ship will take you to Novigrad. During the crossing the crew will welcome you with a welcome drink on board. Afterwards you will board your bike for the first time and cycle along the sea via Sveti Ivan, Lovrecica and Dajla to Umag. Back on board a delicious dinner awaits you.
Today you will visit two countries: after breakfast you will first cycle along the coast to Karigador and further to Savudrija in Slovenia. Enjoy a delicious lunch in Portorož. Afterwards, you can take a detour to the small town of Piran, 5 km away. The way back to Umag will take you through the Slovenian and Istrian hinterland. Back on board the ship will take you to Novigrad.
In the morning your ship will take you to Porec. After a swim break and lunch you will get back on your bikes. The bike tour leads along the sea past the resorts Plava Laguna and Zelena Laguna to Funtana. After that you will cycle first to the sculpture park Dušan Džamonja and further to Vrsar. In the evening you will have the opportunity to visit one of the numerous restaurants in Vrsar. In this town, the heartbreaker Casanova sought temporary refuge from jealous pursuers.
Look forward to the green hinterland of Istria. First you will cycle through the Kontija forest to Danijeli and then on through the ruined town of Dvigrad to the fertile valley of Limska Draga. After a short time you will reach the Limfjord nature reserve, a narrow fjord-like bay that stretches for about 10 km into the mainland. After the bike ride you will return to the ship that will take you to Rovinj. The town is dominated by the Baroque church of St. Euphemia and the 60-meter bell tower. After dinner, enjoy a short walk through the winding streets of one of the most beautiful old towns in Istria.
Die heutige Radetappe führt Sie wieder am Meer entlang durch das Vogelreservat Palud nach Pula. In Pula erwartet Sie Ihr Schiff und Sie schippern gemütlich zu einer nahegelegenen Bucht, um eine Badepause einzulegen und das Mittagessen an Bord zu genießen. Am Nachmittag kehren Sie zurück nach Pula. Hier erfahren Sie bei einer Stadtführung alles über das römische Amphitheater und weitere historische Sehenswürdigkeiten der Stadt. Am Abend wird Ihnen das Captain's Dinner an Bord serviert.
In the morning you will first cycle to the Cape Kamenjak Nature Park, located on the southernmost tip of Istria. Marvel at the unique flora and fauna. After returning to Pula, get back on board and head to the Brijuni Islands National Park during lunch. Enjoy the views of the ancient remains and the flora and fauna of the islands during a one-hour tour by mini-train. 680 species of plants, over 250 species of birds, as well as free-roaming deer and mouflon are waiting to be discovered by you. The island's own safari park is also home to an elephant, llamas, zebras and many other animal species. At the end of the day you will visit the museum "interactive boathouse" and the exhibition "Tito on Brijuni".
After breakfast you will set off to explore the island of Veliki Brijun, which you will circle once. Afterwards, the bikes will be loaded onto the ship for the last time before you sail back to the mainland. During the crossing you will take a bathing break. Once in Porec, you will have enough time to climb the Round Tower or visit the Euphrasius Basilica. In the evening you will enjoy the last evening of the trip at dinner in one of the many restaurants in Porec.
After breakfast the trip ends with disembarkation until 09:00.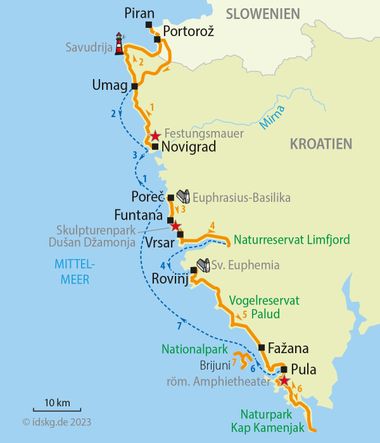 7 nights in double cabins on MS Morena
Bed linen and towels (no bath towels)
Captain's dinner
Entrance fee National Park Brijuni Islands incl. round trip & visit of the museum "Interactive Boathouse" & exhibition "Tito on Brijuni
Guided bike tours according to the program
Half board (lunch or dinner depending on the daily program)
Trekking bike 21-speed
Rental helmet (with rental bike booking)
Guided tour in Pula
7-day hotline service
Below you will find specific information about the Istria by bike & boat trip. If you have any further questions about this trip, just give us a call: Tel: 06421 - 886890.
Arrival by plane
The nearest airport for this trip is Pula. The port in Porec is best reached by a short cab ride.
Arriving by car
There is a secure parking lot. The parking lot must be reserved. Parking fees are payable in advance.
Requirements
The cycling stages require participants to have a certain basic level of fitness. The daily stages of 15 - 60 km and 100 - 440 vertical meters per day lead through hilly terrain and are cycled without time pressure. Helmets are compulsory for children under the age of 18 on the bike tours. For safety reasons, we generally recommend the use of a helmet. Helmets are included when you book a rental bike. Please state your head circumference when booking.
Available rental bikes
Trekking bikes or electric bikes (on request) are available. The bikes are each equipped with an Ortlieb pannier.
Tourist tax and local taxes
The passenger fee of € 42.00 is payable on site.
Changes
Separate cancellation conditions apply: The skipper reserves the right to make any necessary changes to the itinerary due to wind, weather and nautical conditions!
7 day hotline service
Just in case the bike chain breaks, flooding makes it impossible to continue your tour or any other nasty surprise: You can reach us seven days a week and we will do anything to help you as fast as possible.
Passport and visa requirements
For EU citizens, there are no special passport or visa requirements and no health formalities to be considered for this trip.
Travel insurance
The tour price already includes the statutory insolvency insurance. In addition, we recommend that you take out travel cancellation insurance upon receipt of your travel confirmation in order to protect yourself against financial disadvantages in the event of travel cancellation, interruption of travel, illness or accident.
You might also be interested in