A comfortable river cruiser with restaurant, saloon and air-conditioned bar will be your home during this trip. The sundeck is partly canopied and offers beautiful spots to sit down as well as facilities to park your bikes. The MS Serena wears the Dutch flag. It provides enough room for a maximum of 99 passengers and measures 90 metres in length and 9,90 metres in breadth. A total of 51 two-bed-cabins are situated on the main deck and on the upper deck.
All double cabins measure 8-9 square metres and are equipped with two single beds, shower and toilet and ventilation system. On the main deck there are two junior-suites (12 m²) with french beds (Grand Lit 1,40 m x 2 m). Three single cabins (6 m²) are available. One on the upper deck, two on the main deck. The windows can be opened in all cabins. All meals served on board are prepared with fresh ingredients. You will be enjoying simple but high quality meals.
Embarkation on board takes place from 4:00 pm. If you arrive early, you will still have time to take a first short walk around Enkhuizen and enjoy the atmosphere of the pretty historic harbor town with its worth seeing old town.
After breakfast you start for a bike tour around the pretty town on the IJsselmeer. Marvel at the historic center, the South and West Churches, and many magnificent town houses. If you have a little more time to spare, a visit to the Zuiderzee Museum is definitely worthwhile.
Alternatively, you can take a day trip to Amsterdam. Enkhuizen train station is close to the pier and Amsterdam is quickly reached by train in about 1 hour (train ticket not included).
With the boat you cross the IJsselmeer to Lemmer. Here you start your bike tour via Munnekeburen,Scherpenzeel and Schoterzijl and back to Lemmer.
You cycle to the Sondeler Leien Sea and through the forest area Rijsterbos to Stavoren. Afterwards the Serena brings you to Oudeschild.
What a magnificent day, what a beautiful island! Today's route leads over the Thijsseroute, about 45km long, it is a very well signposted roundtrip for bikes. Follow the trails through picturesque villages along the mudflats and steep dunes. If you are interested, you may plan to stop at the station for seal raising EcoMare. At 5:30 pm you will leave the island towards the harbour of Den Helder.
You leave Den Helder and cycle first along the dike and then through a beautiful dune landscape to Alkmaar. It is also possible to rejoin the boat in St. Maartensvlotbrug on the way and continue to Alkmaar or to start the bike tour in St. Maartensvlotbrug.
In the morning you enjoy the boat trip from Alkmaar to Wormerveer. From there you cycle to the open-air museum Zaanse Schans, which is well worth seeing. Marvel at an old Dutch village, a cheese dairy, a shipyard, a clog workshop, a bakery museum, the Zaanse Clock Museum and the world's only paint mill. Cycle to Hoorn via the traditional fishing village of Volendam. Plan time to visit the historic old town with its many 17th century buildings.
In the early morning the ship brings you back to Enkhuizen. Here your bike tour ends at 09:00 am with disembarkation.
Dear single travelers,
There are only 3 small single cabins on the entire ship (2 on the main deck and 1 on the promenade deck). There is no single supplement for these cabins.
If you would like to occupy a double cabin on your own, this is also possible. There is a 50% surcharge for this.
When booking your cabin, please let us know by email or telephone.
Thank you very much.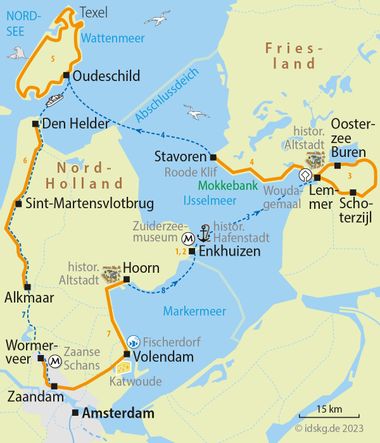 7x overnight stays
Full board
6 x lunch packets
Coffee and tea in the afternoon
Welcome drink
Daily cabin cleaning
Linen and towels
Tourguide on board
Maps and detailed tour description
Harbour fees
7 day hotline service
GPS tracks on request
Below you will find specific information about the bike and boat tour in Holland. If you have further questions about this trip, you simply call us: Phone: 06421 – 886890.
Parking in Enkhuizen
In Enkhuizen you have free parking at the train station, directly at the harbor, within walking distance of the berth. Reservation is not possible.
Arrival by train
Enkhuizen can be reached by train. The berth of the Serena is within walking distance of the train station. You will receive detailed information about the location of the ship with the detailed travel documents two weeks before departure. Current DB timetable information can be found very conveniently at www.bahn.de.
Luggage
For reasons of space, we ask you to refrain from luggage with hard shell, the storage space in the cabin is very limited!
Available rental bikes
So-called unisex bikes are available (suitable for men and women). They have a 7-speed gear shift with coaster brake and are available in different frame sizes. Please enter therefore your weight when booking the tour. On request and extra charge some electric bikes can be made available.
Important note
The captain reserves the rights to make any necessary changes to the itinerary due to wind, weather and navigational features.
For every bicycle and boat tours there are special cancellation conditions which can be found in our terms.
Extra costs which are not included in the tour price
A fuel surcharge due to the sharp rise in fuel prices, is not included in the cruise price and must be paid on board. The amount of the surcharge we will let you know approx. 3 to 4 weeks prior to your arrival.
7 day hotline service
In case of chain breakdown, flooding or other bad surprises that makes a continuation of your tour impossible: no problem, we also work during weekends and you can reach us 7 days a week in case of emergency.
Passport and visa requirements
For EU citizens, there are no special passport or visa requirements and no health formalities to be considered for this trip.
Travel insurance
The tour price already includes the statutory insolvency insurance. In addition, we recommend that you take out travel cancellation insurance upon receipt of your travel confirmation in order to protect yourself against financial disadvantages in the event of travel cancellation, interruption of travel, illness or accident.
Velociped can withdraw from the tour twenty-one days before the starting date of the tour, at the latest, in case the minimum number of participants stated under the tour description is not attained. You will duly be informed without any delay in case of a withdrawal. Velociped will of course refund the paid tour price immediately. Please note our General Terms and Conditions.
You might also be interested in